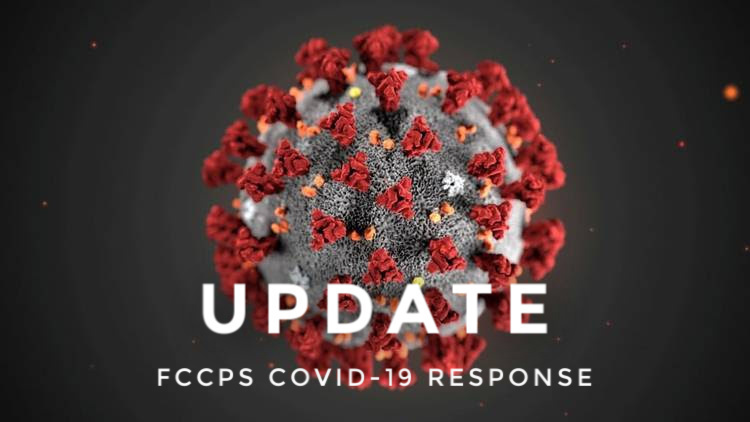 Dr Noonan's Friday COVID-19 Response Update
FCCPS Communications
Friday, March 27, 2020
Friday Update
March 27, 2020
Dear FCCPS Family
Thank you for your continued support of our schools. As Team FCCPS continues to meet, we have all reflected on how fortunate we are to work in a small school division where we can know our kids, our families, and each other in ways that support strong relationships and care.
Congratulations to you all for making it through week two at home. All three of our children are under the same roof again for the first time in a while (college student back, 16, and 10), and, as they say, the struggle is real. We have two full-time workers and three full-time students. Trying to get along, share technology, be careful about food, ration toilet paper, etc… hasn't been easy. The best advice I can give you is to make a schedule, try to stick to it, get outside and breathe the fresh air while appropriately social distancing, and just do the best you can. There is no perfect solution, no playbook, and no expectation of this looking at all like normal. Remember, it is ok to take a break and just do nothing--for adults and students. In the end, our children will remember the quality time and experiences they have with us and how we made them feel. Be gentle with each other, and try to enjoy the time as best you can.
Here are a few updates for you:
New Information
A Milestone
Today is Day 15 since our students were in school. This means we have cleared the 14-day window of transmission in our schools. The Fairfax County Health Department shared with us today in our weekly conference call that the likelihood of any COVID-19 exposure/spread from when we were in session has passed. If a student or staff member were to contract COVID-19 now, we would not be part of the contact tracing investigation and FCCPS would not be reporting it to the community as a school-related matter. This does not mean that we are in the clear as a community, and we must continue to socially distance, follow appropriate health precautions, and be vigilant.
Staying home when you are feeling ill or even under the weather is critical.
Even when you are feeling well, keep physical distance from others. Please stay home. Please help by reinforcing this with your students. We know it is hard, but it keeps us all safe. Flag football in the park is not OK. Soccer practice is not OK. Gathering with friends is not OK.
We know how much our students miss their friends and want to play together, but we are in a critical time as a community in stopping the spread. The sooner we can stop the spread, the sooner we can all be back together! I apologize for the overemphasis but this, as we all know, is serious.
The Plan Forward is Being Refined
As mentioned in the Tuesday update this week, we will be making some modifications to instruction following Spring Break. We will be moving into new learning. Our teachers, and teacher leaders, are already planning this instruction and have been in conversations on how best to progress forward. In addition to the time spent now (and really for the past several weeks), our amazing teachers will participate in a planning day on April 13th to finalize their plans. Specifically, teachers will begin introducing new instruction while continuing to spiral instruction based on prior knowledge. Each school's work after spring break may look different. For example, what may be appropriate for students at George Mason is not appropriate for students at Mount Daniel.
I mention this because you will see differences among schools and even in some cases between teachers in the same schools. Principals are working with their respective staff and faculty members to fully understand and embrace the expectations for our work going forward. Lastly, and just as a reminder, online instruction is not a substitute for face-to-face instruction. Therefore, students will not be synchronously engaged on the computer for 6.5 hours. We can never replicate the entire school-day in the virtual setting. Rather, they will have some synchronous (live) instruction as well as asynchronous (recorded) lessons with assignments and tasks between sessions. These lessons, tasks, and assignments will be focused on the core power standards that are needed to ensure our students are ready to return to school next year. Our promise to you is that we will do the best we can under the circumstances and let reasonability be our guide.
School Board Meeting Tuesday Night
This Tuesday evening at 7 pm, the School Board will hold its first "virtual" school board meeting. Because we are in a state of emergency, the VA Attorney General is allowing us to hold virtual meetings as long as it pertains to COVID-19 closure. If you are interested in providing public comment, just as though it were a face-to-face meeting, please send your comments to gadellm@fccps.org to be read into the record. Public comment is limited to three minutes, so if you do submit something longer, the Clerk of the Board will read up to the three-minute mark.
The meeting will be streamed on YouTube. The link to the meeting, in case you wish to watch, will be found on our YouTube page - www.youtube.com/fccpsweb .
High School Construction Update
This week I went by the High School and did a quick selfie video of hello and posted it on Twitter (@peternoonan - give me a follow :)). I am pleased to let you know that the construction of the school continues and there are crews on-site every day. The daily reports of worksite people have not declined, so there are workers continually available to work. Gilbane Construction has assured us that their teams and subcontractors have all been trained in appropriate social distancing and do routine "safety stand-downs" (meetings) to review procedures and protocols. Additionally, as a new protocol, Gilbane is taking the temperature of all construction workers before coming on to the site daily.
SAT and ACT
If you were scheduled to take the SAT or ACT, please check their respective websites. The spring administrations have been postponed, and future administrations of exams will be adjusted as determined by the two assessment organizations.
Reminders
SOL Assessments
SOL tests are canceled this year, and The Virginia Department of Education is preparing an application for a federal waiver from the U.S. Dept. of Education. This takes much of the pressure off of our students and teachers and truly allows us to focus our instruction on the essential skills and knowledge students need to know and can do for the coming school year.
Special Education Students
We continue to follow the guidance from VDOE and the federal Office of Special Education and Rehabilitation Services (OSERS) as they release updates. This is fluid, and we are getting continual updates. This is especially true as we work to develop our new learning plan, given the closure for the remainder of the academic year. While navigating this new learning reality, support and services for Special Education students can't mirror what would be provided in school. Please know we are working to help our students be supported and continue to make progress. The most important thing to know is that our Special Education Teachers and Related Staff (Speech, OT, PT, Behavior Specialists, School Psychologists…) are supporting students with disabilities now. They have been since day one of the closure and we began our continuity of learning plan. They are helping with accessibility to Schoology, emailing parents, emailing students, sharing resources, problem-solving, hosting chats, and setting up conferences. This is new territory for all of us as educators, parents, and students, so together we will work through any issues you are having. Please reach out to your student's IEP Case Manager or your school's Special Education Administrator if you have any questions or need support. Please visit our FCCPS Special Education, 504, & ESOL Information page for a list of the Special Education Administrators for each school. You can also email our Executive Director of Special Education & Student Services, Rebecca Sharp, at rsharp@fccps.org with questions as well.
504 Plan Students
Our students with 504 plans have access to support via their 504 Case Manager, which in most cases, is their Counselor. Please visit our FCCPS Special Education, 504, & ESOL Information page for a list of the Counselors at each school. Their teachers are also there to provide support as well as help students navigate the learning resources available in Schoology. Please reach out to your student's teachers and their Counselor if your student with a 504 Plan is struggling. We want to make sure they are successful and that their accommodations are in place during this unique situation.
ESOL Students
As a division, we are engaging in activities to meet the needs of our English Learners. All ESOL teachers have been added to the Schoology classes in which they co-teach. This provides ESOL teachers with access to supporting students and differentiating materials. ESOL teachers are connecting with their caseload of English Learners twice a week to connect and provide language activities, either one on one or in small groups. They are also working with their content peers to support the differentiation and access to core content learning in the classes they co-teach. Language Line continues to be a resource for all teachers to utilize in supporting families who speak a language other than English. We'll be working with our tech team to be able to provide support with video tutorials and phone calls utilizing an interpreter for families who need assistance with the technology. Staff members have access to utilizing Language Line services to support students in conferencing in their home language. Your student has access to all of the continuity of learning resources provided to their grade level. Please reach out to your child's ESOL Teacher for support, or contact Dr. Jennifer Santiago at santiagoj@fccps.org with questions or for support.
Community & Nutritional Support for Families
There is support for families grappling with the economic hardships during this time. We are overwhelmed by the generosity of our Falls Church Education Foundation and our PTAs. At the onset of our closure, we provided boxes of non-perishable food and gift cards to 130 families. Leadership and our Social Workers will continue to support our families throughout our extended closure. The state is developing a plan to provide EBT cards for families on FRM plans and if you are unsure where your next meal will come from, text "food" or "comida" to 877-877 to connect with nearby resources and help. Our FCCPS Social Workers are also available to help connect families with resources who are struggling with food insecurity, housing concerns, or other economic hardships. Please visit our FCCPS Nutritional Support Page for the Social Worker's Contact information. Additionally, families can reach out to Falls Church City Housing and Human Services , Fairfax County Neighborhood and Community Services , Assistance from a Distance , and Fairfax County Human Services Resources Guide for additional support during this time.
Hand Sanitizer and Wipes Donations
Thanks to Mt. Daniel teachers and parents who alerted us to the school supply stashes of hand sanitizer and sanitary wipes, we were able to collect them from Mt. Daniel classrooms. FCCPS donated to six local healthcare providers today: The Kensington, Kaiser-Permanente, Family Medicine in Falls Church, Capital Area Pediatrics, Northern Virginia Pediatric Associates, PMA Health Primary Care.
Mental Health Support
Our new "normal" facing us as a learning community and as families is so very stressful. Anxiety is high and social/physical distancing can make us feel isolated. We are also spending much more time together as families in close quarters which is new as well. We have to monitor our mental health just as we watch our physical health. Our emotional well-being is essential. We have provided some important information and great resources on our FCCPS Mental Health Support website. Please visit the site for information related to Community Resources should you need emotional support or are experiencing a mental health crisis. It also includes excellent resources for stress reduction and relaxation for adults, as well as children. There are also great lists of "family fun" activities for PreK, Elementary, Middle, and High. The page also includes the contact information for our School Psychologists, Counselors, and Social Worker who are great resources in this area. Please reach out if you need support.
City of Falls Church Newsletter
The City of Falls Church is now sending an email message that will come out every afternoon. If you would like to subscribe to get that email, please go to http://www.fallschurchva.gov/250/Communications-Public-Information
Boundaries for our Teachers and Staff
I want to ask that we be respectful of each other's boundaries of our work together. Because we are moving to an online platform, for the time being, it will be easy to send messages or ask for help at all times of day and night. Our teachers and staff will be available during their defined office hours and workday, but they also need to take care of their families and themselves. Thank you for your help, ensuring that we all stay healthy and safe.
Ongoing Communication
Ongoing communication and education regarding schools will be vital to our collective success. There are multiple avenues to get the latest information from FCCPS. Our website, www.fccps.org, and the FCCPS App are our clearinghouses for information on both systemwide and school-specific importance. We will also provide updates through email, SMS text messaging, and through our various social media channels, including Twitter and Facebook.
Thank you all for your continued support during this unprecedented time. We are here to support your children and you as best we can in these trying times. Please let us know how we can further support you.
Sincerely,
Peter Noonan
Superintendent
Falls Church City Public Schools
---
Actualización de Viernes
27 de Marzo de 2020
Estimada Familia de FCCPS
Gracias por su continuo apoyo a nuestras escuelas. A medida que el Equipo FCCPS continúa reuniéndose, todos hemos reflexionado sobre lo afortunados que somos de trabajar en una pequeña división escolar donde podemos conocer a nuestros hijos, nuestras familias y entre nosotros de manera que apoyen relaciones sólidas y cuidado.
Felicitaciones a todos por pasar la segunda semana en casa. Nuestros tres hijos están nuevamente bajo el mismo techo por primera vez en mucho tiempo (estudiante universitario de 16 y 10 años) y, como dicen, la lucha es real. Tenemos dos trabajadores a tiempo completo y tres estudiantes a tiempo completo. Tratar de llevarse bien, compartir tecnología, tener cuidado con la comida, racionar el papel higiénico, etc. no ha sido fácil. El mejor consejo que puedo darle es que haga un horario, trate de cumplirlo, salga y respire el aire fresco mientras se distancia socialmente, y haga lo mejor que pueda. No hay una solución perfecta, ni un libro de jugadas, y no se espera que esto parezca normal. Recuerde, está bien tomarse un descanso y simplemente no hacer nada, para adultos y estudiantes. Al final, nuestros hijos recordarán el tiempo de calidad y las experiencias que tienen con nosotros y cómo los hicimos sentir. Sea gentil el uno con el otro y trate de disfrutar el tiempo lo mejor que pueda.
Aquí hay algunas actualizaciones para usted:
Nueva información
Un Milestone
Hoy es el día 15 desde que nuestros estudiantes estaban en la escuela. Esto significa que hemos despejado la ventana de transmisión de 14 días en nuestras escuelas. El Departamento de Salud del Condado de Fairfax compartió con nosotros hoy en nuestra conferencia telefónica semanal que la probabilidad de cualquier exposición / propagación de COVID-19 de cuando estábamos en sesión ha pasado. Si un estudiante o miembro del personal contratara COVID-19 ahora, no seríamos parte de la investigación de seguimiento de contactos y FCCPS no lo informaría a la comunidad como un asunto relacionado con la escuela. Esto no significa que estemos limpios como comunidad y que debemos seguir distanciados socialmente, seguir las precauciones de salud adecuadas y estar atentos.
Quedarse en casa cuando se siente enfermo o incluso bajo el clima es crítico.
Incluso cuando te sientas bien, mantén la distancia física de los demás. Por favor quédate en casa. Por favor ayuda reforzando esto con tus estudiantes. Sabemos que es difícil, pero nos mantiene a todos a salvo. El fútbol de bandera en el parque no está bien. La práctica de fútbol no está bien. Reunirse con amigos no está bien.
Sabemos cuánto nuestros estudiantes extrañan a sus amigos y quieren jugar juntos, pero estamos en un momento crítico como comunidad para detener la propagación. ¡Cuanto antes podamos detener la propagación, antes podremos volver a estar todos juntos! Pido disculpas por el énfasis excesivo, pero esto, como todos sabemos, es grave.
El plan hacia adelante se está refinando
Como se mencionó en la actualización del martes de esta semana, haremos algunas modificaciones a la instrucción después de las vacaciones de primavera. Nos estaremos moviendo hacia un nuevo aprendizaje. Nuestros maestros y líderes de maestros ya están planificando esta instrucción y han estado en conversaciones sobre la mejor manera de avanzar. Además del tiempo dedicado ahora (y realmente durante las últimas semanas), nuestros increíbles maestros participarán en un día de planificación el 13 de abril para finalizar sus planes. Específicamente, los maestros comenzarán a introducir nueva instrucción mientras continúan con la instrucción en espiral basada en el conocimiento previo. El trabajo de cada escuela después de las vacaciones de primavera puede verse diferente. Por ejemplo, lo que puede ser apropiado para los estudiantes en George Mason no es apropiado para los estudiantes en Mount Daniel.
Menciono esto porque verá diferencias entre las escuelas e incluso en algunos casos entre los maestros en las mismas escuelas. Los directores están trabajando con su respectivo personal y miembros de la facultad para comprender completamente y aceptar las expectativas de nuestro trabajo en el futuro. Por último, y solo como recordatorio, la instrucción en línea no es un sustituto de la instrucción presencial. Por lo tanto, los estudiantes no estarán sincronizados sincrónicamente en la computadora durante 6.5 horas. Nunca podemos replicar todo el día escolar en el entorno virtual. Por el contrario, tendrán algunas instrucciones sincrónicas (en vivo), así como lecciones asincrónicas (grabadas) con tareas y tareas entre sesiones. Estas lecciones, tareas y tareas se centrarán en los estándares básicos de energía que se necesitan para garantizar que nuestros estudiantes estén listos para regresar a la escuela el próximo año. Le prometemos que haremos lo mejor que podamos bajo las circunstancias y que la razonabilidad sea nuestra guía.
Reunión de Junta Escolar el Martes por la noche
Este Martes por la noche a las 7 pm, la Junta Escolar llevará a cabo su primera reunión de junta escolar "virtual". Debido a que estamos en estado de emergencia, el Fiscal General de VA nos permite mantener reuniones virtuales siempre que se trate del cierre de COVID-19. Si está interesado en proporcionar comentarios públicos, como si fuera una reunión cara a cara, envíe sus comentarios a gadellm@fccps.org para leerlos en el registro. Los comentarios públicos se limitan a tres minutos, por lo que si envía algo más, el Secretario de la Junta leerá hasta la marca de tres minutos.
La reunión se transmitirá en YouTube. El enlace a la reunión, en caso de que desee ver, se encontrará en nuestra página de YouTube: www.youtube.com/fccpsweb .
Actualización de la construcción de la Escuela Secundaria
Esta semana fui a la escuela secundaria e hice un video selfie rápido de un hola y lo publiqué en Twitter (@peternoonan - dame un seguimiento :)). Me complace informarle que la construcción de la escuela continúa y que hay equipos en el lugar todos los días. Los informes diarios de las personas en el lugar de trabajo no han disminuido, por lo que hay trabajadores continuamente disponibles para trabajar. Gilbane Construction nos ha asegurado que sus equipos y subcontratistas han sido capacitados en distanciamiento social apropiado y realizan "paradas de seguridad" (reuniones) de rutina para revisar los procedimientos y protocolos. Además, como un nuevo protocolo, Gilbane está tomando la temperatura de todos los trabajadores de la construcción antes de venir al sitio todos los días.
SAT y ACT
Si estaba programado para tomar el SAT o ACT, consulte sus respectivos sitios web. Las administraciones de primavera se han postergado y las administraciones futuras de los exámenes se ajustarán según lo determinen las dos organizaciones de evaluación.
Recordatorios
Evaluaciones SOL
Las pruebas SOL se cancelan este año, y el Departamento de Educación de Virginia está preparando una solicitud para una exención federal del Departamento de Educación de los EE. UU. Esto quita gran parte de la presión de nuestros estudiantes y maestros y realmente nos permite enfocar nuestra instrucción en las habilidades y conocimientos esenciales que los estudiantes necesitan saber y pueden hacer para el próximo año escolar.
Estudiantes de Educación Especial
Continuamos siguiendo la guía de VDOE y la Oficina Federal de Servicios de Educación Especial y Rehabilitación (OSERS) a medida que publican actualizaciones. Esto es fluido, y estamos recibiendo actualizaciones continuas. Esto es especialmente cierto a medida que trabajamos para desarrollar nuestro nuevo plan de aprendizaje, dado el cierre por el resto del año académico. Mientras navega por esta nueva realidad de aprendizaje, el apoyo y los servicios para estudiantes de Educación Especial no pueden reflejar lo que se proporcionaría en la escuela. Por favor sepa que estamos trabajando para ayudar a nuestros estudiantes a ser apoyados y continuar progresando. Lo más importante que debe saber es que nuestros maestros de Educación Especial y el Personal relacionado (Habla, OT, PT, especialistas en comportamiento, psicólogos escolares ...) ahora están apoyando a los estudiantes con discapacidades. Han sido desde el primer día del cierre y comenzamos nuestro plan de continuidad de aprendizaje. Están ayudando con la accesibilidad a Schoology, enviando correos electrónicos a los padres, enviando correos electrónicos a los estudiantes, compartiendo recursos, resolviendo problemas, organizando chats y organizando conferencias. Este es un territorio nuevo para todos nosotros como educadores, padres y estudiantes, por lo que juntos resolveremos cualquier problema que tenga. Si tiene alguna pregunta o necesita ayuda, comuníquese con el administrador de casos de IEP de su estudiante o con el Administrador de Educación Especial de su Escuela. Visite nuestra página de información sobre educación especial, 504 y ESOL de FCCPS para obtener una lista de los administradores de educación especial de cada escuela. También puede enviar un correo electrónico a nuestra Directora Ejecutiva de Educación Especial y Servicios Estudiantiles, Rebecca Sharp, a rsharp@fccps.org con preguntas también.
Estudiantes del plan 504
Nuestros estudiantes con planes 504 tienen acceso a asistencia a través de su administrador de casos 504, que en la mayoría de los casos es su consejero. Visite nuestra página de información sobre educación especial, 504 y ESOL de FCCPS para obtener una lista de los consejeros de cada escuela. Sus maestros también están allí para brindar apoyo y ayudar a los estudiantes a navegar por los recursos de aprendizaje disponibles en Schoology. Comuníquese con los maestros de su estudiante y su Consejero si su estudiante con un Plan 504 tiene dificultades. Queremos asegurarnos de que tengan éxito y que sus alojamientos estén en su lugar durante esta situación única.
Estudiantes de ESOL
Como división, estamos participando en actividades para satisfacer las necesidades de nuestros Estudiantes de Inglés. Todos los maestros de ESOL se han agregado a las clases de Schoology en las que imparten clases conjuntamente. Esto proporciona a los maestros de ESOL acceso a estudiantes de apoyo y materiales de diferenciación. Los maestros de ESOL se están conectando con su número de estudiantes de inglés dos veces por semana para conectarse y proporcionar actividades lingüísticas, ya sea individualmente o en grupos pequeños. También están trabajando con sus compañeros de contenido para apoyar la diferenciación y el acceso al aprendizaje de contenido central en las clases que imparten conjuntamente. Language Line continúa siendo un recurso para que todos los maestros utilicen para apoyar a las familias que hablan un idioma que no es inglés. Trabajaremos con nuestro equipo de tecnología para poder brindar soporte con video tutoriales y llamadas telefónicas utilizando un intérprete para las familias que necesitan asistencia con la tecnología. Los miembros del personal tienen acceso a la utilización de los servicios de Language Line para ayudar a los estudiantes a realizar conferencias en su idioma materno. Su estudiante tiene acceso a toda la continuidad de los recursos de aprendizaje proporcionados a su nivel de grado. Comuníquese con el maestro de ESOL de su hijo para obtener apoyo o comuníquese con la Dra. Jennifer Santiago en santiagoj@fccps.org con preguntas o para apoyo.
Apoyo comunitario y nutricional para las familias
Hay apoyo para las familias que luchan con las dificultades económicas durante este tiempo. Estamos abrumados por la generosidad de nuestra Fundación para la Educación de Falls Church y nuestras PTA. Al comienzo de nuestro cierre, proporcionamos cajas de alimentos no perecederos y tarjetas de regalo a 130 familias. El liderazgo y nuestros trabajadores sociales continuarán apoyando a nuestras familias durante nuestro cierre prolongado. El estado está desarrollando un plan para proporcionar tarjetas EBT para familias con planes FRM y si no está seguro de dónde vendrá su próxima comida, envíe un mensaje de texto con "food" o "comida" al 877-877 para conectarse con recursos y ayuda cercanos. Nuestros trabajadores sociales de FCCPS también están disponibles para ayudar a conectar a las familias con recursos que luchan con la inseguridad alimentaria, las preocupaciones de vivienda u otras dificultades económicas. Visite nuestra página de apoyo nutricional de FCCPS para obtener la información de contacto del trabajador social. Además, las familias pueden comunicarse con Falls Church City Housing and Human Services , Condado de Fairfax Barrio y Servicios a la Comunidad, Ayuda a la distancia, y Servicios Humanos del Condado de Fairfax Guía de Recursos de apoyo adicional durante este tiempo.
Donaciones de desinfectante de manos y toallitas
gracias a Mt. Los maestros y padres de Daniel que nos alertaron sobre los suministros escolares de desinfectante para manos y toallitas sanitarias, pudimos recogerlos del monte. Aulas de Daniel. FCCPS donó hoy a seis proveedores locales de atención médica: The Kensington, Kaiser-Permanente, Family Medicine in Falls Church, Capital Area Pediatrics, Northern Virginia Pediatric Associates, PMA Health Primary Care.
Apoyo a la salud mental
Nuestra nueva "normalidad" que enfrentamos como comunidad de aprendizaje y como familias es muy estresante. La ansiedad es alta y el distanciamiento social / físico puede hacernos sentir aislados. También estamos pasando mucho más tiempo juntos como familias en lugares cerrados, lo cual también es nuevo. Tenemos que controlar nuestra salud mental de la misma manera que observamos nuestra salud física. Nuestro bienestar emocional es esencial. Hemos proporcionado información importante y excelentes recursos en nuestro Soporte de Salud Mental de FCCPS sitio web de. Visite el sitio para obtener información relacionada con los Recursos de la comunidad si necesita apoyo emocional o si está experimentando una crisis de salud mental. También incluye excelentes recursos para la reducción del estrés y la relajación para adultos y niños. También hay excelentes listas de actividades de "diversión familiar" para PreK, Primaria, Media y Secundaria. La página también incluye la información de contacto de nuestros psicólogos escolares, consejeros y trabajadores sociales que son excelentes recursos en esta área. Comuníquese si necesita ayuda.
Boletín de la Iglesia de la Ciudad de Falls Church
La Iglesia de la Ciudad de Falls Church ahora está enviando un mensaje de correo electrónico que saldrá todas las tardes. Si desea suscribirse para recibir ese correo electrónico, vaya a http://www.fallschurchva.gov/250/Communication-Public-Information
Perímetro para nuestros Maestros y Personal
Quiero pedir que seamos respetuosos de los límites de los demás. nuestro trabajo juntos Debido a que nos estamos mudando a una plataforma en línea, por el momento, será fácil enviar mensajes o pedir ayuda en todo momento del día y de la noche. Nuestros maestros y el personal estarán disponibles durante el horario de oficina definido y la jornada laboral, pero también deben cuidar a sus familias y a ellos mismos. Gracias por su ayuda, asegurando que todos nos mantengamos sanos y seguros.
Comunicación
La comunicación continua y la educación sobre las escuelas serán vitales para nuestro éxito colectivo. Existen múltiples vías para obtener la información más reciente de FCCPS. Nuestro sitio web, www.fccps.org, y la aplicación FCCPScentros de son nuestros intercambio de información sobre la importancia específica del sistema y de la escuela. También proporcionaremos actualizaciones por correo electrónico, mensajes de texto SMSy a través de nuestros diversos canales de redes sociales, incluidos Twitter y Facebook.
Gracias a todos por su continuo apoyo durante este tiempo sin precedentes. Estamos aquí para apoyar a sus hijos y a usted lo mejor que podamos en estos tiempos difíciles. Por favor, háganos saber cómo podemos ayudarlo más.
Sinceramente,
Peter Noonan
Superintendente
Falls Church City Public Schools