An Extra Special "Green" Edition
In this issue:
Visit from Kamala Harris, Vice President of the United States, and EPA Administrator Michael Regan

EV Buses Here in FCCPS for 22-23

Sustainability–So many connections!

Budget is Approved

Registration Reminders

Vaccine Boosters Now Available for 5-12-Year-Olds

Another Round of Free COVID Home Tests

FCCPS COVID by the Numbers
Dear FCCPS Families,
Wow! What a day of celebration. First, today was the last official instructional day for our class of 2022! Now our seniors will move into their externships. Best wishes to all of you on your work ahead and we know you will make us proud! Next, we welcomed Vice President Kamala Harris and EPA Administrator Regan. It was a thrill to share our new space and to speak about our NetZero, fully geothermal, and LEED Gold building while they were here speaking about electric buses and reducing our carbon footprint. Today's event is a culmination of ongoing conversations with the EPA and Mom's Clean Airforce for the past several months as FCCPS has been in the process of getting three new Electric Buses.
I know that days like today present operational challenges and we are so appreciative of our students and staff as they navigated the building and spaces to help with security.
Have a great weekend and I look forward to the Memorial Day parade next weekend!
Peter Peter J. Noonan, EdD
Superintendent
#BetterTogether #WeAreIB #IBforAll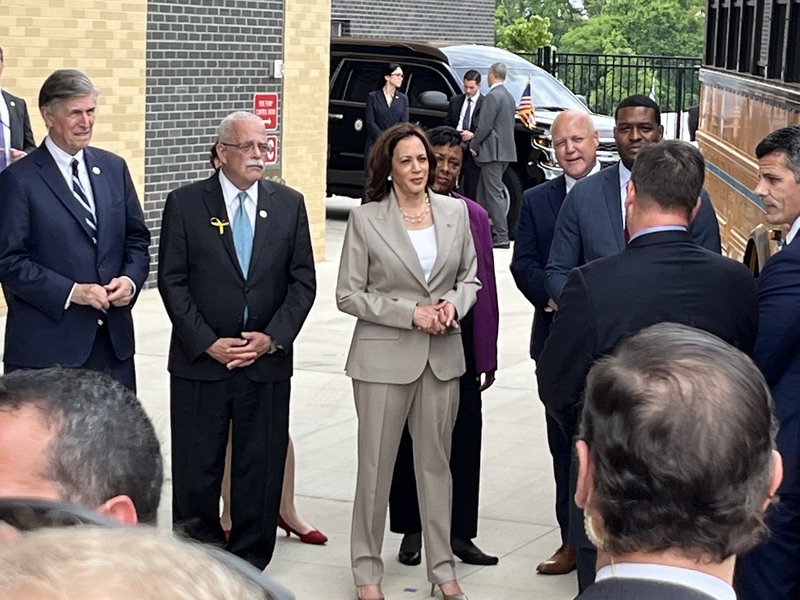 More about the visit from Vice President Harris and EPA Administrator Regan
The team at Meridian was honored to host an event as a part of the White House's "Green" initiative. The event focused on funding to help school divisions across the nation to convert school buses from diesel to EV (electric vehicle) technology. Our students were able to ride an EV school bus with the Vice President and other officials. Students, teachers, staff, Board members, and others attended a speech on ways these innovative technologies support cleaner environments to move our nation forward in creating a "greener" and healthier environment for everyone. A portion of the event was streamed live and available to view here. Thank you to everyone for their support!
Three Electric School Buses Coming to a Street Near You!
FCCPS was one of 19 Virginia school divisions that received a grant to replace diesel school buses with new electric buses. FCCPS received $530,000 for two electric buses from the Volkswagen (VW) Environmental Mitigation Trust and funding for an additional electric bus through Community Project Funding (CPF) obtained by Congressman Don Beyer.
Environmental sustainability and resilience are key priorities in this community. The health benefits to our children from cleaner air and reduced noise in and around the buses resonate strongly in our community. The new FCCPS Strategic Plan includes a commitment to Resource Management & Continuous Improvement, which means the community can expect more sustainability initiatives like this in the coming years.
Sustainability–So many connections
"Sustainability is based on a simple principle: Everything we need for our survival and well-being depends, either directly or indirectly, on our natural environment. To pursue sustainability is to create and maintain the conditions under which humans and nature can exist in productive harmony to support present and future generations." (Learn About Sustainability | US EPA ) FCCPS is committed to ensuring that students receive an education grounded in global citizenship as outlined by the IB Programme, which includes a commitment to teaching sustainability connecting concepts. From our LEED Certified Meridian High School to our new Sustainability Academy, our belief is strong that everyone must engage together to protect finite environmental resources, support opportunities for economic equity, and provide platforms for social change. Sustainability is key to ensuring a vital community for everyone– especially future generations.
FCCPS FY23 Budget Is Approved
A special thanks to our School Board for unanimously approving the FCCPS Budget for FY 2023. This $57.6 million budget provides compensation increases for staff, support for operations, instruction, and many other exciting initiatives. Read about it on our website. You can find our newly passed budget details on our web page at https://www.fccps.org/budget. A huge thank you to our community and the general government for supporting FCCPS!
Registration for 2022-23 School Year
Registration is now open for students who will be new to the division: kindergarten students and students in all grades transferring into FCCPS from other schools. Registration for students who are currently in FCCPS will begin soon. Look for an email from RegistrationSupport@fccps.org, which will provide details on how to start the process.
Visit Registration | Falls Church City Public Schools to learn more.
Spanish-speaking families who need help, contact Family Resource Center Parent Liaison, Rhina Portillo (portillor@fccps.org)
Vaccine Boosters Now Available for 5-12-Year-Olds
Children in Virginia, ages 5–11 years, are now recommended for a Pfizer-BioNTech COVID-19 booster if they completed their primary series of the Pfizer-BioNTech vaccine five months ago or more. The Virginia Department of Health (VDH) has given the green light to providers in the Commonwealth to begin administering the booster dose immediately to eligible children.
Please contact your child's healthcare provider or Search for COVID‑19 vaccine locations to schedule an appointment near you.
Free COVID Tests Mailed to Your Home
Every home in the United States is eligible to receive additional rapid COVID tests for free. Visit Get free at-home COVID-⁠19 tests to order yours today! This is the third round of test kits offered.
COVID Reminders & Information
Falls Church Covid Status –MEDIUM
Symptomatic Students/Staff
Any student/staff member who is displaying COVID-like symptoms should not attend school/work until symptoms are almost entirely resolved (including being fever-free for 24 hours without the use of fever-reducing medication), AND,

They provide a negative COVID test (lab, proctored, or home tests are accepted) OR an alternate diagnosis or clearance from a medical professional.

Adjustments will be made for students with known health conditions based on the guidance of our nursing staff.
BinaxNow Rapid Testing
Proctored rapid tests are available in each school health clinic.

Please contact the School Health Aide or go to the health clinic to get a rapid test.

All BinaxNow tests are proctored tests. Users must set up a Navica account and visit http://virginia.emed.com/ to begin the "test for school" process. FCCPS BinaxNow Tip Sheet.pdf

Each school health clinic has an iPad to help support testing. Parents (not school staff) must administer the test to their students. FCCPS BinaxNow Tip Sheet.pdf
PCR Testing
Free PCR testing is available to students and staff every Tuesday and Thursday.

To join, register here! It only takes a minute and continues to be an essential part of our Covid-19 mitigation strategy.
FCCPS COVID By The Numbers
Weekly updates to the data below ensure that all community members are informed about positive cases and testing.
Data:

Number Positive of Cases for Weeks 37 & 38

Cumulative Since August 1

# of Student Cases:

97

590

# of Staff Cases

17

125

# of Students in Quarantine as a Close Contact

0

208

FCCPS Rate of Transmission

MEDIUM for Falls Church City

MEDIUM for Fairfax Health District
Please note that this data is just a snapshot of FCCPS in total and is adjusted based on the outcomes of each contact tracing investigation.
All FCCPS positive cases are included regardless of source. These data include parent/staff reports, ViSSTA results, HD notifications, and healthcare providers.
ViSSTA Testing Data Weeks of

Number Tested

# Positive

Week of May 9-13

Tuesday

Thursday

Week of May 16-20

Tuesday

Thursday

238

285

249

263

8

8

9

TBD
Important COVID Links for Parents:
Important Mental Health Resources for Families:
Call 911 should you need immediate support in a life-threatening situation.

CrisisLink Regional Hotline: 703-527-4077 CrisisText: Text HOME to 741741

Merrifield Center Emergency Services: 703-573-5679

National Hope Line: 1-800-SUICIDE (1-800-784-2433)

LGBTQ Lifeline: 1-866-488-7386

National Suicide Prevention Lifeline: 1-800-273-TALK (1-800-273-8255)

SAMHSA National Helpline: 1-800-662-HELP (1-800-662-4357)