SUPERINTENDENT'S UPDATES
Ukraine and Russia
As most of you are aware, FCCPS is one of the most sensitive communities to events across the globe with our Department of State, Diplomats, Military, and other governmental and NGO families. We have been watching closely what is happening in eastern Europe and know that this will have an impact on our school division with an influx of some families. WE WELCOME YOU either back to, or for the first time, to FCCPS!
Further, our teachers are having great conversations with each other and students about how best to teach about the events in Ukraine to ensure a full understanding of the war that has begun.
---
---
Budget
This week, the School Board approved their FY23 Budget request. The next step in the budget journey is March 28, when the School Board's Advertised Budget will be presented to the City Council as part of the City Manager's budget presentation. Check out the video presentation from Wednesday's Joint PTA Town Hall meeting to see what's in the budget. We are excited to have a budget that focuses on staff compensation, employee working conditions (because working conditions are learning conditions), and making the appropriate changes to keep up with rising costs while coming in at the guidance the City Council gave to the schools in December. Coming in within the guidance for the fourth year in a row "smoothed out" the budget process for the past several years. We are all getting what we need!
New bike racks on the secondary campus
It's been a big week for bicycle infrastructure at Henderson & Meridian. There are brand new, easily accessible bike racks outside our middle and high schools. The Capital Bike Share docking station moved up the hill to the service road near Leesburg Pike.
VDH Vendor Change for ViSSTA PCR COVID Screening Testing
The Virginia Department of Health is transitioning to a new vendor for the ViSSTA COVID screening testing program. This program provides free weekly in-school COVID testing for students and employees. Testing will begin with our new vendor on Tuesday, March 8th, following our same schedule. To allow families/staff time to re-enroll and testing supplies to be delivered for a smooth transition–there will be no ViSSTA testing next week.
Anyone who is symptomatic or who has been exposed can receive a rapid test kit from their school's health clinic. Please contact our nurses with any health questions. Jenn Beck (beckj@fccps.org) for preschool/elementary school and Laura Giles (gilesj@fccps.org) for middle/high school.
Families and individuals who have been enrolled for weekly testing should have received an email from the new vendor, Primary Health, asking for re-enrollment for continued participation. If you didn't receive the email or weren't enrolled previously, sign up at this link.
Please contact John Brett (jwbrett@fccps.org) for enrollment questions and Rebecca Sharp (rsharp@fccps.org) for other questions and support.
Climate/Social-Emotional Survey
In December 2021, school divisions were notified by the Virginia Department of Education of the need to complete the annual Working Conditions and Climate survey. Although the state mandates the survey be conducted at the high school level, school divisions have the autonomy to conduct it in all of their schools. Because of the ongoing impact of the pandemic, FCCPS division leadership felt this year, more than ever, it is important to gather additional information on how our students and staff are managing life's challenges at school and beyond. The decision was to hire an external vendor, K-12 Insight, to create and administer a survey to all K-12 students and staff in FCCPS. The survey will focus on school climate and identify a baseline for the social-emotional wellness of students and staff as we slowly move out of the pandemic. Surveys will be administered in school and take approximately 10-15 minutes to complete.
K-12 Insight is a nationally-respected firm with access to data that will provide a comparative analysis of the FCCPS results. They will develop, administer, and analyze the data, keeping most of the process external to FCCPS. Finally, the K-12 Insight team will present the data findings to the School Board.
Basic Survey Timeline:
The survey will be finalized by 3/25/22
Surveys window will open from 3/28/22 - 4/10/22
Review and debrief report to staff - 4/29/22
Board Presentation - 5/10/22 (Tentative)
---
Important Mental Health Resources for Families:
Call 911 should you need immediate support in a life-threatening situation.

CrisisLink Regional Hotline: 703-527-4077 CrisisText: Text HOME to 741741

Mobile Crisis Unit: 703-573-5679

Merrifield Center Emergency Services: 703-573-5679

National Hope Line: 1-800-SUICIDE (1-800-784-2433)

LGBTQ Lifeline: 1-866-488-7386

National Suicide Prevention Lifeline: 1-800-273-TALK (1-800-273-8255)

SAMHSA National Helpline: 1-800-662-HELP (1-800-662-4357)
Anticipated New CDC Guidance
We anticipate new guidance from the CDC regarding schools at some point today. Once we receive the new guidance and analyze it, we will announce how FCCPS will respond operationally.
As a reminder, masking is still required in all schools unless a completed OPT-OUT form is on file from a parent. The OPT-OUT will remain an option for parents regardless of what the new CDC guidance indicates.
Peter
Dr. Peter J. Noonan, Superintendent
#BetterTogether #HandleWithCare
FCCPS COVID By The Numbers
Weekly updates to the data below ensure that all community members are informed about positive cases, testing, and masking.

Please note that this data is just a snapshot of FCCPS in total and is adjusted based on the outcomes of each contact tracing investigation.
All FCCPS positive cases are included regardless of source. These data include parent/staff reports, ViSSTA results, HD notifications, and healthcare providers.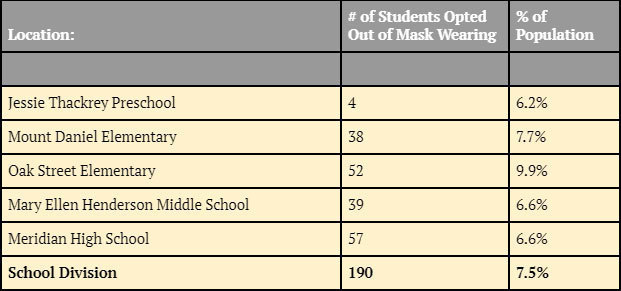 Important COVID Links for Parents: