SUPERINTENDENT'S UPDATES:
Dear FCCPS Families,
This is not the message I wanted to bring this week...or any week for that matter. This week Falls Church City continues to remain in the highest level of community transmission for COVID. The Fairfax Health District is in moderate transmission. Our city is moving in the wrong direction. Falls Church City cases are at the highest level since last year's fall/winter holiday record surge in January. Our schools are not immune to the impact. In just the last 24 hours, FCCPS has had seven positive cases impacting our schools.
When we have a positive case that impacts the school, we always have and will continue to follow the guidance of the Fairfax County Health Department and the Virginia Department of Health. There are no changes to our mitigation practices or contact tracing in FCCPS. To be clear, we take our direction from the health experts and do not follow what other school divisions decide to do especially when it runs contrary to public health guidance. That would not be responsible. Vaccinations and testing are important steps to help us through this situation. That is where I hope my message lands with you this week. Take some time to review the information shared below about our screening program for COVID testing and our upcoming vaccination clinic.
We want our students in school and the very best way to keep your student in school in case of an exposure is to vaccinate. Staff and students who are fully vaccinated are NOT required to pause or quarantine if they do not have symptoms. We hope that you will take advantage of the opportunities around the community to get your student(s) vaccinated as soon as possible.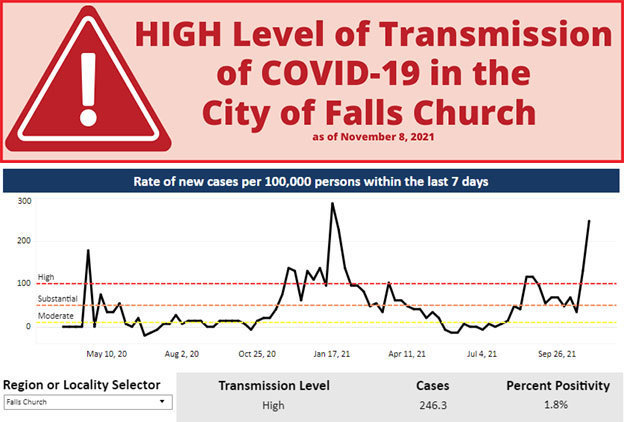 REMINDER--GET AN APPOINTMENT!
Vaccines for 5-11-Year-Olds
SIGN UP AT--
Registration for FCCPS Vaccination Clinic for 5-11-Year-Olds
Join us at our FCCPS First-Dose Vaccination Clinic for 5-11 year-olds on Wednesday, Nov.17th, from 1:30 to 6:30 pm at Oak Street Elementary
This clinic is open to FCCPS families and children of FCCPS employees.

All participants must pre-register online with the Fairfax County Health Department to secure an appointment.

The appointment registration link will close at 7:00 PM Monday, November 15.
There are lots of ways to secure a vaccine appointment:
check with your pediatrician;

attend a COVID-19 Vaccination Event with the Fairfax Health Department to find a "pop up" clinic near you;

go to a pharmacy/grocery;

visit The Community Vaccination Center in Tysons Corner Center or the Fairfax Government Center; or

attend our FCCPS school-based clinic at Oak Street Elementary on Wednesday, 11/17/21.
Please support our efforts by getting your student vaccinated! Students who are fully vaccinated do not have to pause or quarantine if they do not have symptoms when they are exposed.
Mitigation Matters--Support our COVID Testing Program!
Please remember to provide your permission for your student to be a part of our screening test program. Parent/Legal Guardian and Employee Voluntary Authorization Form. It is critical to our ability to help maintain a safe and healthy, robust system of protecting our schools as we navigate our way out of the pandemic. Testing helps prevent the impact of breakthrough cases and detect asymptomatic cases fast.
PLEASE CONSIDER ALLOWING YOUR STUDENT TO BE A PART OF OUR SCREENING PROGRAM TO HELP REDUCE THE SPREAD OF COVID ACROSS OUR COMMUNITY.
FCCPS COVID By The Numbers:
Data:

This Week:

Cumulative from August 1:

# of Student Cases:

7

29

# of Staff Cases

0

7

# of Students in Quarantine

8

107

FCCPS Rate of Transmission

HIGH for Falls Church City

(246.3 Cases per 100K)

MODERATE for Fairfax Health District

(41.83 Cases per 100K)

Source: COVID-19 Level of Community Transmission - Coronavirus
(Please note that these data are just a snapshot of FCCPS in total and is adjusted based on the outcomes of each contact tracing investigation.)
I hope you will all take advantage of the weekend to relax, unwind and engage in some self-care. We all need some #HandleWithCare right now. Check on your friends and neighbors. Everyone is in different places in the journey, but we are all on the same path towards the same goal.
Take care,
Peter
Dr. Peter J. Noonan, Superintendent