Finishing the short week strong!
While the week was short due to the holidays, we still had a week full of learning! It is crucial during these initial days of school that everyone focuses on establishing routines and building relationships. Ask your student about their classrooms, who they ate lunch with, the best thing that happened in school this week, and the best question they asked.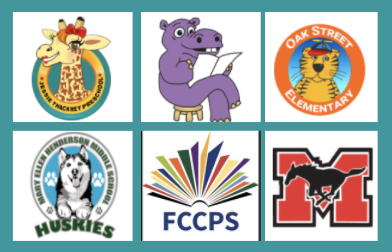 Mitigation Matters
Falls Church City remains at a high rate of transmission this week. COVID-19 Level of Community Transmission – Coronavirus We shared a great deal of mitigation information last week. Please take a few minutes to review the information at RRR Updates for Week 1. Keep up the great work at home and in the community. As a team, we can get through this! The Fairfax County Health Department has also updated its contact tracing information for parents. It is a great way to learn more about the process. Update on COVID-19 Investigations and Guidance for Parents of School-aged Children
Mitigation Tip of the Week: Any student who is ill or sent home from school with COVID symptoms must have a clearance from a health care provider or a negative laboratory-verified test result. Home COVID test results are not accepted for return to school by public health officials. The results for the rapid/antigen or PCR test must be from a laboratory. Falls Church City Public Schools follows the Fairfax Health Department recommendations in this area.

Wrapping Up…
FCCPS continues to be resilient and renew in many ways. We have begun the initial planning process for our new long-range Strategic Plan (more to come on how to engage soon). We are redoubling efforts to support students in strong mental, physical, and intellectual health. We continue to seek ways to make school operations while in COVID as seamless as possible for all of us. Here is one way you can help:
Voluntary Student Vaccination Upload Form
Any FCCPS student who is verified as fully vaccinated or who has had COVID in the last 90 days and does not have symptoms will NOT have to pause or quarantine as the result of exposure. To help expedite the contact tracing process and reduce students' pausing, we ask families to upload their student's vaccination card voluntarily. Please consider helping us facilitate this process and supporting our continuity of learning for students by uploading your student's card to our FCCPS Voluntary Student Vaccination Card Form. This information will also come from your schools in their newsletter. (It is the same form, so you only need to fill it out once for each student.
I hope everyone can get outside and enjoy the beautiful weather that is anticipated for our area. This weekend, there are some great community events: Fall Festival on Saturday, and Sunday, the FCEF Run for the Schools, and Welcoming Falls Church Ice Cream Social. Take some time to relax in nature and connect as a family! Have a wonderful weekend.
Peter Noonan
FCCPS Superintendent of Schools