FCCPS Video, Photos/Michael Timpane
Produced by: Carol Sly
George Mason High and Mary Ellen Henderson Middle schools are expanding Career and Technical Education opportunities throughout all subject areas. Whether it is in English Class or a science course, CTE is being used to extend and enhance learning opportunities.
This expansion was highlighted in a recent FCCPS Spotlight presented to the Falls Church School Board.
Matt Hills, Principal: When I think about the endless number of opportunities that our students are going to have in our new building and less than 365 days, this is something that's building for their future. We want students to create. We want students to be able to use everything that we're teaching them now, whether it's in their English class, in their science class, to enhance and extend their learning opportunities. And I think this program is going to lend itself very nicely to us moving into the new building.
Kenny George, CTE Teacher: There was a lot of interest expressed, water cooler chat. The teachers are like, "Hey, I'd like to bring more, you know, kind of fabrication, three-D printing, computer-aided design into my curriculum as well because there are opportunities to engage my students."
So I'll meet with a teacher in a different content area, like for example, math or science and listen to like what they do. Then they send me back to my classroom with textbooks, and I spend a lot of time studying the different content areas in this building. I'm looking for ways to provide beneficial activities in a lesson or an entire unit that aligns with what they're already doing.
In BC calculus class, Jen Jayson has done a unit where she looks at how you use equations to solve for the volume of an object. So this is something students will use to demonstrate through a project-based assessment. Previously, they would build things out of foam core and other crafting materials. But with the advancements of three-D printing and the accessibility of this stuff, we had conversations about how we can kind of get students introduced modeling applications like Fusion 360 and Three-D printing. (Technology) can be another mode for students who want to explore that field in a little greater depth.
Matt Hills: The Profile of a Graduate requires students to have an exposure of CTE. We're trying to do at the high school, and Mary Ellen Henderson is to make sure students are afforded every opportunity right inside their class. Even if they're not taking a specific technology class, any type that they walk into, they're going to have that experience.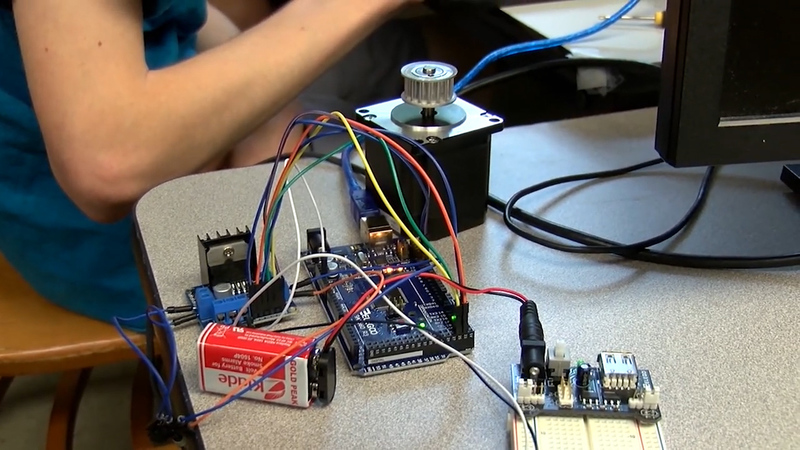 Richard Visna, IB Psychology Teacher: A connection between technology and biology is the neuron. And the neuron runs on electricity, has a lot of parts that do similar things to a circuit board. Mr. George and I developed a lesson that teaches my class about how to wire a circuitry that mimics a neuron.
Matt Hills: The opportunity for students to apply technology, within any course that they're taking, is there.