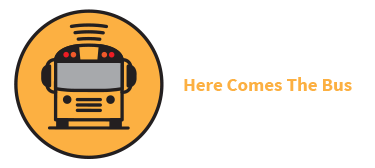 Here Comes The Bus is an easy-to-use website and app that enables parents to see the location of their child's school bus on a smartphone, tablet, or personal computer.
Download the app below!
Enter FCCPS Code: 29228
Safe bus stops – What can we do to keep our students safe?
Parents can help ensure their children's safety while waiting for and riding the school bus by doing the following:
Inform the bus driver of any serious medical conditions regarding your child. Making sure your child is dressed appropriately for weather conditions.
Accompany your child to the bus stop and teach your child these bus stop safety rules:
Be at the bus stop five minutes before the expected arrival time.

Walk, do not run to and from the bus.

If possible, stand at least ten feet from the road.

Await your turn to get on the bus. Do not push or shove.

Always obey the bus driver. His or her job is to look out for your safety.

When getting off the bus, move quickly away from the bus.

Wait for the driver to signal before crossing the street in front of the bus.

Never crawl underneath a school bus. If you drop something, tell the driver and he or she will tell you what to do.
Bus Stop Etiquette
Many bus stops are in front of neighbors' houses and yards. Please remember when you are waiting at the bus stop to not be loud and disruptive. Be considerate of homes and yards. Do not leave trash in yards, step into flower beds, or climb trees.