COVID and the 2021-22 School Year
CDC's New Definitions of "Low, Medium, High"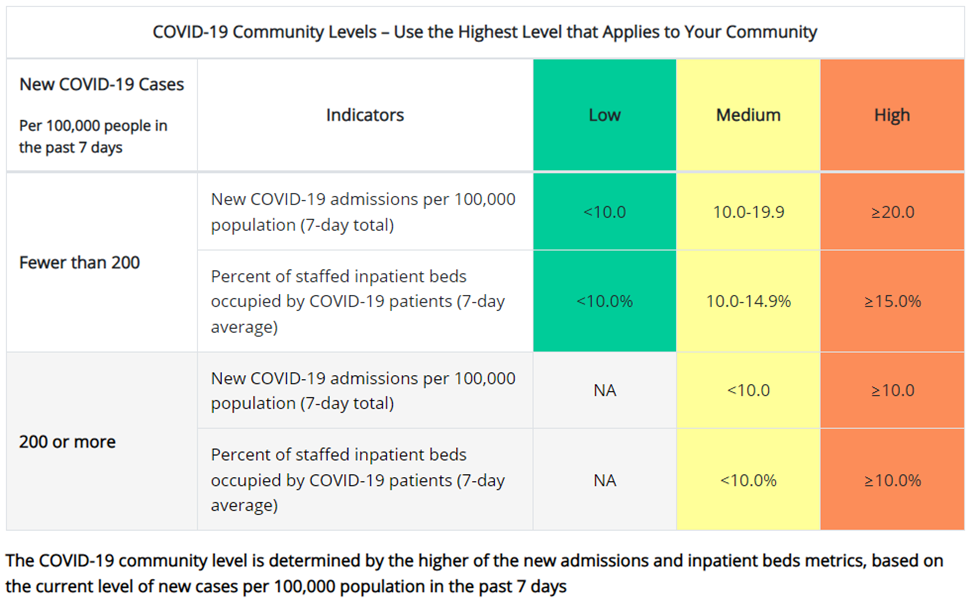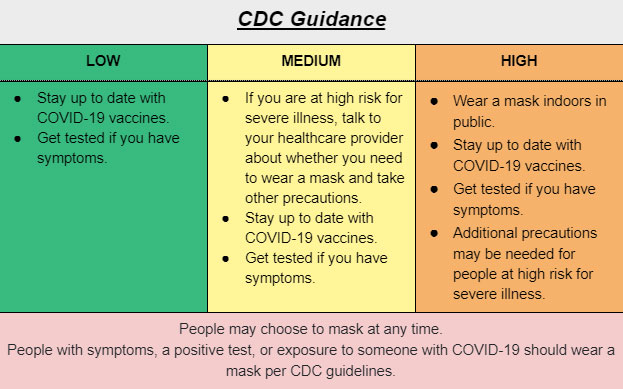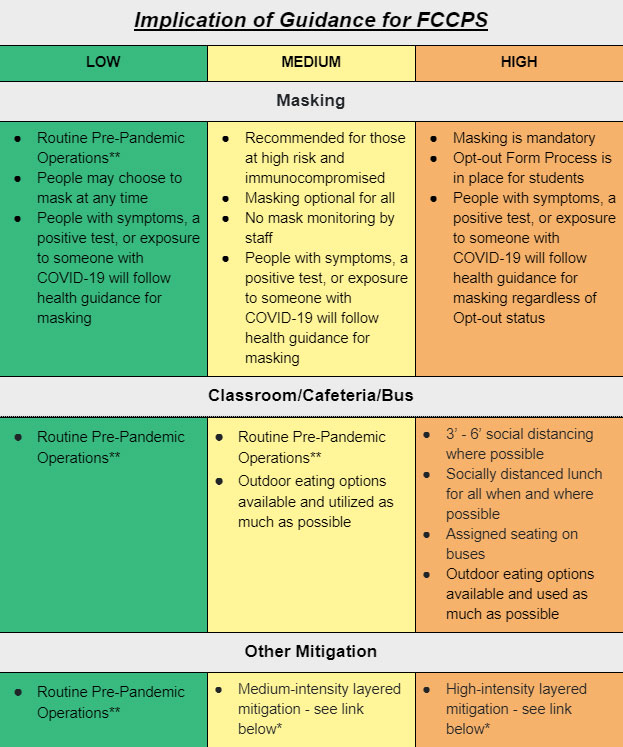 * FCCPS Pandemic/Communicable Disease Response Matrix
** Routine Pre-Pandemic Operations - Operations resume in ways consistent with little to no threat of any infectious disease. FCCPS supports handwashing, good germ hygiene, and will remain vigilant in our practices supporting our schools' overall health and wellness. This includes support for health compromised students and staff.
Additional Information
Symptomatic Students/Staff
Any student/staff member who is displaying COVID-like symptoms will not be able to attend school/work until their symptoms are resolving (including being fever free for 24-hours without the use of fever-reducing medication) AND they provide a negative COVID test (must be lab-verified/proctored) or an alternate diagnosis or clearance from a medical professional. Adjustments will be made for students with known health conditions based on the guidance of our nursing staff. Coronavirus Self-Checker | CDC
Rapid Testing
Our FCCPS rapid testing program will continue for any symptomatic student or staff member who needs immediate support. Please contact the School Health Aide for your school or go to the health clinic to get a rapid test. Anyone who needs support administering the test can get access to a device in the health clinic. Parents are required to administer the test for their student, as school staff are not permitted to administer tests. FCCPS BinaxNow Tip Sheet.pdf
Contact Tracing/Multiple Cases
While there is no longer contact tracing of isolated/sporadic cases, the division does monitor and provide health guidance to all positive cases. Letters are sent to classrooms/groups/activities impacted when a single positive case is determined. Parents should follow the 2/3/22 VDH Flowchart for K-12 and Child Care Parents: What to do if my child is ill or exposed to COVID-19? A guide from the Virginia Department of Health.
When there are multiple (3 or more) cases found in the same classroom/group/activity a contact tracing investigation is initiated by FCCPS with the Fairfax County Health Department. If there is no epidemiological link between the cases, then the situation is determined not to be an outbreak. However, if a link is found between the cases the FCHD will identify the situation as an outbreak and guidance will be provided to the school regarding the next steps.
Isolation/Quarantine and Masking
FCCPS will continue to follow CDC and FCHD guidance when a student/staff member tests positive for COVID. An isolation period of 5 days from symptom onset or date of the test result is required for anyone who tests positive for COVID. The student/staff member will be required to isolate for 5 days and, if they are symptom and fever-free, may return to school on day 6. Days 6-10, the returning student/staff member is required to wear a mask regardless of vaccine or opt-out status.
Quarantines are required for anyone who is exposed or considered a close contact based on symptoms and/or vaccination status. Anyone who is vaccinated and exposed/close contact with COVID can continue attending school/work provided they do not have any symptoms. Anyone who is unvaccinated and exposed/close contact must quarantine for 5 days after exposure or participate in a "test to stay" program. Any student or staff member who wishes to participate in FCCPS' Test to Stay Program can contact Jenn Beck (beckj@fccps.org). Masking is required during the 10-days following exposure period regardless of vaccine or opt-out status.
Quarantine and Isolation Guidance from the CDC
https://www.cdc.gov/coronavirus/2019-ncov/your-health/quarantine-isolation.html
PCR Testing
We will continue to offer free, weekly PCR testing to students and staff every Tuesday and Thursday to determine the level of virus in our school community. If you have been part of the testing program, just a reminder that you need to re-enroll with the state's new vendor, Aegis, to continue with testing. If you would like to join, register here! It only takes a minute and continues to be an essential part of our infectious disease strategy.
If You Test Positive for COVID-19 (Isolate)
Everyone, regardless of vaccination status:
Day 1 to 5:

Stay home and away from others.

Day 6 to 10:

If you have no symptoms or your symptoms are resolving, you can leave your house. Continue to wear a well-fitting mask to reduce any risk of infecting others.

If you have a fever, continue to stay home until 24 hours after your fever resolves.
If You Were Exposed to Someone with COVID-19 (Quarantine)
If you have been boosted OR received your second dose (and an additional dose if immunocompromised) of Pfizer or Moderna vaccine within the last 6 months OR received your first dose of J&J vaccine within the last two months:
Day 1 to 10

Wear a mask around others.

Test on day 5, if possible.

If you develop symptoms get a test and stay home.

If you test positive for COVID-19 during this 10-day period, follow the isolation guidance above
If you received two doses of Pfizer or Moderna vaccines more than six months ago and are not boosted OR received one dose of the J&J vaccine more than two months ago and are not boosted OR are unvaccinated or partially vaccinated:
Day 1 to 5:

Stay home and away from others.

Test on day 5 if possible. If you test positive for COVID-19, follow the isolation guidance above.

Day 6 to 10:

Continue to wear a mask around others.

If you develop symptoms get a test and stay home. If you test positive for COVID-19, follow the isolation guidance above.
COVID-19 Prevention
With the emergence of more contagious variants, such as Omicron, and the ongoing surge of COVID-19 cases, it is important that everyone adheres to the following public health prevention measures as best as they can to limit the spread of the virus in our community.
Get vaccinated against COVID-19 if you haven't yet received any vaccination or are only partially vaccinated.

Get your booster dose if you're age 16 years or older and received your initial mRNA vaccines more than 6 months ago or a Johnson and Johnson vaccine more than 2 months ago.

Wear a mask in public indoor spaces, regardless of vaccination status.

Stay home when feeling ill.

Avoid crowds and poorly ventilated spaces.

Wash your hands often, for at least 20 seconds.

Cover coughs and sneezes.
Stay Informed About COVID-19
If you have questions about COVID-19 vaccines, please call 703-324-7404. Call our Health Department Call Center at 703-267-3511 with Coronavirus questions. Both call centers are open 9 a.m. to 7 p.m. Monday thru Friday.

Text FFXCOVID to 888777 to receive updates from Fairfax County about COVID-19; text FFXCOVIDESP to 888777 for updates in Spanish.

Email questions or concerns to ffxcovid@fairfaxcounty.gov. This email account will be staffed Monday through Friday, 8 a.m. through 4:30 p.m.

Visit a web portal for coronavirus that serves as a one-stop online resource for information.

Learn more about COVID-19 on the Health Department Coronavirus (COVID-19) Webpage or FAQ page.

Follow @fairfaxcounty and @fairfaxhealth on Twitter.
The Health Department also has more information for individuals about isolation and quarantine at Slow the Spread of COVID-19 | Health (fairfaxcounty.gov). As always, please let me know if you have any questions. Thank you for all you are doing to support student and community health as we respond to this latest wave of infections.