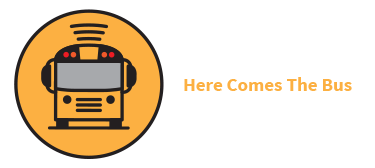 Here Comes The Bus is an easy-to-use website and app that enables parents to see the location of their child's school bus on a smartphone, tablet, or personal computer.
Download the app below!
Enter FCCPS Code: 29228
BUS, WALKING, AND BIKE ROUTES
A successful school day starts and ends with welcoming and safe transportation to school. Whether students walk, bike, take the bus, ride with parents, or drive themselves, FCCPS and the City of Falls Church are committed to ensuring that they get to and from school safely and efficiently.
We've cleaned the buses, trained our bus drivers and aides, and developed the bus routes based on student addresses submitted with registration.
A committee of FCCPS and City of Falls Church employees and community members developed "Suggested Routes to School" for walking and biking to the Oak Street and Secondary campuses.
Jessie Thackrey Preschool
Mt. Daniel Elementary School
Oak Street Elementary School
Secondary Campus
Mary Ellen Henderson Middle School and Meridian High School