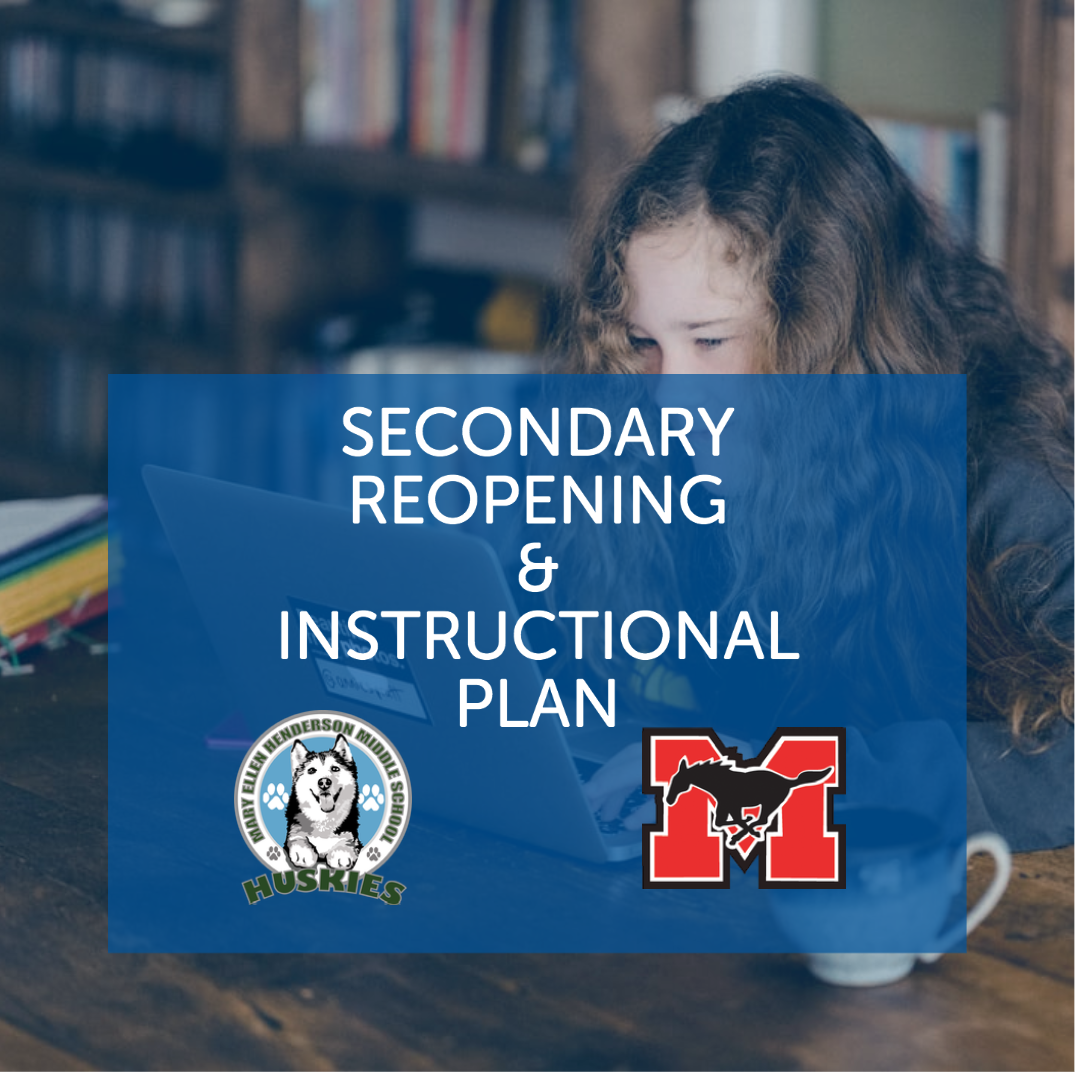 SECONDARY REOPENING & INSTRUCTIONAL PLAN
As we reopen our schools to secondary students, we are so grateful for everyone's efforts to provide and support our virtual instruction. After much collaboration and planning, FCCPS offers our 6-12 parents/guardians two instructional models from which to choose for the third quarter. The details are provided below. If you have any specific questions in regards to reopening, please send an email to reopening@fccps.org.
INSTRUCTIONAL MODEL OPTIONS
OPTION 1: HYBRID SCHEDULE WITH SIMULTANEOUS INSTRUCTIONAL MODEL

SIMULTANEOUS = CLASSROOM TEACHER ENGAGES ALL STUDENTS (IN-PERSON & VIRTUAL) SIMULTANEOUSLY

OPTION 2: VIRTUAL INSTRUCTIONAL MODEL (100% ONLINE LEARNING)
LEARNING MODEL SIDE-BY-SIDE COMPARISON
Hybrid Schedule (with simultaneous instructional model) Overview

Access to in person learning two days per week (at school)

Access to live (simultaneous) virtual learning two days per week (at home)

New instruction four days per week

Monday: independent learning time

(All) Virtual instructional model Overview

Access to live (simultaneous) virtual learning four days per week

New instruction four days per week

Lessons will continue to be recorded for all students to access via Schoology

Monday: independent learning time
OPTION 1:
HYBRID SCHEDULE
(utilizing simultaneous instructional model)
SCHEDULE:
Tuesday-Friday (Beginning Feb 23)
Students in grades 6-12 will receive access to the following:
New instruction, Tuesday-Friday, from 8:00 am to 3:00 pm. See schedule below.

Students whose last name begins with the letters A through K (Track B):

Will attend school, in person, on Tuesday and Wednesday.

Will access virtual learning on Thursday and Friday.

Students whose last name begins with the letters L through Z (Track C):

Will attend school, in person, on Thursday and Friday.

Will access virtual learning on Tuesday and Wednesday.
Hybrid Scheduling Note: GMHS/Henderson "Cross-Campus" students
Cross-Campus Students will transition between buildings to access their respective course(s). All health/safety mitigation factors will be applied.

Cross-Campus students will eat lunch in their respective schools.
OPTION 2:
(ALL) VIRTUAL LEARNING
(utilizing simultaneous instructional model)
SCHEDULE:
Tuesday-Friday (Beginning Feb 23)
Students in grades 6-12 will receive access to the following:
Virtual learning via Schoology conferencing/classroom streaming.

New instruction, Tuesday-Friday, from 8:00 am to 3:00 pm. See schedule below.

Instruction delivered by current classroom teachers.
HENDERSON SCHEDULE
Track B (A-K)
Track C (L-Z)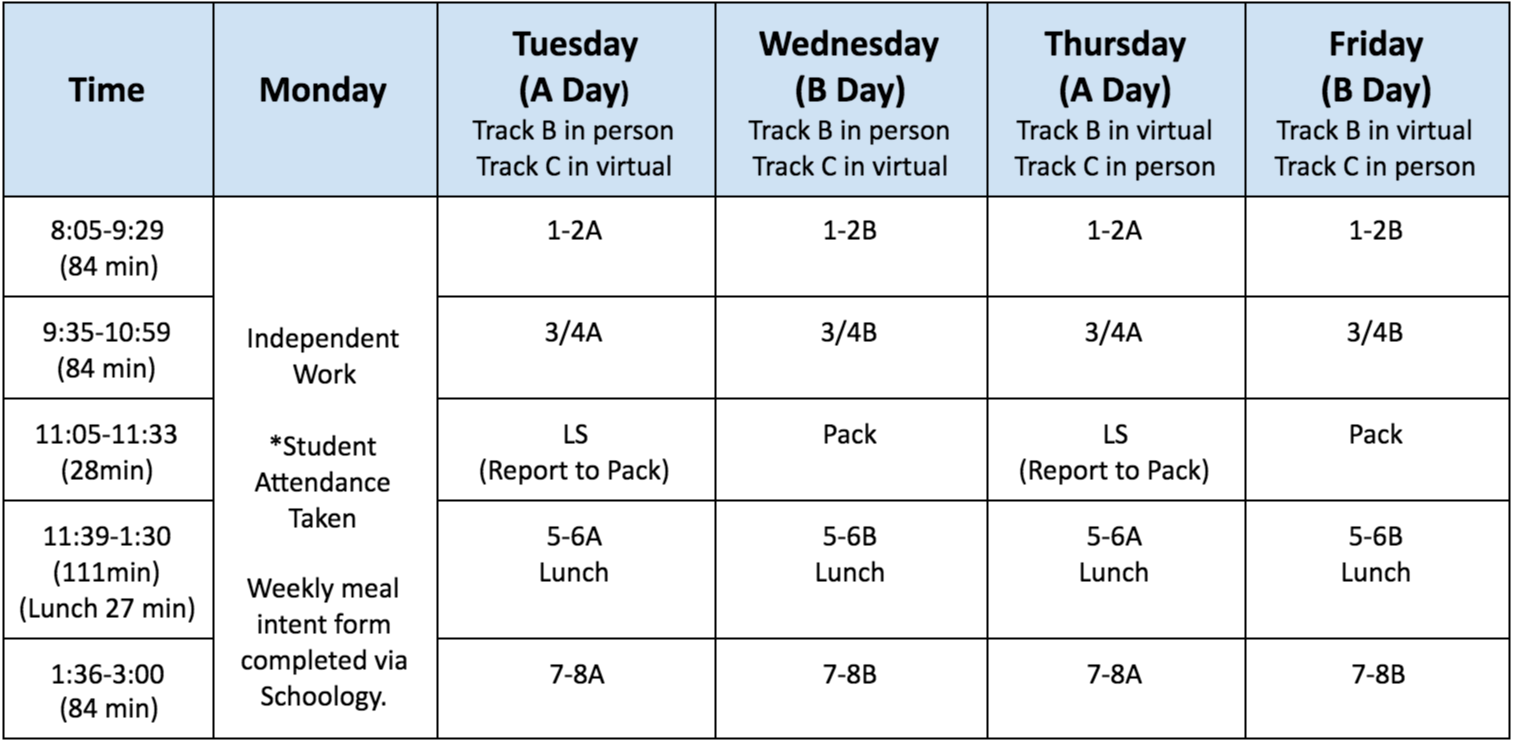 MASON SCHEDULE
Track B (A-K)
Track C (L-Z)
MONDAYS ARE INDEPENDENT LEARNING DAYS:
There will be no in-person learning for students on Mondays.

School buildings will be closed during the school day. The buildings will be accessible for students participating in after-school athletics and clubs.

Teachers are engaged with professional development and collaborative planning on Mondays.

Students will complete self-paced independent work. Students will be required to log in for attendance purposes.

Attendance will be taken on independent learning days for all students in both the hybrid and virtual models of instruction.
LIVE STREAMING TO SUPPORT CONTINUITY OF LEARNING:
Classroom teachers will utilize cameras to stream instruction to virtual/at-home students via Schoology Conferences.

Classroom teachers will work with both in person and virtual students (simultaneously) to ensure all are engaged in the learning community.

To ensure this model is successful we ask that all in person students bring laptops and chargers to and from school daily.

Students should bring headphones to school daily. If your student needs headphones, please reach out to your school directly.
SPECIAL POPULATIONS:
STUDENTS RECEIVING SPECIAL EDUCATION SERVICES:
All Special education students will have their IEPs implemented and provided services regardless of instructional model.

Students will have access to special education and related services, as outlined in their IEP.

IEP Case Managers and the Special Education Administrator will work with families to ensure continuity of learning.

IEP teams may reconvene, if needed, to address any issues.

Schedules for Special Education and Related Services may be individualized based upon student needs, as appropriate to support the implementation of the IEP.
STUDENTS WITH 504 PLANS:
Students with 504 Plans will continue to have access to their accommodations and supports regardless of the model selected for instruction.

504 Case Managers will work with families to ensure students are supported in both the hybrid and virtual models.
STUDENTS RECEIVING ESOL SERVICES:
English learners will have their ESOL services embedded throughout the hybrid/virtual schedule.

ESOL teachers will provide small group and co-taught instruction meeting the language needs of the English learners.
STUDENTS RECEIVING GIFTED SERVICES (HENDERSON ONLY):
Gifted learners who participate in the Hybrid model will engage with GT services embedded simultaneously through small group instruction during the Enrichment Flex block. The type of service will depend on the student's GT level and scheduling. All students will receive appropriate services based on their GT levels.

GT specialist will provide simultaneous instruction (virtual and/or face-to-face support) to meet the gifted needs of the GT learners and will assist general education teachers in supporting GT students (as needed) in a push-in model.

GT students will continue to receive services in math and reading through advanced placement courses and through differentiation and enrichment activities within the classroom.
ADDITIONAL REOPENING DETAILS:
TRANSPORTATION TO & FROM SCHOOL:
FOOD SERVICES:
All in-person students will have access to breakfast and lunch at no cost.

All students will eat in a socially distanced manner.

Opportunities to eat outside will be available if the weather permits.

Food sharing is not allowed.

School instructional activities involving food will not be permitted.

Any family with a virtual model student can continue to participate in our food pick-up support services.
OUTDOOR LEARNING OPPORTUNITIES:
Outdoor areas will be utilized to provide additional learning spaces as the weather permits.

Please monitor the weather and send your student with a jacket as needed.
AFTER SCHOOL CARE (ASAP): HENDERSON ONLY
After-School care at Henderson (ASAP) will not be provided while implementing the hybrid schedule.
WATER FOUNTAINS & WATER BOTTLES:
Water bottle fillers will be open to students where available.
Students are encouraged to bring their own personal water bottle from home for use during the school day.
BUILDING/CLASSROOM CLEANING PROTOCOLS:
All buildings will be deep cleaned and sanitized every night.

High-touch areas will be cleaned multiple times during the day.

Shared materials will be cleaned between users.
VENTILATION INFORMATION FOR SCHOOLS
High School - The ventilation air system in FCCPS new high school is a once-through air system and does not recirculate ventilation air from any individual spaces to any adjacent spaces. Conditioned (room neutral) outside air is ducted from floor by floor units to each fan coil unit, providing ventilation to the building occupants. The system utilizes a demand control ventilation sequence to modulate variable air volume (VAV) dampers at each FCU, controlling the amount of outside air delivered to each space based on CO2 levels. This approach means that all ventilation air in the building does not transfer between classrooms, between floors, or to other occupancies. Each DOAS unit is provided with both MERV 8 and MERV 13 filtration of the outdoor air providing additional protection through filtration for contaminants in the air stream. The major assembly spaces in the building (Cafeteria, Theaters, and Gymnasiums) are each served by their own dedicated air handling unit. Each unit is again provided with MERV 8 and MERV 13 filtration. Each unit provided both ventilation and heating and cooling within a combined air stream. For these spaces it does mean that the air is recirculated within the assembly space.
Mary Ellen Henderson MS - The system in MEHMS was installed in 2004. While it is newer, it did require manually adjusting the dampers in the RTU's. We increased the airflow to 20% outside air as compared to the 10% required by code.
HEALTH/SAFETY:
Henderson Middle School mitigation protocols
IMMUNIZATIONS & FLU SHOTS:
All students who attend in person must have all immunizations and/or physicals completed prior to attending school in the Hybrid Learning Model. Students who do not have updated documentation on file with their school can not access the school building. Please contact your school if you need more information or support with this process.

All students are encouraged to obtain a flu shot prior to attending school. This is not required but highly encouraged. Please consult your health care provider regarding this topic.

Questions and concerns should be directed to the Student Health Aide:
DAILY HEALTH SCREENINGS:
It is required that families self-monitor, remain home, and inform the school immediately if the student or any member of the household:

Is sick with COVID-Like Illness; or

Has tested positive for COVID-19 in the last 14-days; or

Are being tested for COVID-19; or

Has a COVID positive person in their household; or

Has some other known exposures and have been instructed to quarantine by a health official or health care provider

Families are required to conduct a daily health screening prior to sending their student to school, and any "YES" answer(s) to the questions below will require the student to remain home.

Does your student have any of the symptoms listed below that are not caused by another known condition? (Please answer "YES or NO" since their last day in the building.) Has the student had any of the following

A new fever (100.4°F or higher) or a sense of having a fever?

A new cough that cannot be attributed to another health condition?

New shortness of breath that cannot be attributed to another health condition?

New chills that cannot be attributed to another health condition?

A new sore throat that cannot be attributed to another health condition?

New muscle aches (myalgia) that cannot be attributed to another health condition or specific activity (such as physical exercise)?
Please DOWNLOAD HEALTH SCREENING FLYER (In English and Spanish) to use each day prior to attending school in person.
TEMPERATURE CHECKS:
All students will have temperatures checked before entering an FCCPS building.

Temperatures will be checked by staff prior to any student riding a school bus.

Each school will have a process for checking the temperatures of:

Car Riders (check temperatures prior to exiting the vehicle)

Walkers (check temperatures prior to entering the building)

Late Students (temperatures will be checked upon arrival)

Visitors (check temperatures upon arrival)

Any student with a temperature of 100.4 F will not be able to access in-person learning.
FACE COVERINGS/MASKS:
All students and staff will wear a face covering while at school and on the bus.

We recognize that some students may struggle with this at first, but school staff will work in collaboration with parents to support children with this process.

Additional support will be provided to students will medical conditions, developmental issues, and disabilities which make wearing a face-covering difficult

While the goal will be to increase the stamina of students wearing face coverings, "mask breaks" will be allowed as needed/appropriate.

Please send your student with an extra face covering if possible.

Face coverings will be provided by the school should a student forget theirs.
SOCIAL DISTANCING:
Everyone should observe social distancing guidelines.

Staff/students should remain 6 feet apart as possible.

Passing someone is not a high risk.

Remaining near someone for greater than 15 minutes creates a potential exposure.

Visual supports and reminders for social distancing have been strategically placed across our school buildings to support students with social distancing.

Strategies will be implemented to help students navigate the building in a socially distanced manner and to prevent students from congregating in groups--both inside and outside of the buildings.
HAND WASHING/ HAND SANITIZING:
Frequent handwashing is the most critical practice for preventing the spread of disease.

Washing hands with soap and water for at least 20 seconds is the gold standard.

Both staff and students should wash their hands upon arriving in the classroom, before/after eating, before/after using the bathroom, and before/after recess at a minimum.

Sanitizing is appropriate when the opportunity for hand washing is not available.

Hand sanitizing stations have been placed strategically throughout buildings across the division.
HEALTH CLINIC SERVICES & PUBLIC HEALTH NURSES:
Each school's health clinic is open and staffed daily by School Health Aides.

Clinics are essential to the health and well being of the school setting.

Public Health Nurses are in place to support each school in the division.

Please contact the school regarding any health or medical needs your student may have before attending in person.
PROCESS FOR WHEN STUDENTS ARE ILL AT SCHOOL:
Any student who becomes ill at school will be sent to the health room.

The School Health Aide will screen students.

Students who meet the criteria for COVID-Like Illness will be sent to a designated isolation area in the school with one/one supervision and support from staff.

Parents will be called to pick up their student immediately. (Please note: Any siblings or household members enrolled in our schools must go home as well.)

Any students sent home with COVID-Like Illness symptoms will be required to provide a statement from a health care provider, clearing them to return OR provide a negative COVID test result in order to return to in-person learning.

These procedures are in place to ensure all our students, staff, and families' health and safety.
SAFETY PROTOCOL FOR COVID-19 POSITIVE CASES:
When the division is notified of a COVID positive case in our schools, all those who could be impacted will be placed on a brief 2-day "Pause" for in-person learning.
The "Pause" allows for deep cleanings to occur and for the Fairfax County Health Department & FCCPS to conduct contact tracing.

Students and staff who could have come in contact with a COVID positive case will transition to virtual learning, online activities and/or independent learning for two days to allow for cleaning and contact tracing to occur.

Individuals identified as a direct contact or exposure (closer than 6 feet for 15 minutes or more) will remain in a virtual learning environment during the period of quarantine based on guidance from the Fairfax County Health Department. (which currently requires a 14-day quarantine after the last date of direct exposure).

Individuals who are not considered direct contacts or exposures will return after the 2-day pause to in-person learning.

FCCPS will notify families regarding the need to "pause."

The Fairfax County Health Department will contact families during contact tracing only if their student was considered a direct contact or exposure.

A general notification will be provided to the impacted school community regarding the outcome of the event. NO SPECIFIC INFORMATION WILL BE PROVIDED TO PROTECT CONFIDENTIALITY FOR ALL INVOLVED.
Again this process is ONLY implemented when there is a COVID-19 positive case result.