EDIT MAIN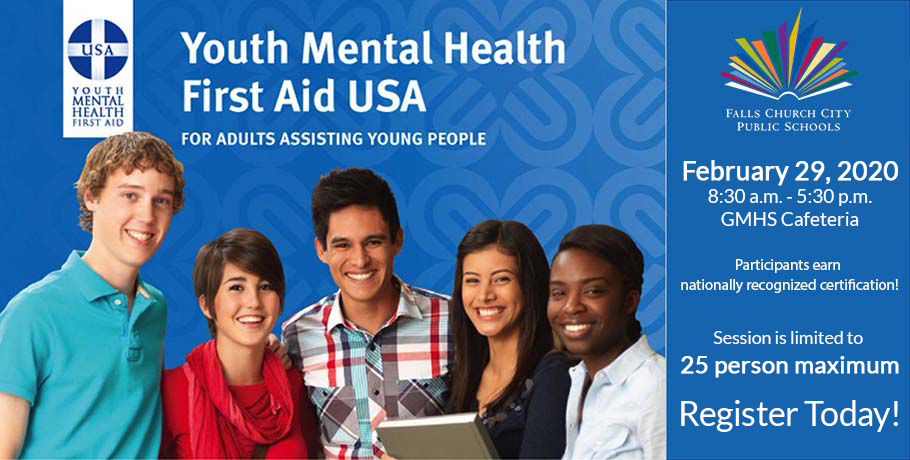 Become a Youth Mental Health First Aid Responder
A wonderful training opportunity open to all FCCPS staff and parents.
Saturday, February 29, 2020, 8:30 am- 5:30 pm George Mason High School Cafeteria
The FCCPS Special Education & Student Services Team, in collaboration with the Fairfax County Community Services Board, is proud to offer Youth Mental Health First Aid training to all staff and parents. This program will be facilitated by certified instructors from the Fairfax Community Services Board (CSB).
Youth Mental Health First Aid is designed to teach parents, family members, caregivers, teachers, school staff, peers, neighbors, health and human services workers, and other caring citizens how to help a student/youth/child who is experiencing mental health or addictions challenge or is in crisis. Youth Mental Health First Aid is primarily designed for adults who regularly interact with young people. The course introduces common mental health challenges for youth, reviews typical adolescent development, and teaches a 5-step action plan for how to help young people in both crisis and non-crisis situations. Topics covered include anxiety, depression, substance use, disorders in which psychosis may occur, disruptive behavior disorders (including ADHD), and eating disorders.
Mental Health First Aid uses role-playing and simulations to demonstrate how to assess a mental health crisis; select interventions and provide initial help; and connect people to professional, peer, social, and self-help care. Participants do not learn to diagnose, nor how to provide any therapy or counseling – instead, participants gain concrete tools and answers to crucial questions like "What can I do?" and "Where can someone find help?" and a core five-step action plan to support someone developing signs and symptoms of mental illness or in an emotional crisis.
Participants who complete this 8-hour hands-on course will earn a nationally recognized certification in Youth Mental Health First Aid which lasts 3-year. Additionally, all FCCPS teachers who complete the course will receive 10 recertification points towards their license renewal.
Free for FCCPS employees
$25.00 materials fee for parents/community members.Scholarships available if needed. Contact Ghada Khalaf, School Social Worker, for scholarship information.
Contact Rebecca Sharp, Executive Director of Special Education & Student Services with questions or concerns.
All sessions have a 15 person minimum and 25 person maximum. A waiting list will be started if more than 25 people register.