EMPLOYEE RECOGNITION AWARDS
Congratulations to the 2022 Winners!
The FCCPS Prize Patrol, consisting of FCCPS & FCEF Leadership, along with many excited colleagues, surprised the winners of the FCCPS employee awards at school the week after Spring Break. All nominees and winners will be recognized at the FCCPS Celebration of Excellence
Falls Church Education Foundation Teacher of the Year
Jennifer Jayson, Math Teacher, Meridian High School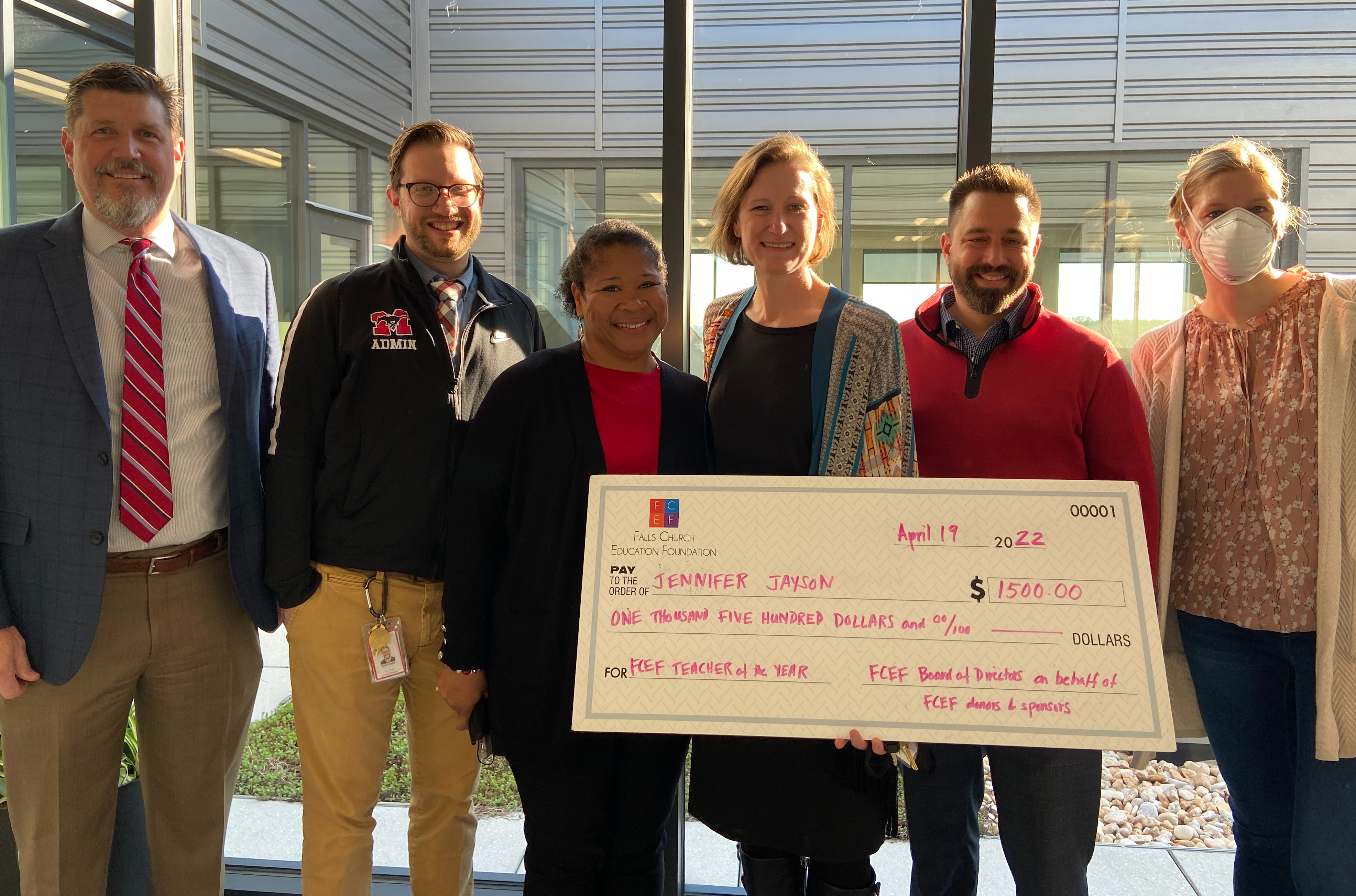 Professional Specialist of the Year
Jennifer Fessenden, PreK-12 Mathematics Coordinator, Systemwide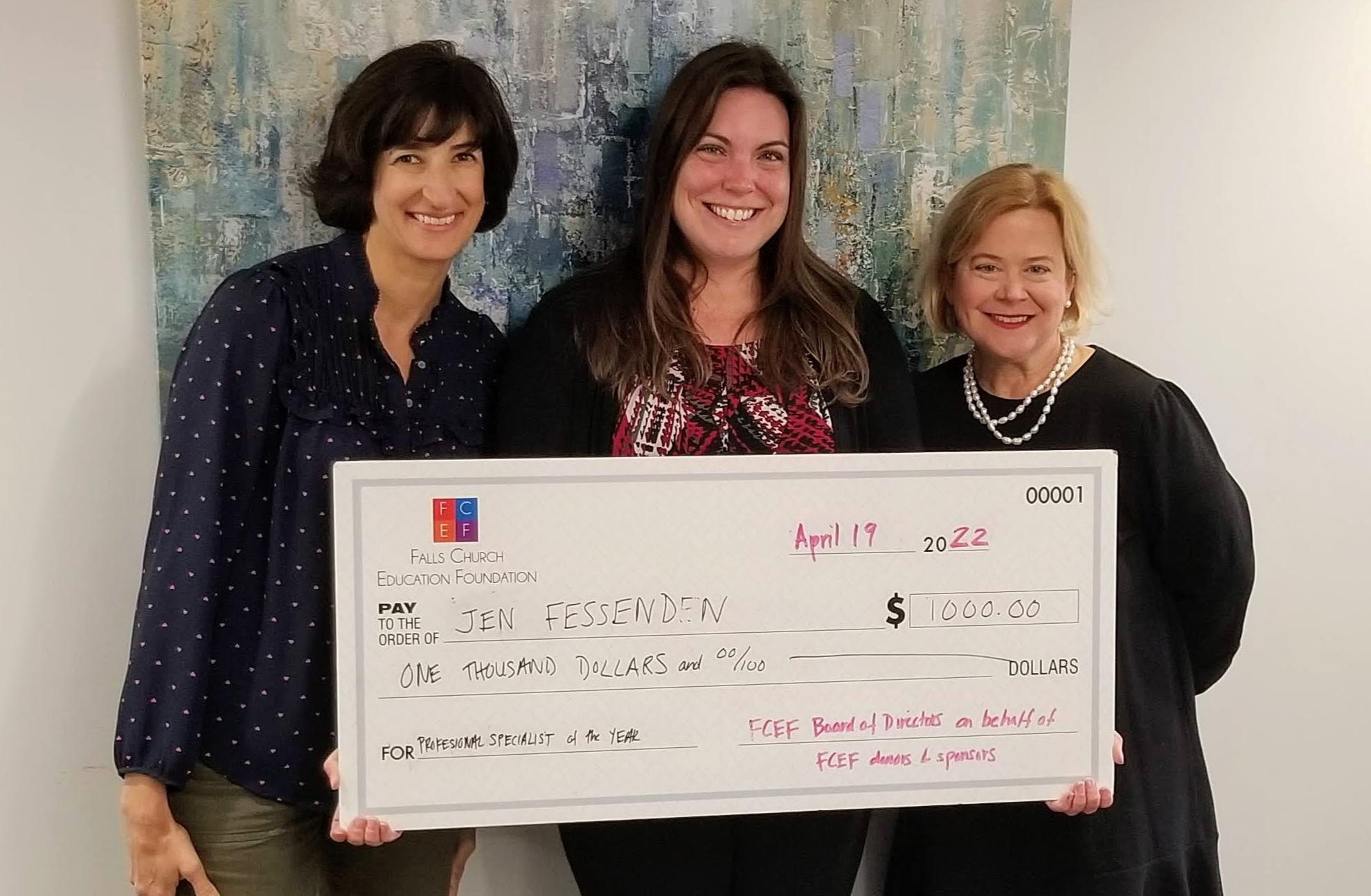 Support Staff Employee of the Year - Operations
Sindy Morel, Assistant Director of Food Services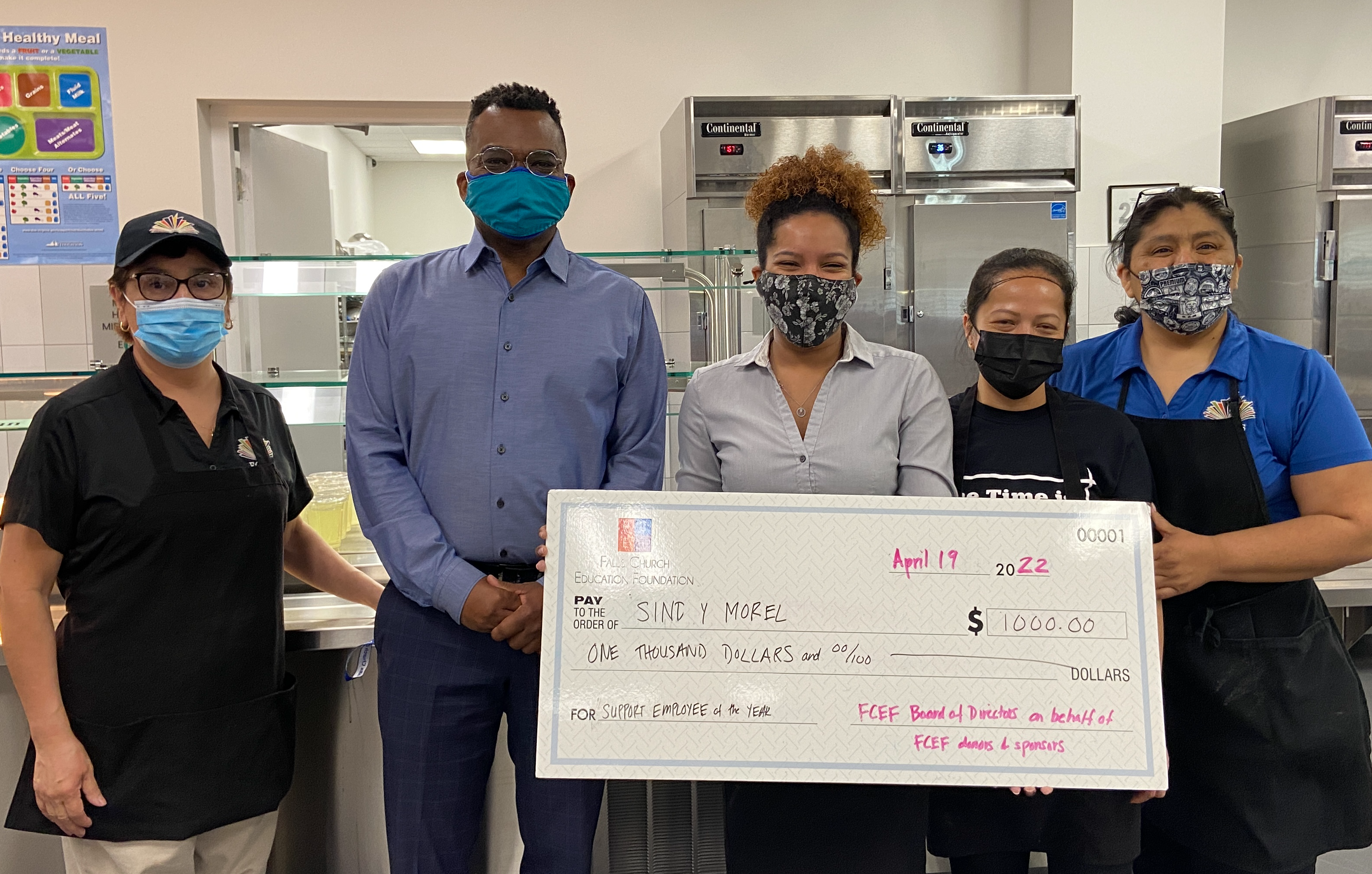 Support Staff Employee of the Year - Academic
Alane O'Neill, Technology Aide, Oak Street Elementary School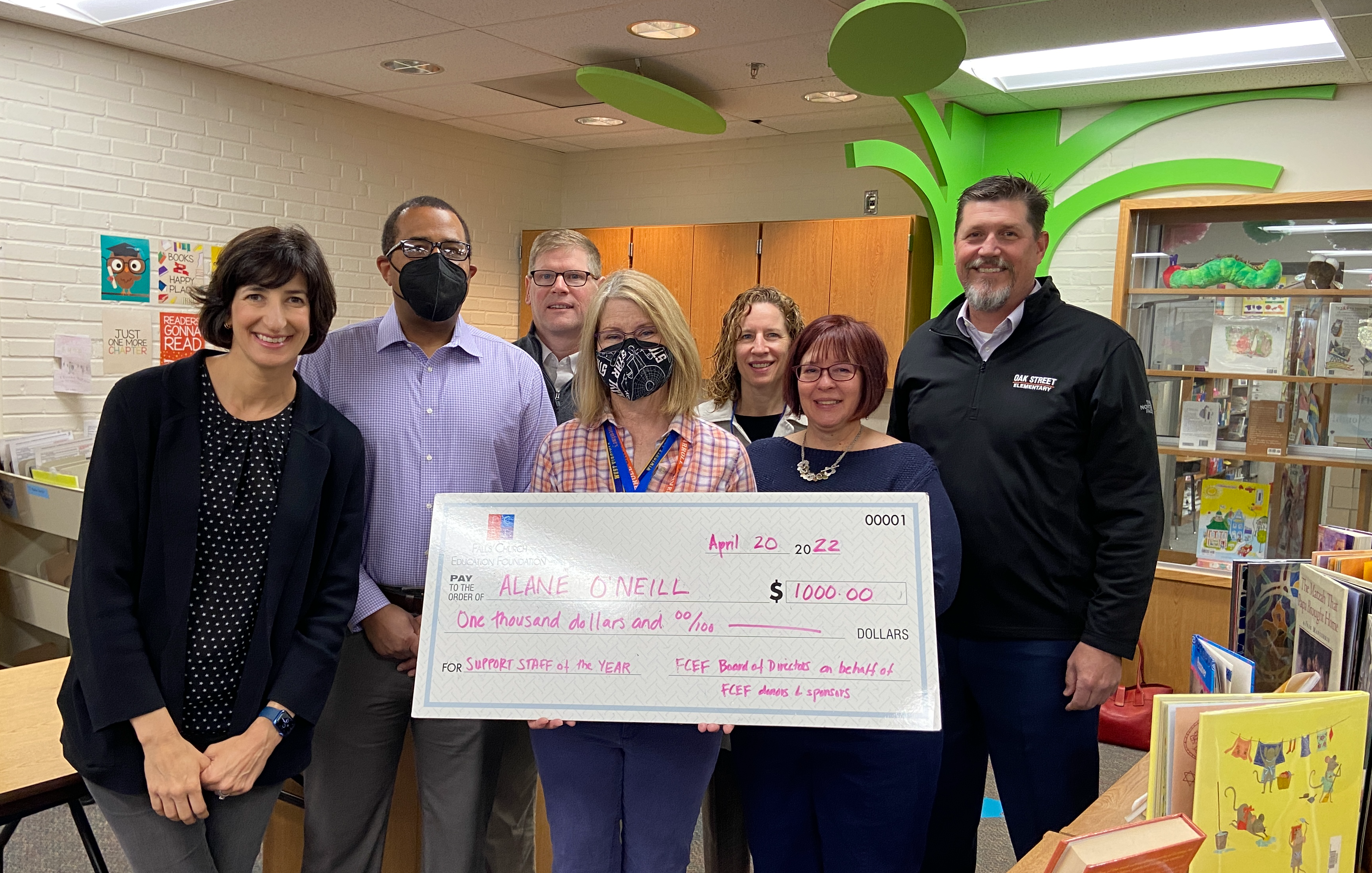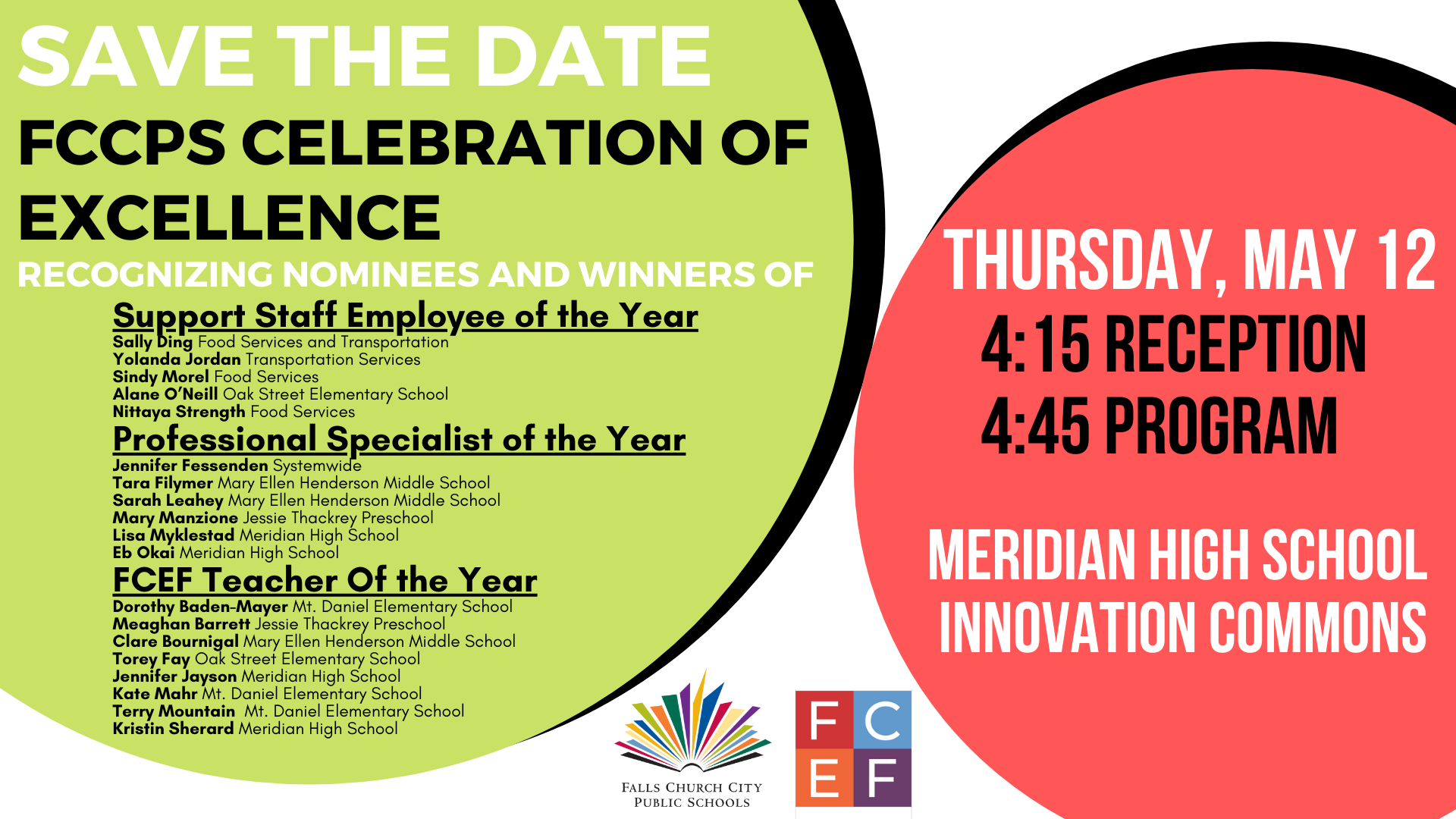 Nominated for Falls Church Education Foundation Teacher of the Year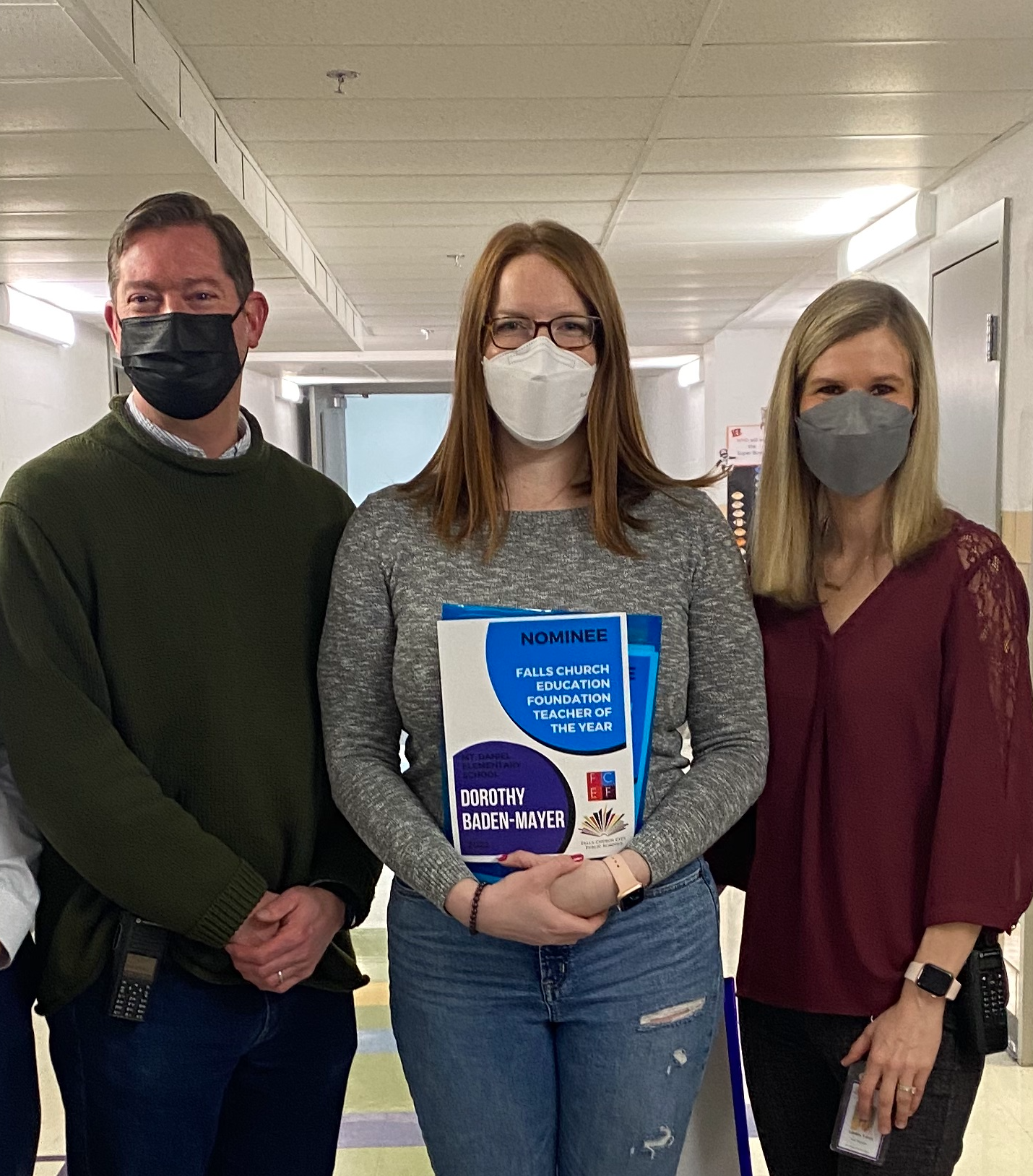 Dorothy Baden-Mayer
First Grade Teacher
Mt. Daniel Elementary School
"Dorothy's classroom is one in which all students believe that they can learn and achieve. She continuously strives to provide best practices and to use teaching strategies and techniques that will best serve students in their learning journey." Mt. Daniel First Grade Team
"Dorothy is self-motivated, thorough and collaborative in her approach to teaching. She uses technology to track student progress and researches different ways to present creative, engaging activities to enhance lessons." Jill Wattles, First Grade Teacher, Mt. Daniel Elementary School
"Her classroom invites you in and you want to stay!" Janet McEvoy Price, Math Resource Teacher, Mt. Daniel Elementary School
"Throughout the COVID-19 pandemic, Ms. Baden-Mayer demonstrated exceptional flexibility and resourcefulness in maintaining a warm and productive educational environment for her students, notwithstanding the unprecedented and novel challenges of remote learning." The First Grade Team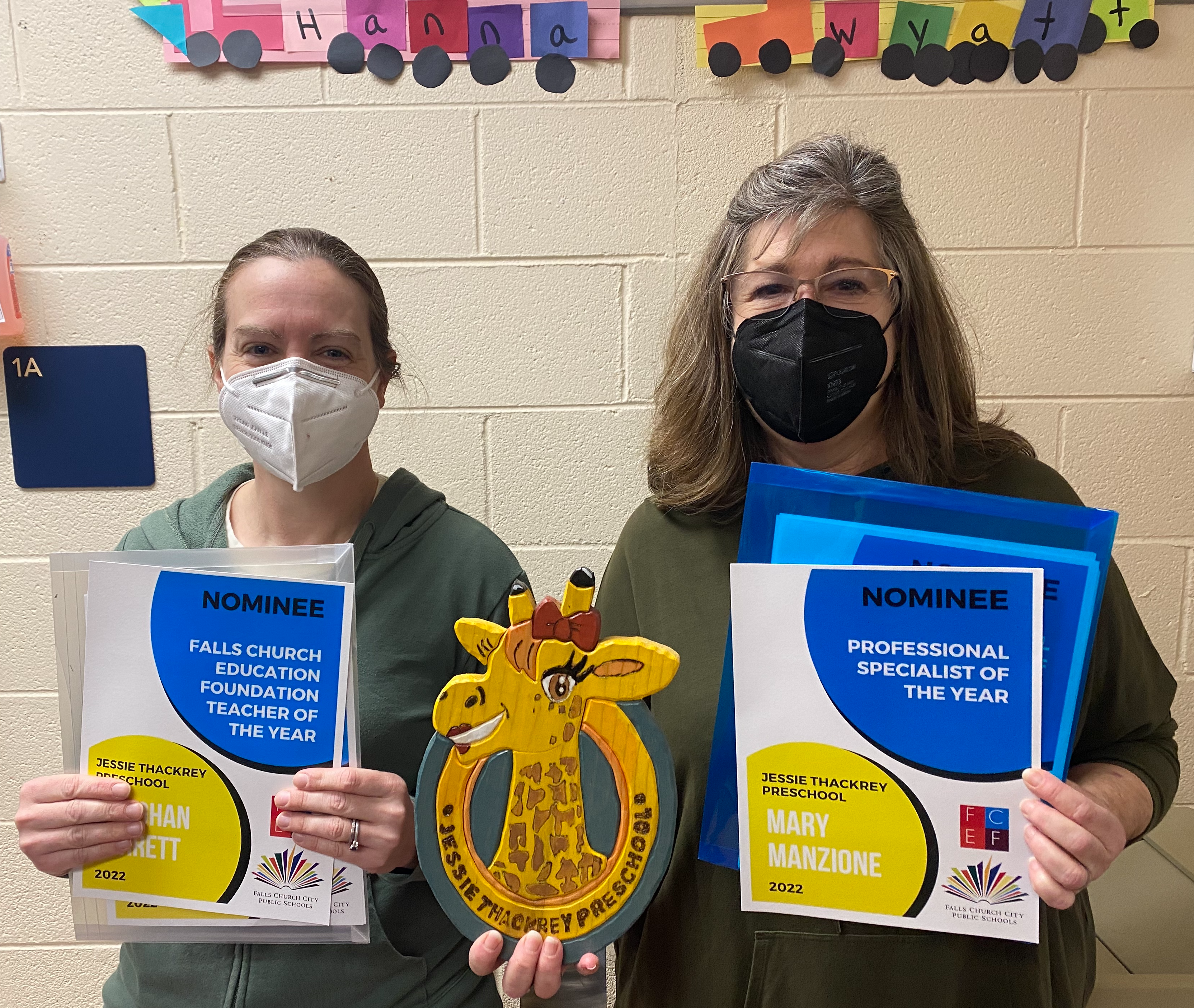 Meaghan Barret
Early Childhood Teacher
Jessie Thackrey Preschool
"There is always a sense of family in the learning environment she creates for the children in her care. You can feel the joy when you visit her room!" Rebecca Sharp, Executive Director of Special Services
"She allows the JTP curriculum to guide her planning and adds materials that have a strong impact on her students. Ms. Barrett has a background in art. She provides daily opportunities for her students to engage in the process of art" Mary Manzione, Speech Language Pathologist, Jessie Thackrey Preschool
"Meaghan has created a warm, engaging, and safe environment for her students to not just learn, but to thrive. Under Meaghan's creative and gentle lead, we have watched our daughter… flourish. (She) comes home from school brimming with stories of friendships forged, activities immersed in, and new skills acquired." Catherine Ennis, parent
"She spends the time to get to know each child: their strengths and weaknesses, the areas they have difficulty and the areas they shine. She then uses her lessons to draw out the best in every child while encouraging them to improve in the areas they struggle." Emily Alsup, Parent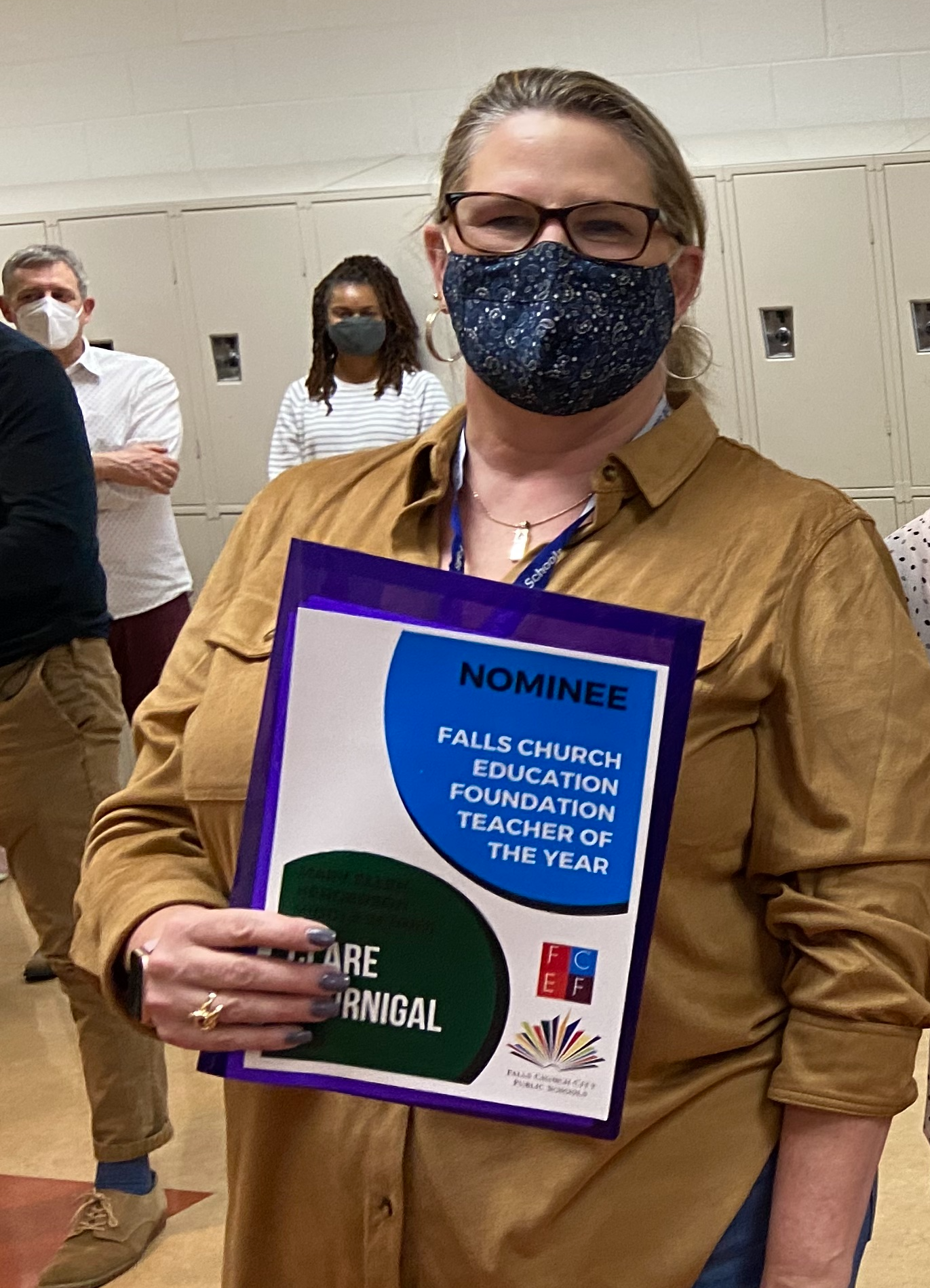 Clare Bournigal
Math Teacher
Mary Ellen Henderson Middle School
"Within the Math 8 team,she drives our work to ensure all students can thrive. In our collaborative planning, Clare focuses on implementing evidence-based practices with a keen awareness for how to meet students where they are today, and prepare them for success in the future." Megan Introna, Math Teacher, Mary Ellen Henderson Middle School
"I would have loved to have had a mathematics teacher like Mrs. Bournigal. She understands the content to a deep level, gives each student the support that they individually need to succeed and spends countless hours thinking of ways to make her lessons engaging, interactive and appropriately rigorous for all." Jennifer Fessenden, Prek-12 Mathematics Coordinator
"Student engagement is her specialty. She connects with students on a very personal level, she is able to gain their attention and command a room effortlessly. She is extremely skilled in determining what negative behaviors to ignore and what behaviors to address." Elizabeth Jenkins, Math/Special Education Teacher, Mary Ellen Henderson Middle School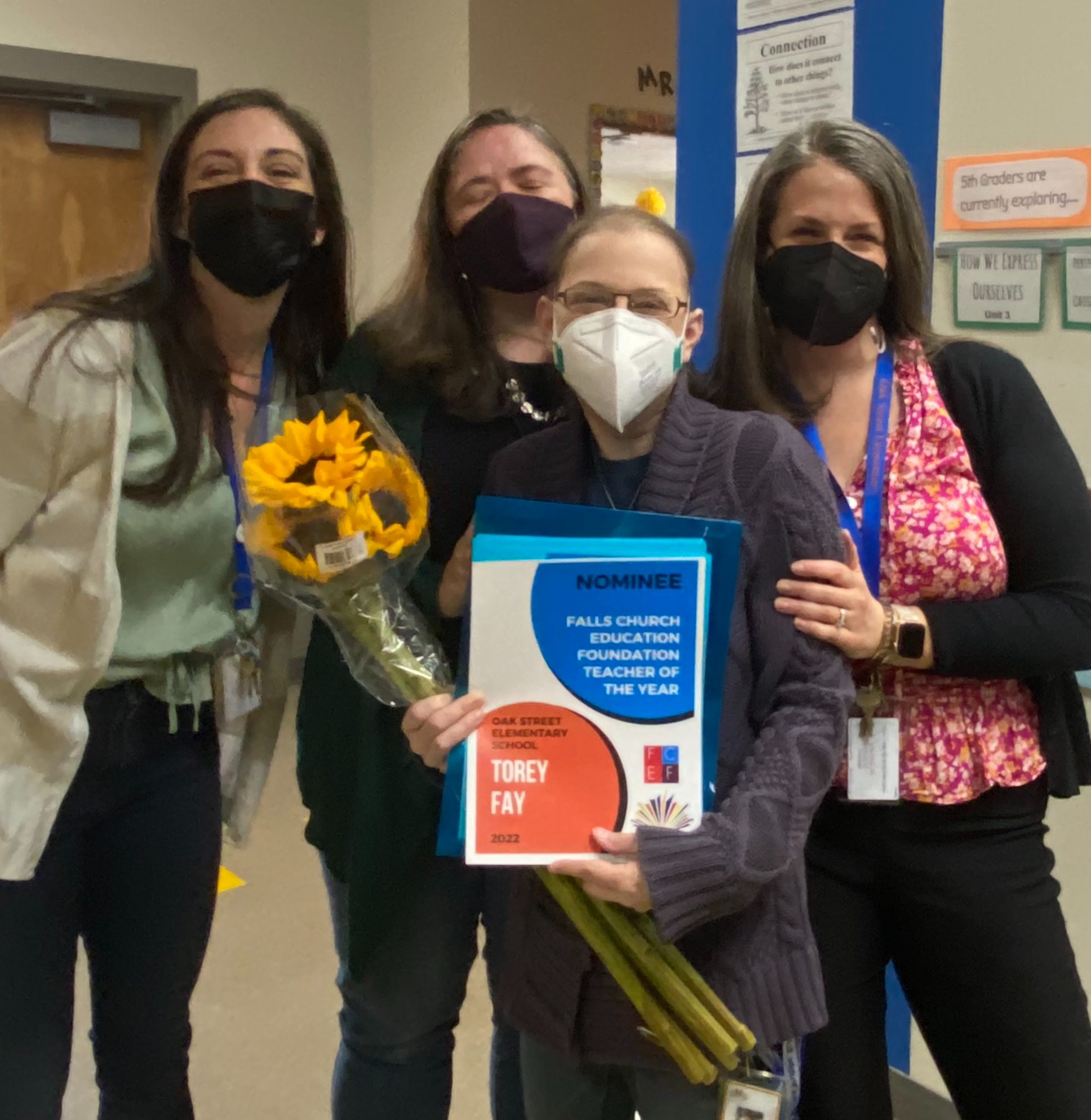 Torey Fay
Fifth Grade Teacher
Oak Street Elementary School
"Her creativity kicks into high gear when developing new ways to engage and excite students. This skill of hers was highlighted during virtual, hybrid, and concurrent learning over the past two years. She effortlessly (at least it seemed to those on her team) adapted to our new way of teaching and created learning experiences that were just as dynamic as the ones she created pre-COVID." Layton McCann, Lisa Mueller, Mary Kate Hughes, Fifth Grade Teachers, Oak Street Elementary School
"Her calm demeanor creates a classroom environment where students feel safe to take risks. in addition to her excellent instruction, she also fulfills the roles of director, motivator, and counselor." Heidi Lang, Gifted Specialist, Oak Street Elementary School
"I began my teaching career during a challenging time in education and I would not be where I am now without the guidance of such an amazing mentor teacher. Torey taught me how to build strong positive relationships with parents and students, to teach effectively in a virtual or in-person environment, to encourage students' leadership and interests, to value student choice, and above all, to love teaching." Grace Gamboa, Special Education Teacher, Oak Street Elementary School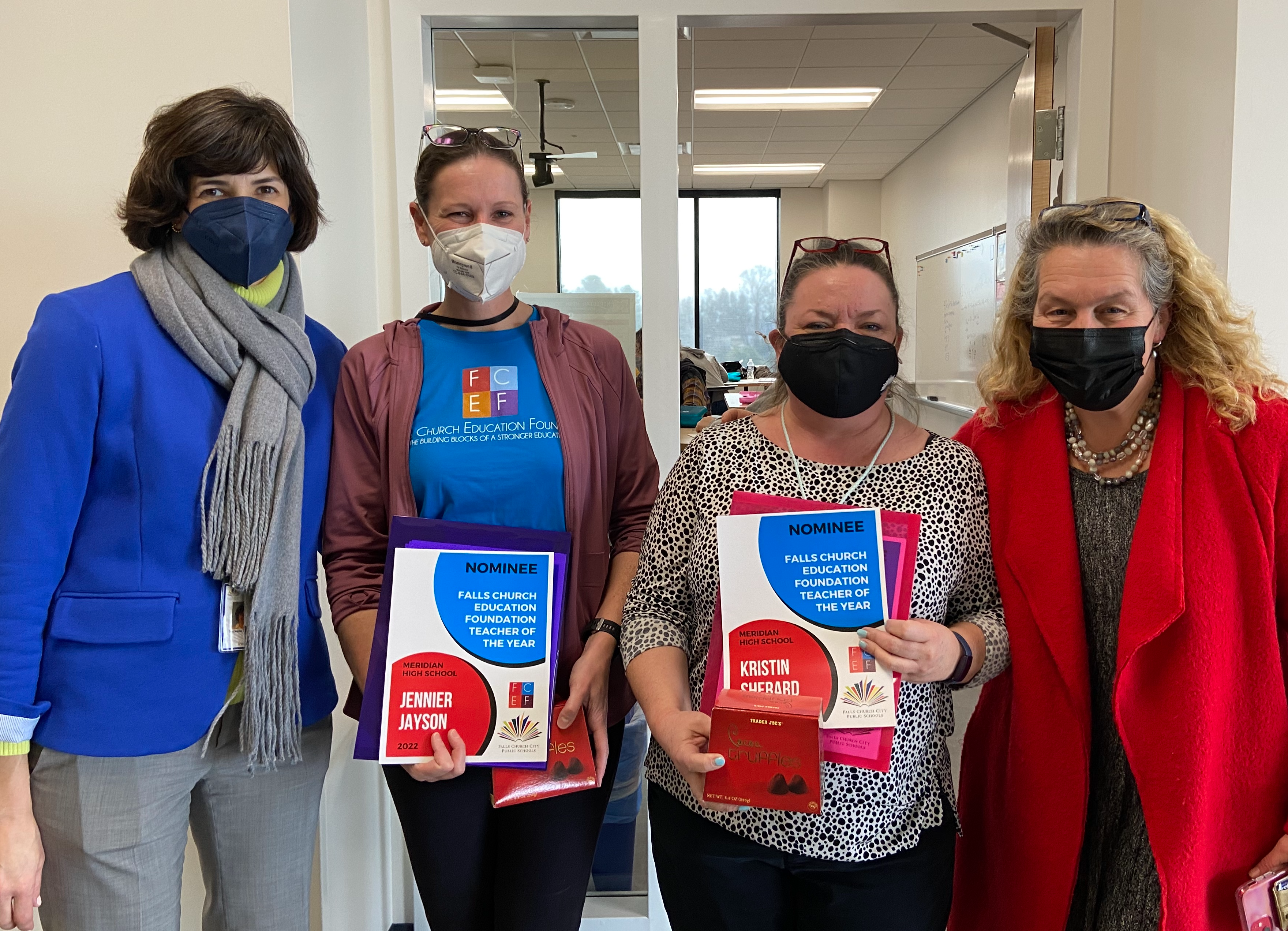 Jennifer Jayson
Math Teacher
Meridian High School
"Jen demonstrates an extraordinary commitment to her school community outside of the math classroom. She has recently co-lead the Meridian Chapter of National Honor's Society and inducted in over 100 new members. On many block 8s/stable groups, you will find Jen teaching hordes of students the beauty of origami and knitting. On a professional level, Jen has served as a leader by sitting on numerous committees, leading the Math Department as Department Leader and acting CTL, and by advocating for all employees of FCCPS as a leader.." William Snyder, Computer Science and Mathematics Teacher, Meridian High School
"Her lectures were consistently clear, engaging, and enjoyable. Ms. Jayson was so flexible and attentive to the needs of me and my classmates, slowing down when we didn't understand at first and spending meaningful time exploring our questions." Sequoia Wyckoff, GMHS Alumnus
"She has shared her love for Desmos graphs created from implicit functions, and her interests in the relationship between inverse derivatives. Her excitement to impart knowledge to our class keeps me engaged, and more likely to understand the curriculum." Danny Oppenheimer, Meridian High School Class of 2023
"Jennifer Jayson is the teacher we all wish we had for math in school and the colleague we are appreciative to work with now." Valerie Chesley, School Counselor, Meridian High School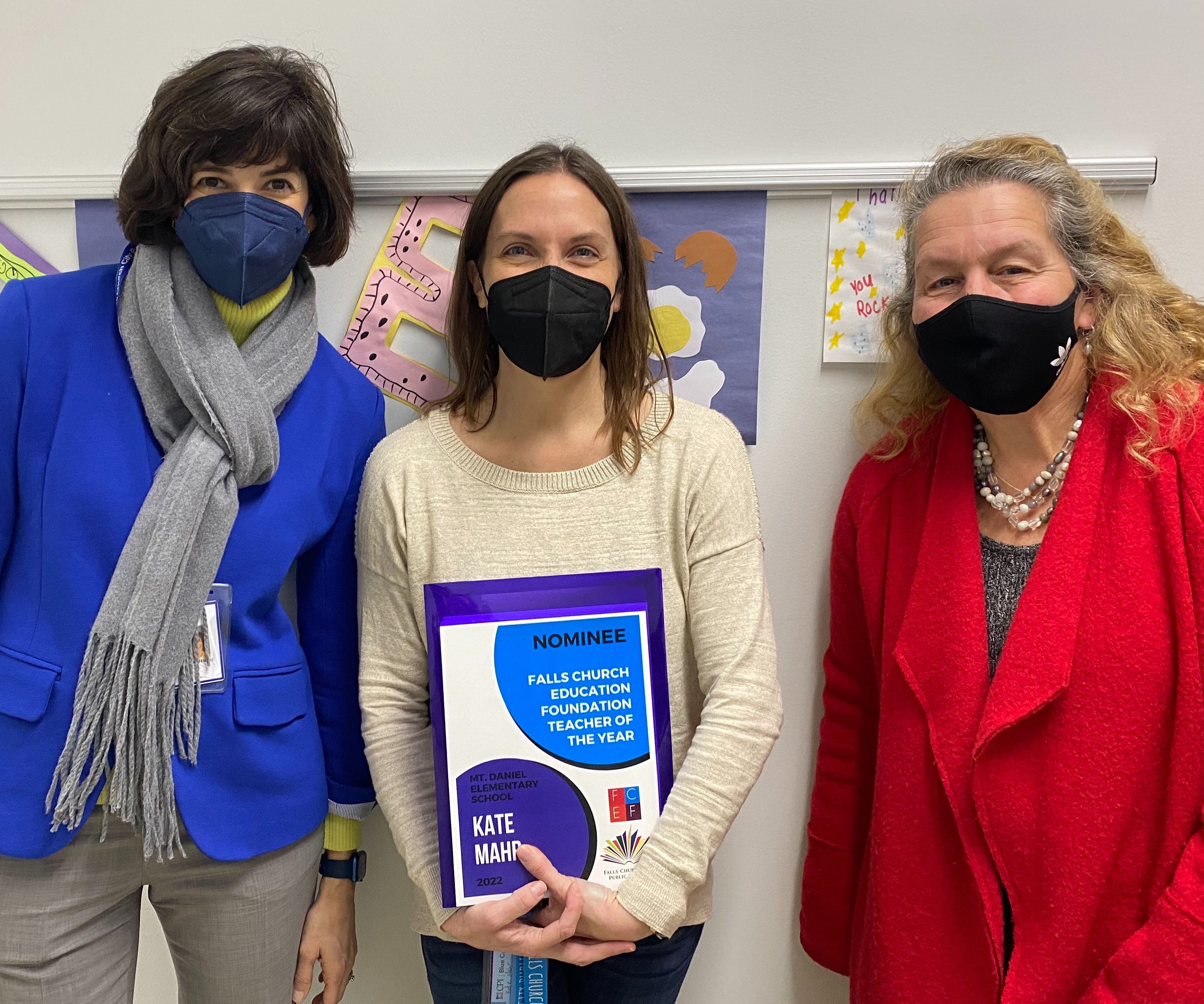 Kate Mahr
Special Education Teacher
Mt. Daniel Elementary School
"She strives to be the voice for children who often may not have a voice or can be overlooked in a large school setting." Jackie Harper, Kindergarten Teacher, Mt. Daniel Elementary School
"Kate is a paramount example of how to work effectively with others. She listens, shares resources, and demonstrates flexibility on a daily basis. I have never questioned her trust and belief in me, which nods at how well she inspires and supports her co-workers." Lisa Murphy, Special Education Teacher, Mt. Daniel Elementary School
"Kate has advocated for the need for Adaptive Specials to provide some of our students with disabilities access to Specials classes in a way that is adapted to meet their needs. Kate was successful in her advocacy and collaboration, and the students are seeing success with this new structure." Allison Klink, PK-2 Special Education Administrator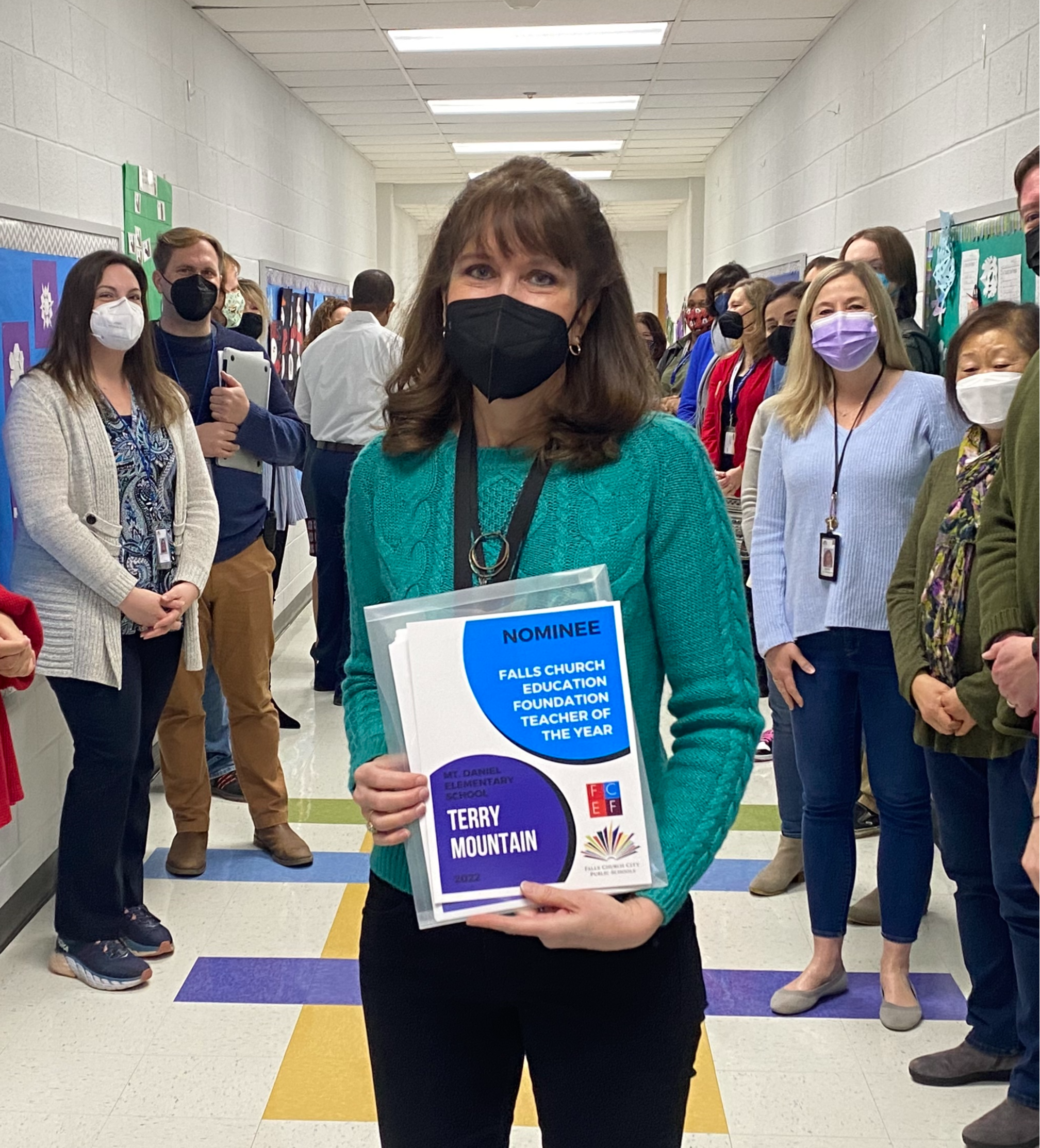 Terry Mountain
Kindergarten Teacher
Mt. Daniel Elementary School
"Mrs. Mountain's captivating lessons incorporate visual, technological, auditory, and kinesthetic elements to meet various student learning styles and needs." Jed Jackson, School Counselor, Mt. Daniel Elementary School
"She cares completely and lovingly for her students and their families, her coworkers, and our community. Terry looks for ways to be helpful and improve the lives of everyone around her." Nan Hof Kindergarten Teacher, Mt. Daniel Elementary School
"Shapes are fun and letters are fun because Mrs. Mountain is fun." Current kindergarten student
"Students are encouraged regularly to grapple with challenging ideas, ask questions, and to apply and connect their thinking to broader concepts. She is a truly gifted educator that develops students into eager lifelong learners." Lindsey Covey, Assistant Principal, Mt. Daniel Elementary School
"Each of our girls woke up every day excited to go to kindergarten. There is not much more a parent can hope for in the early years of their children's education" The Hartenstein Family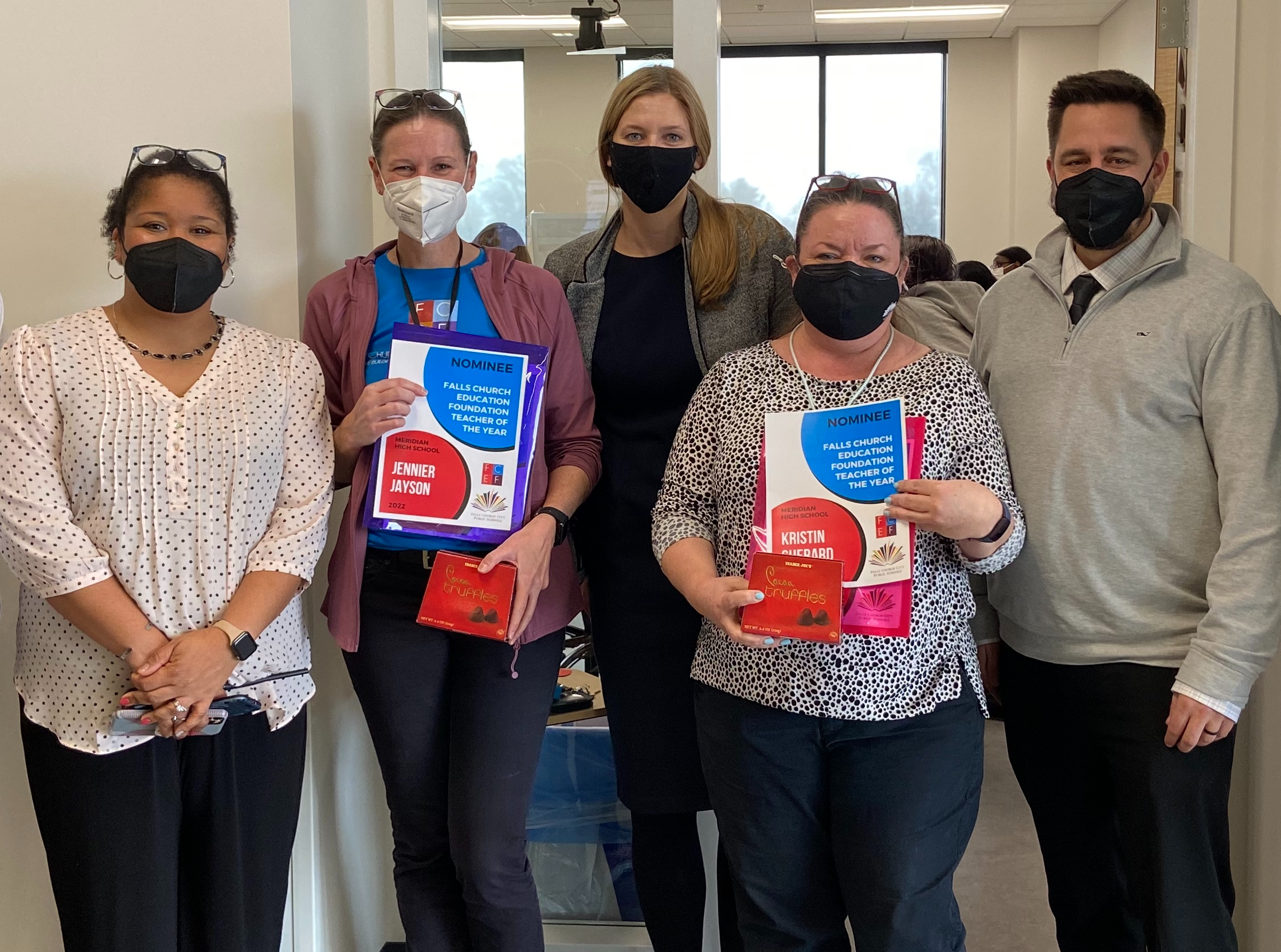 Kristin Sherard
Special Education & Math Teacher
Meridian High School
"Kristin is one of the most versatile, flexible, and valuable members of the departments she works with because of her wealth of knowledge of special education, mathematics, and how to best serve students with various learning needs. She collaborates with teachers to provide the best possible learning environment for the students on her caseload, and for the students in the classes she teaches." Jennifer Jayson, Meridian High School
"Ms. Sherard is a caring and skilled teacher. Ms. Sherard exemplifies caring as she sees the whole student; she learns about each student's interests and makes them feel accepted and comfortable in the learning environment. This extra effort from Ms. Sherard allows for her students to be noticeably at ease in her classroom, as is evidenced by her individual conversations with students as she circulates during small group or individual work. Ms. Sherard is a masterful teacher in her instructional practice." Hilary Trebels, Assistant Principal, Meridian High School
"Mrs.Sherard is a fantastic support teacher fully understanding the situations of not just me but everyone's learning differences. Always taking the time to help a group of students trying to solve problems or a single individual struggling on a project. Even while virtual her help wasn't hindered just because she was behind a computer screen." Meridian High School student
Nominated for Support Staff Employee of the Year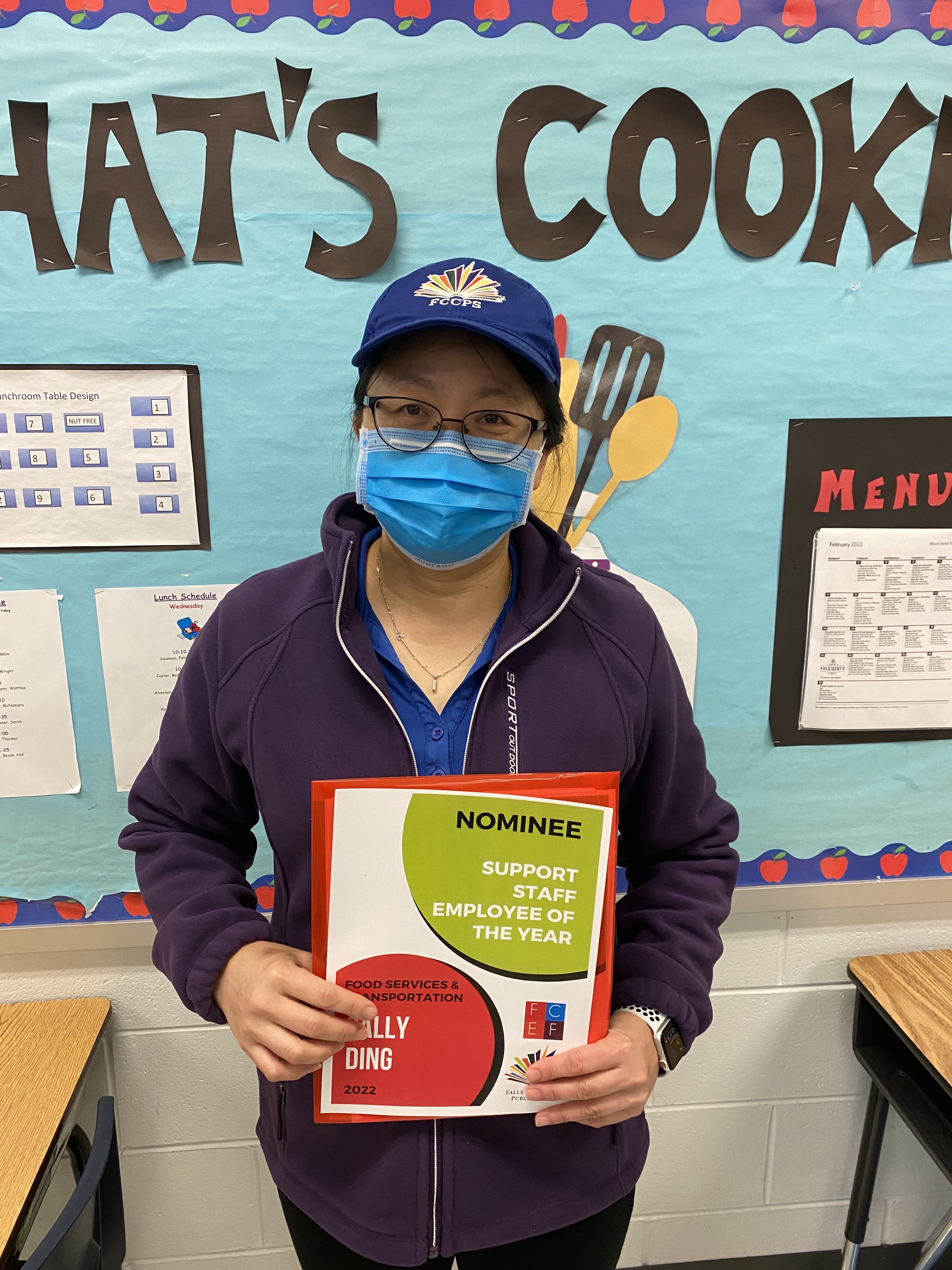 Sally Ding
Food Services and Transportation
"Sally is the bus assistant on the Silver line, which oursons, take every day to and from school. Sally has a smile on her face every day, making sure the boys get on and off the bus safely, and the boys tell me she is always cheerful, asking about their day at school and their weekend. They also mentioned that she works in the lunchroom and are excited when they get an opportunity to see her there too!" Shawn & Mike Brain, parents
"She has worked in all of FCCPS schools and has some calm and grace under changing priorities during difficult times. Sally doesn't complain and does every task with a smile. It is her concern and interest for others that make her stand out." Richard Kane, Food Services Director
"Sally is our connection to the school and she is warm, organized, kind and helpful. Since starting on our bus route, the silver line, the morning and afternoon routines of boarding and exiting the bus have been absolutely seamless (without her, both were quite chaotic!). She welcomes the children warmly every morning and ensures they go home with the right parents and with a smile." Melissa Polinsky, parent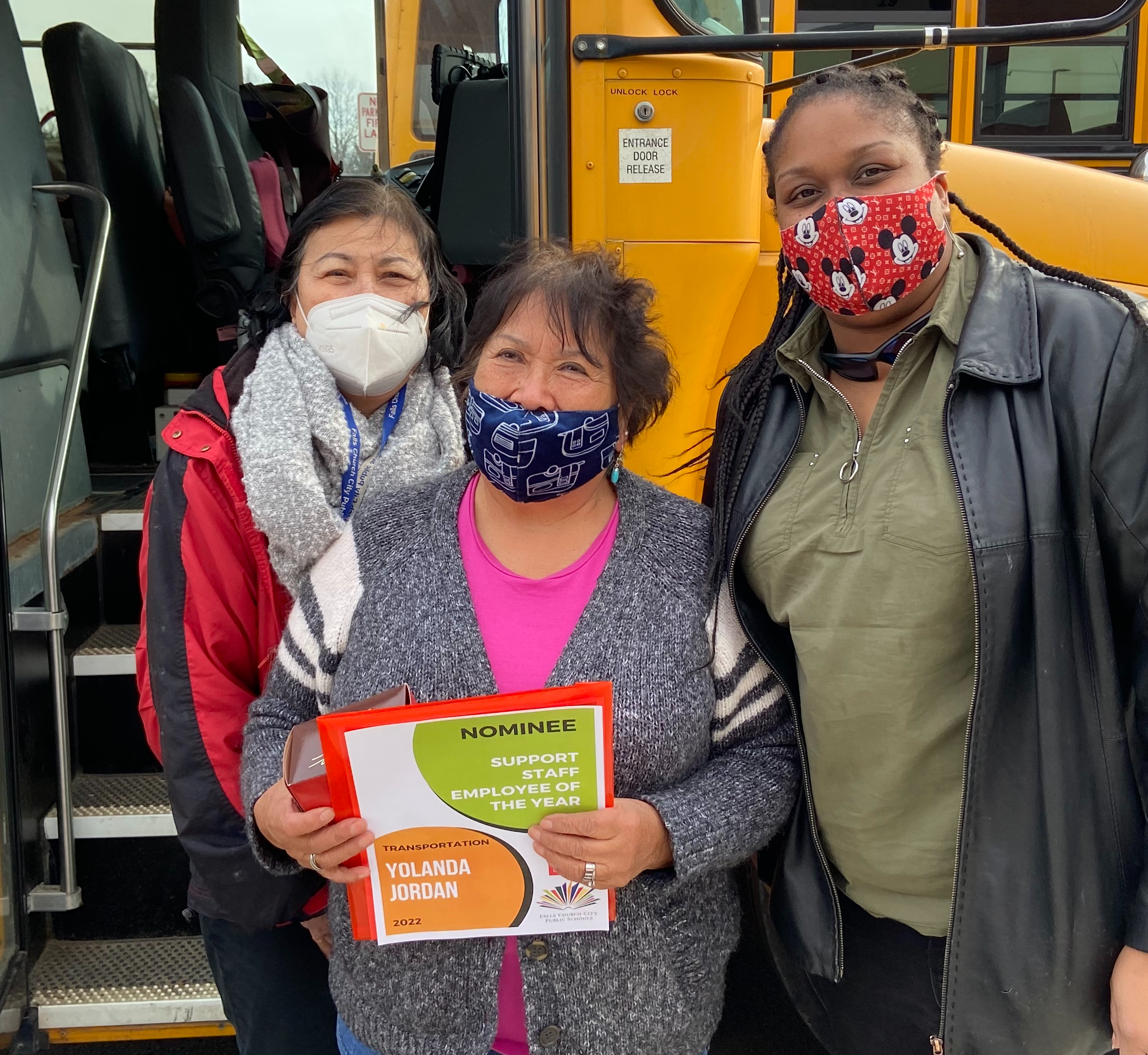 Yolanda Jordan
Bus Driver
Transportation Services
"The start of this year has been difficult due to the bus driver shortages. This has required the need for some drivers to conduct double runs to ensure all students are picked up and able to be transported to/from school. Instead of instructing drivers to do these double runs, I have opted to ask for volunteers. Yolanda has consistently volunteered first to assist with these extra runs. These runs typically occur during the drivers' layover time between schools, so they do not include additional pay. Sometimes, these double runs have occurred at the last minute with only one hour's notice. Yet, Yolanda still volunteers immediately. Even when I express my sincere appreciation to her, she has always responded "That's what we do. We are a team and that's what I am here for."' MeChale' Johnson, Transportation Director
"She volunteers to assist with additional routes in the absence of drivers and additional stops. Her knowledge of the city landscape has decreased delays in transportation of students and has been a true asset to the success of the Transportation department." Steven Bagby, Jr. former Transportation Coordinator
"Yolanda is a great driver. She is very nice and helpful to the kids on the bus. She also helps everyone all the time. Yolanda knows the city very well." Eng Chuan, Bus Aide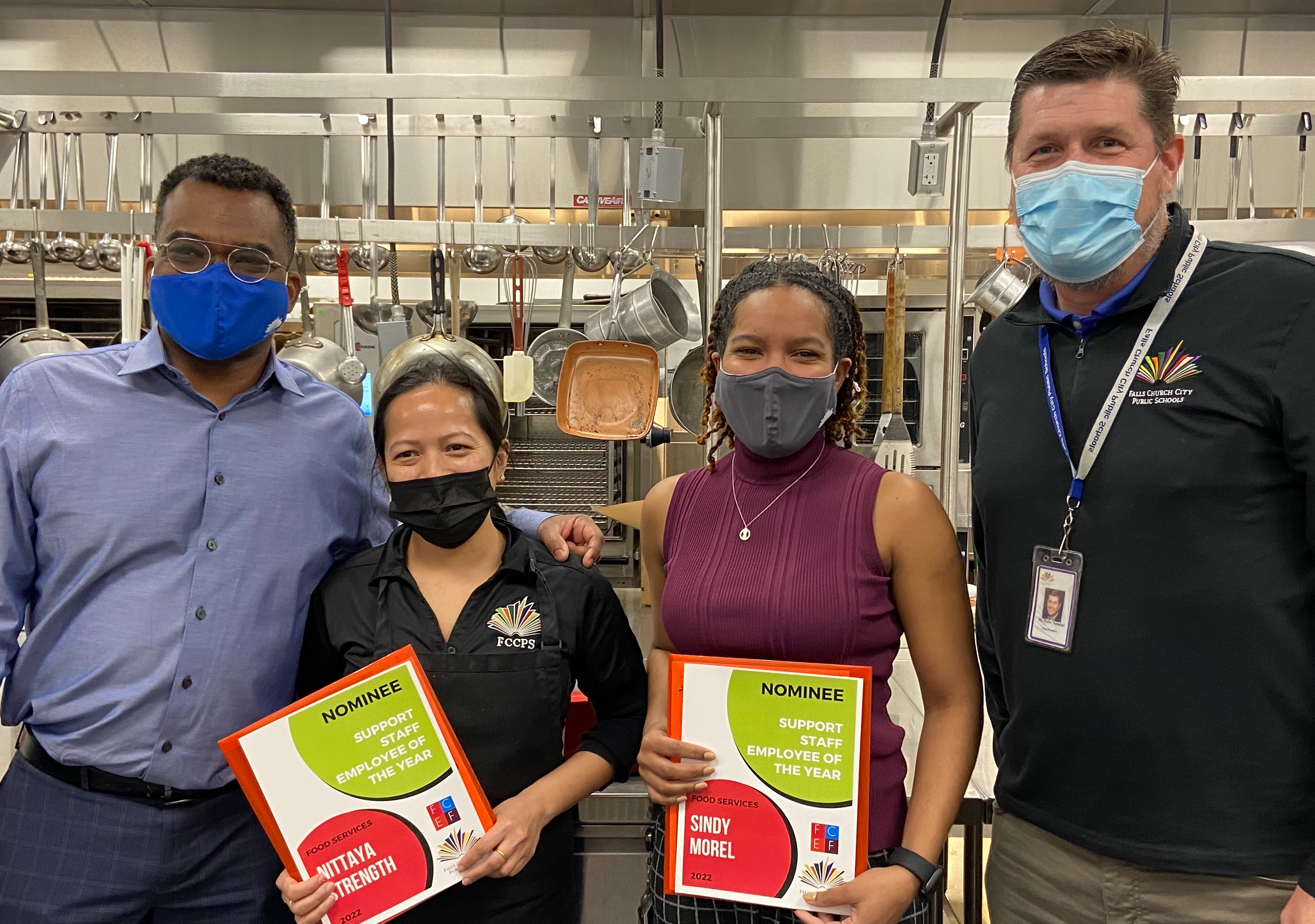 Sindy Morel
Assistant Director of Food Services
"Since the start of the pandemic, Sindy has used her bi-lingual skills to represent the care and kindness of the FCCPS team. Providing translation for our non-English speaking parents, she has been the friendly face that many families came to know and the bridge between our Spanish speaking cultures within the foodservice team" Richard Kane, Food Services Director
"During the pandemic Sindy has exemplified our mission that 'no student should ever go hungry.' She shared the responsibility to call and email parents to communicate any changes in the scheduling or food distribution. While maintaining a positive attitude she strives to figure out solutions while adapting to ever changing scenarios and challenges. Sindy has demonstrated her leadership skills as she worked to maintain the highest level of safety protocols and standards. She is willing to go over and beyond expectations to get the job done." Richard Kane, Food Services Director
"Sindy is very efficient and accurate in her work as it relates to Finance and she always seems to have a smile on her face. She is willing to learn new ways to do things (p-card payments, electronic invoicing, etc.) and typically brings thoughtful suggestions to any team she is on." Mechelle Coppock, director of Budget and Finance

"As a dreamer with big ideas, Sindy has always welcomed my visions and thought of ways we could make things happen while also educating me on the regulations that must be adhered to." Brittney Allen-Shaw, Special Education Administrator, Mary Ellen Henderson Middle School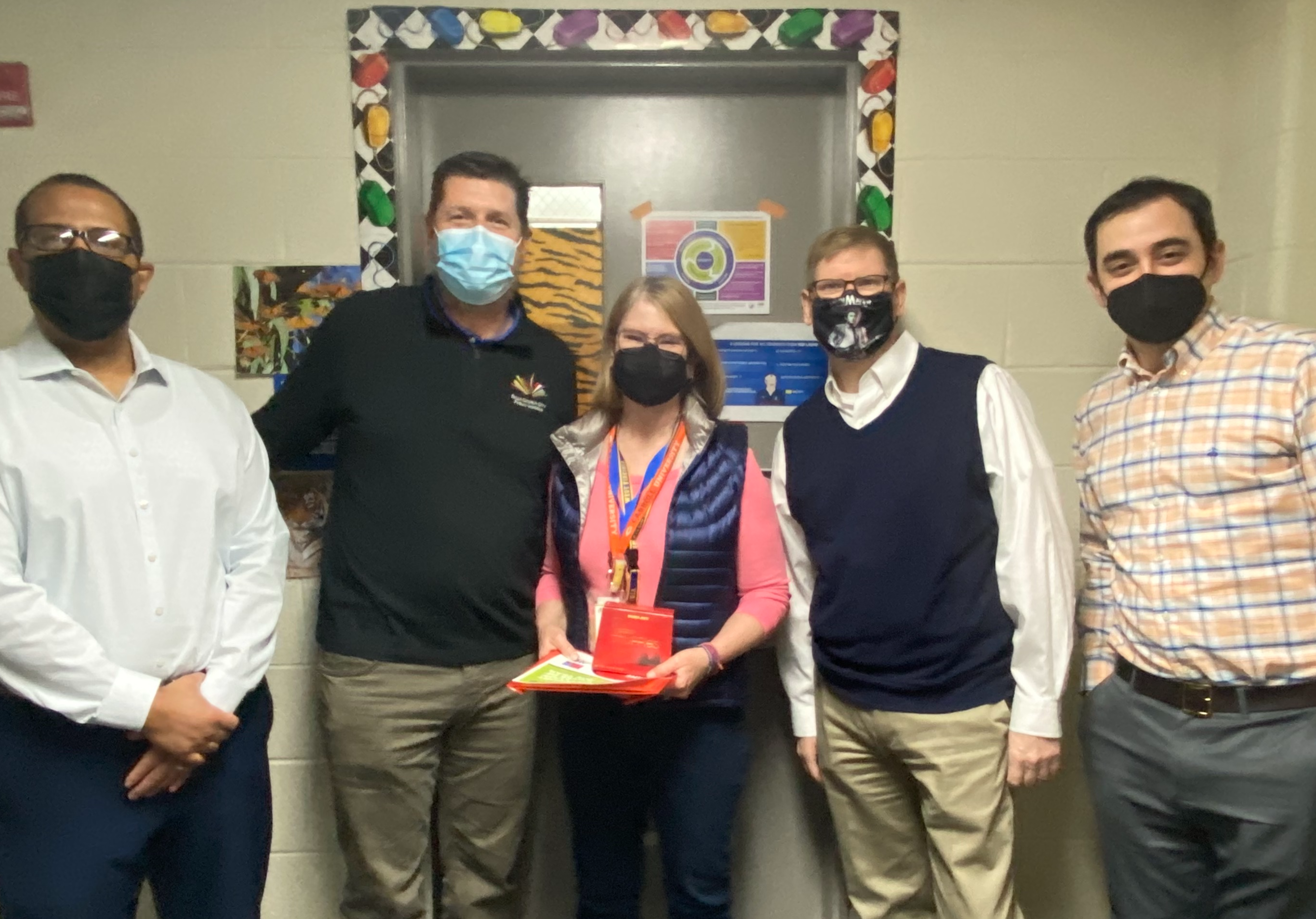 Alane O'Neill
Technology Aide
Oak Street Elementary School
"Alane's reliability, skill, and can-do attitude put her in an almost daily position of extinguishing little fires everywhere….What Alane brings to Oak Street - transformation, motivation, and compassion - transcends a job description." Miriam Schimmoller, 3rd Grade Teacher and Heidi Lang, Gifted Specialist
"Try to imagine a large building of well over 40,000 square feet. Then imagine you are told that you are in charge of everything that plugs in in it. This is Alane's job on a daily basis. She takes care of countless laptop computers for students, desktop computers for staff members, projectors, active boards, and countless other items. She is fluent in all of these things." Paul Swanson, Principal, Oak Street Elementary
"Alane can fix, or figure out how to fix, any issue that is an obstacle to teachers providing instruction to students. She responds promptly - often immediately! -, and is able to solve problems quickly and without any disruption to student learning." Oak Street Elementary Fifth Grade Team
"She is willing to do anything from subbing in classrooms when there is a sub shortage to organizing the objects in the lost and found to coming up with wonderful ways to boost spirits at the school with different themed days." Oak Street Elementary Fourth Grade Team
"Above and beyond Alane's technical expertise and patience is her caring and love of all people at Oak Street." Oak Street Elementary Encore Team
"Ms. O'Neill cares about the computers and the students." 3rd grade student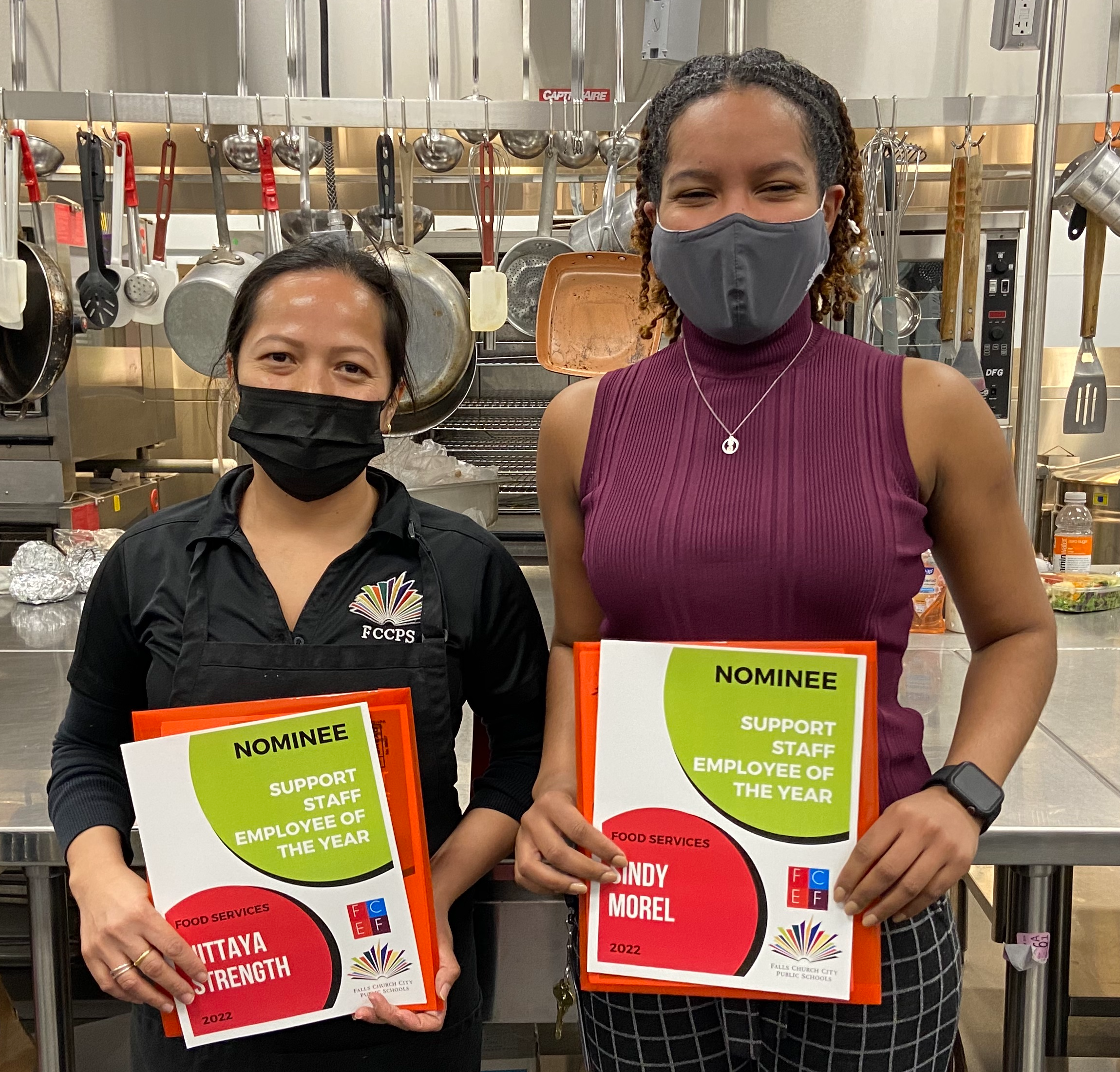 Nittaya Strength
Food Services
"She has been an exemplary employee. She is positive, energetic, fun and always happy. That's her motto, BE HAPPY! She plays music to liven the atmosphere while she works and makes her peers laugh. Although this year has been a tough one, moving into a new building, new kitchen, new processes, short staff she is always willing to help wherever she is needed." Sindy Morel, Food Services Assistant Director
"Nittaya is considered the heartbeat of the kitchen in the secondary schools. Her attitude has lifted the foodservice community during the darkest hours of the pandemic. Like a ray of sunshine each day, She is always jovial, enthusiastic, positive and full of energy. She is truly the driving force behind the teamwork within our kitchens." Richard Kane, Food Services Director
"Her commitment to assisting her co-workers whether in the kitchen or on the cash register puts everyone at ease. Nittaya always goes beyond what is asked of her and her positive attitude and smiling face is contagious. " Jennifer Lee, Food Services colleague
Nominated for Professional Specialist of the Year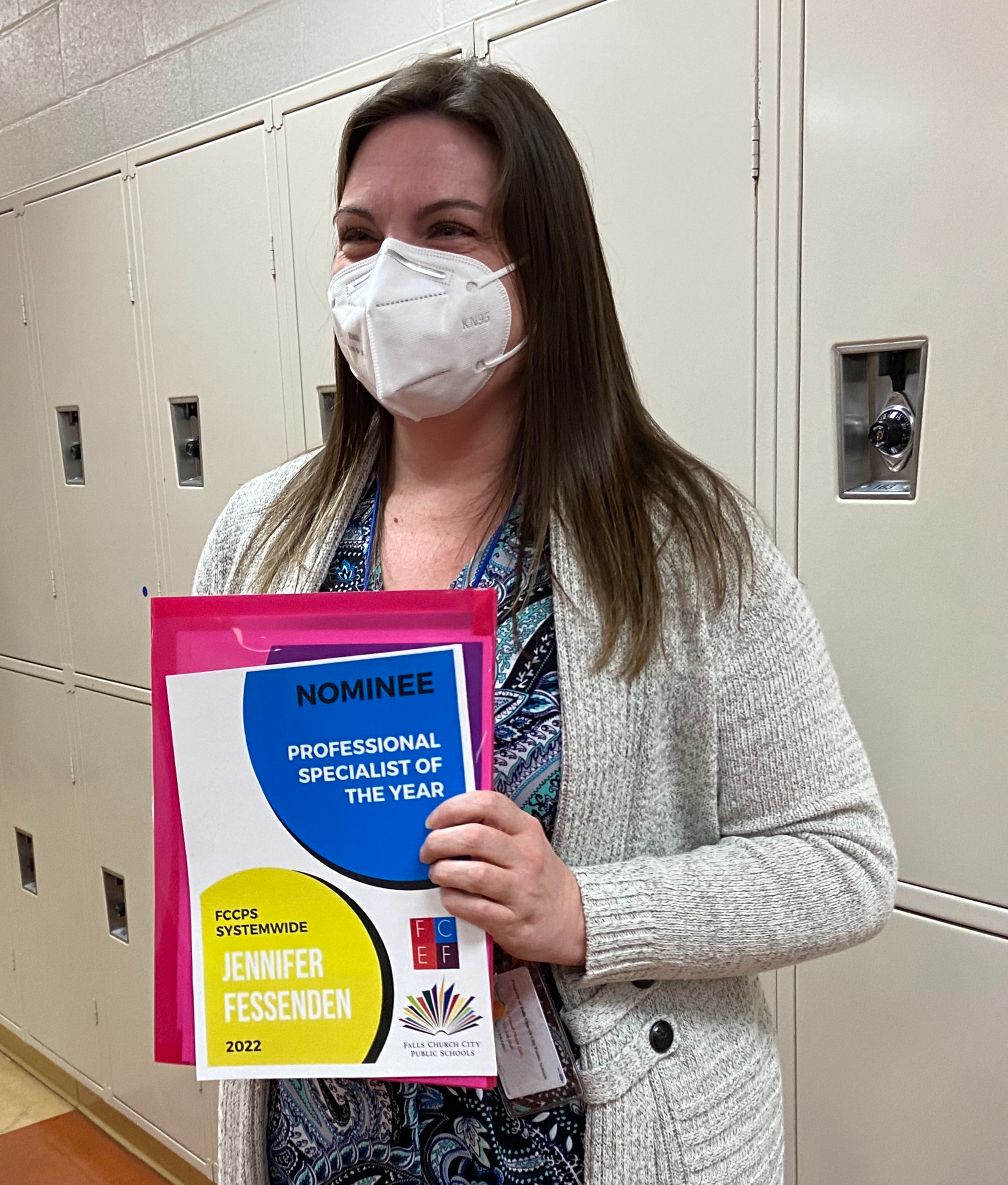 Jennifer Fessenden
PreK-12 Mathematics Coordinator
Systemwide
"... her incredible collaborations on behalf of FCCPS translates into a well-designed and supported math curriculum for the students, the ultimate accomplishment." Laura Ledwith, Parent
"Jen is a consistent presence in our grade level and department meetings, as she knows the importance of doing this work with (and alongside) our teachers. The mathematics learning process changed in front of our eyes and Jen was always there to meet the challenge." Rob Carey, Associate Principal, Mary Ellen Henderson Middle School
"Jen knows math, loves math, and understands how to support others in understanding and loving math too! She has led our professional community through a collaborative, deep process of unpacking every single SOL, discussing common misconceptions, and brainstorming best practices." Mary Kate Hughes, 5th Grade Teacher, Oak Street Elementary
"Ms. Fessenden is insightful and maintains student learning as her primary focus of her work. She meets regularly with region four mathematics leaders and has helped to lead new initiatives throughout the Virginia Department of Education. Ms. Fessenden is constantly seeking new information for mathematics from VDOE to ensure staff in FCCPS is current and up to date on best practices, curriculum and standards of learning updates." Julie Macrina, Director of Curriculum and Instruction
"Jen is able to see the big picture, listen to members of the professional teams she works with, and solve problems with knowledge and ease." Jennifer Jayson, Mathematics Teacher, Meridian High School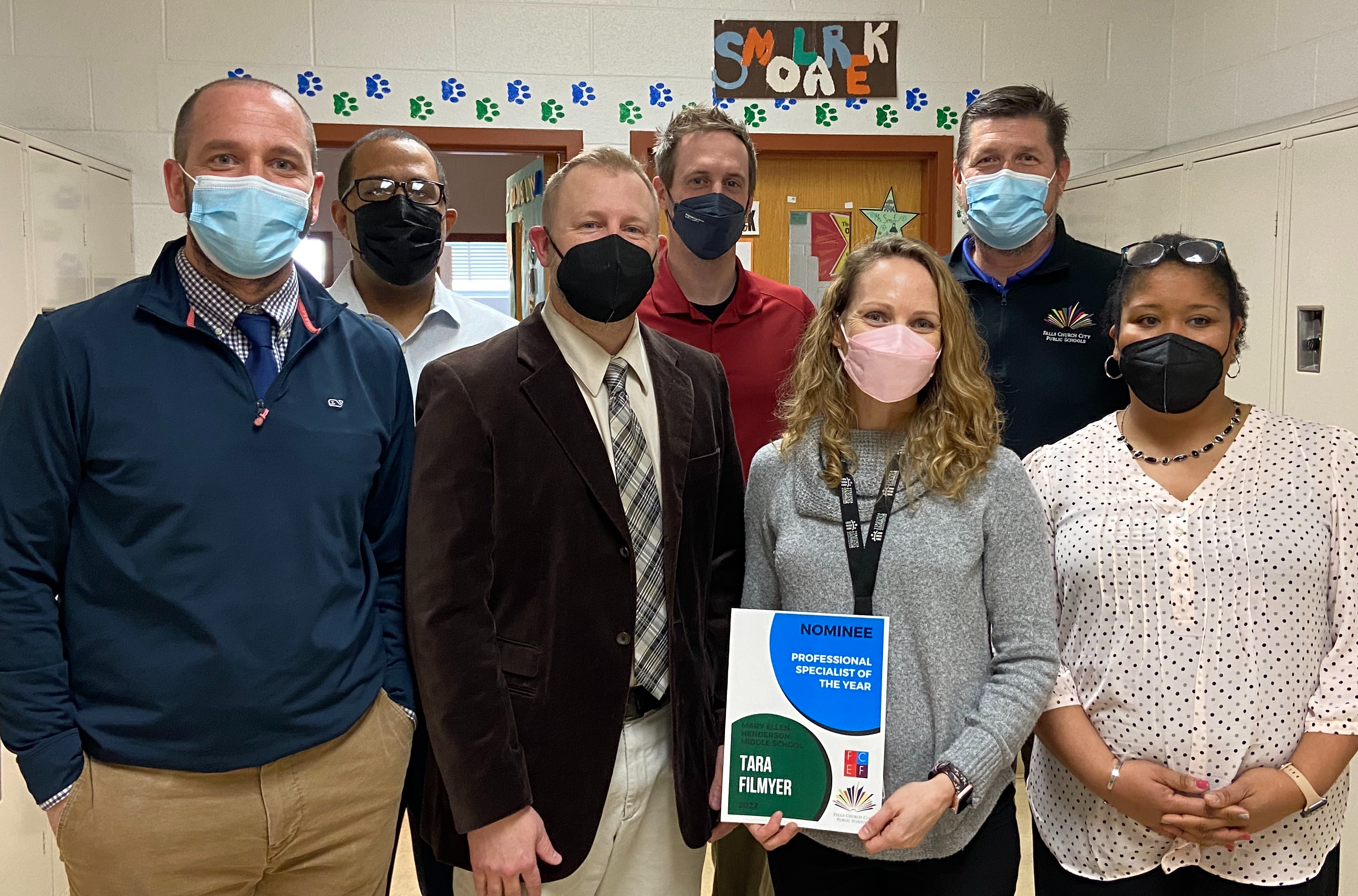 Tara Filmyer
School Counselor
Mary Ellen Henderson Middle School
"Tara is constantly trying to ensure that every student has their needs met through her advocacy and problem solving…Tara assisted Henderson counselors and educators through the creation of lessons that focus on students' social and emotional well-being that Henderson has implemented in their PACK and Flex classes." Jeff Buck, Individuals & Societies Teacher, Mary Ellen Henderson Middle School
"She has been a key piece to why students, staff, and our shared families have transitioned back from a global pandemic into 5 days of in person instructional learning." Matt Sowers, Director of Secondary Counseling
"She leads with poise and allows her coworkers to grow in our experiences by offering her advice yet respectfully working as a team. Tara has gone above and beyond this year in making sure every student feels supported and knows they are cared for in school." Christie Katyal, School Counselor, Mary Ellen Henderson Middle School
"Mrs. Filmyer has created meaningful groups and programs, including a mentoring program for students having difficulty with school engagement and academic success. The mentoring program connected students with a staff member, and was successful in creating positive relationships throughout the school." Colleen Hoover, School Social Worker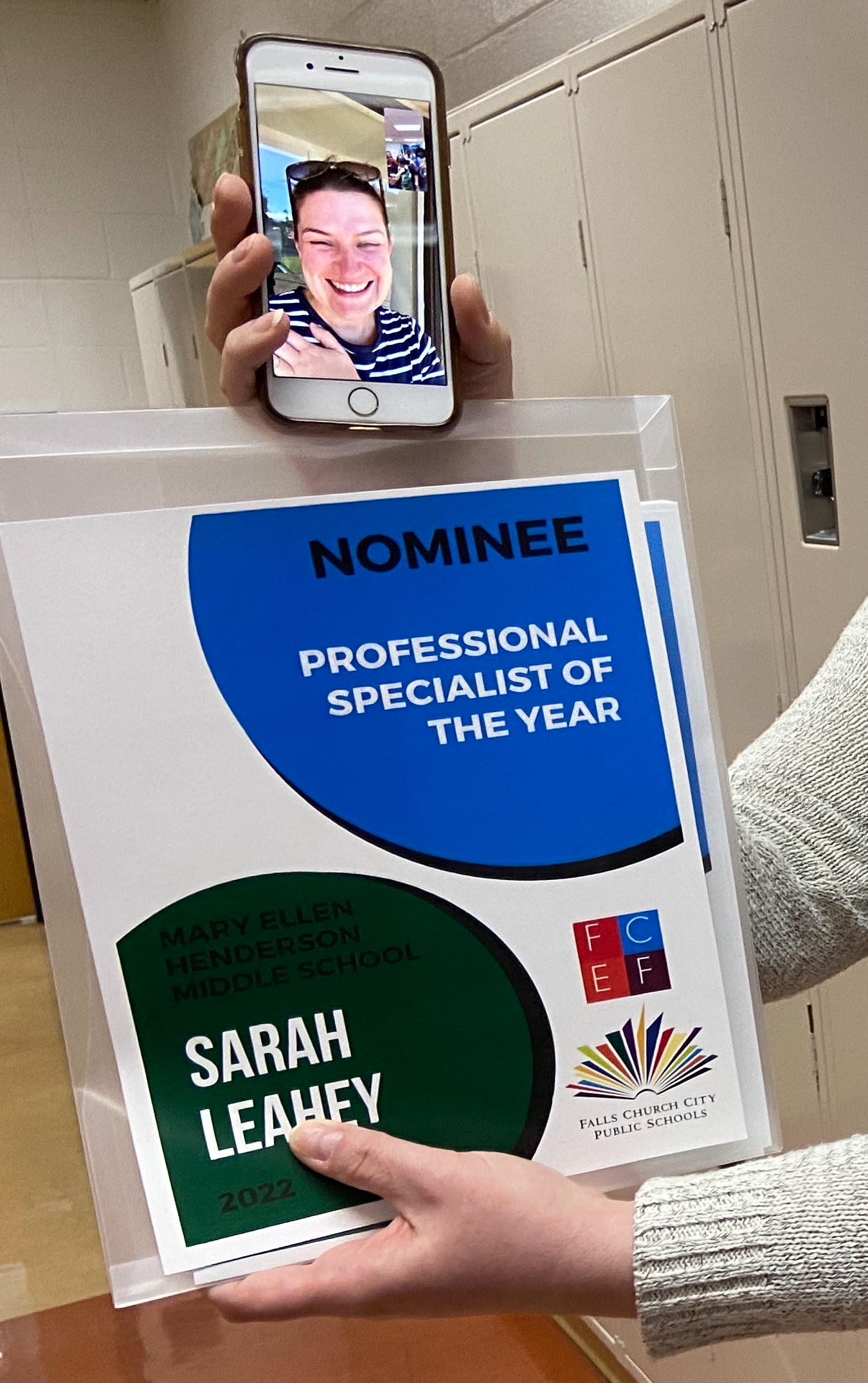 Sarah Leahey
Math Specialist
Mary Ellen Henderson Middle School
"She understands the content because she actively chooses to continuously engage with the content and with professional learning around the content. If there is a rich learning opportunity offered, Mrs. Leahey is the first to sign up." Jennifer Fessenden, PreK-12 Math Coordinator
"From the little things she does daily like checking in on her teachers, to the weekly meetings she has that ask teachers to move out of their comfort space into a more challenging world. She researches and finds the best teaching methods, teaching tasks, and routines that will create mathematical thinkers." Clare Bournigal, Math Teacher, Mary Ellen Henderson Middle School
"Ms. Leahey knows her stuff!! She knows what she is talking about but continues to research and employ instructional methods that will intrigue and inspire us as math teachers and her students she works with as well." Celeste Carson, Math Teacher, Mary Ellen Henderson Middle School

"She tirelessly supports us and recognizes our efforts toward improving our practice, celebrating every little win along the way." Elizabeth Jenkins, Math/Special Education Teacher, Mary Ellen Henderson Middle School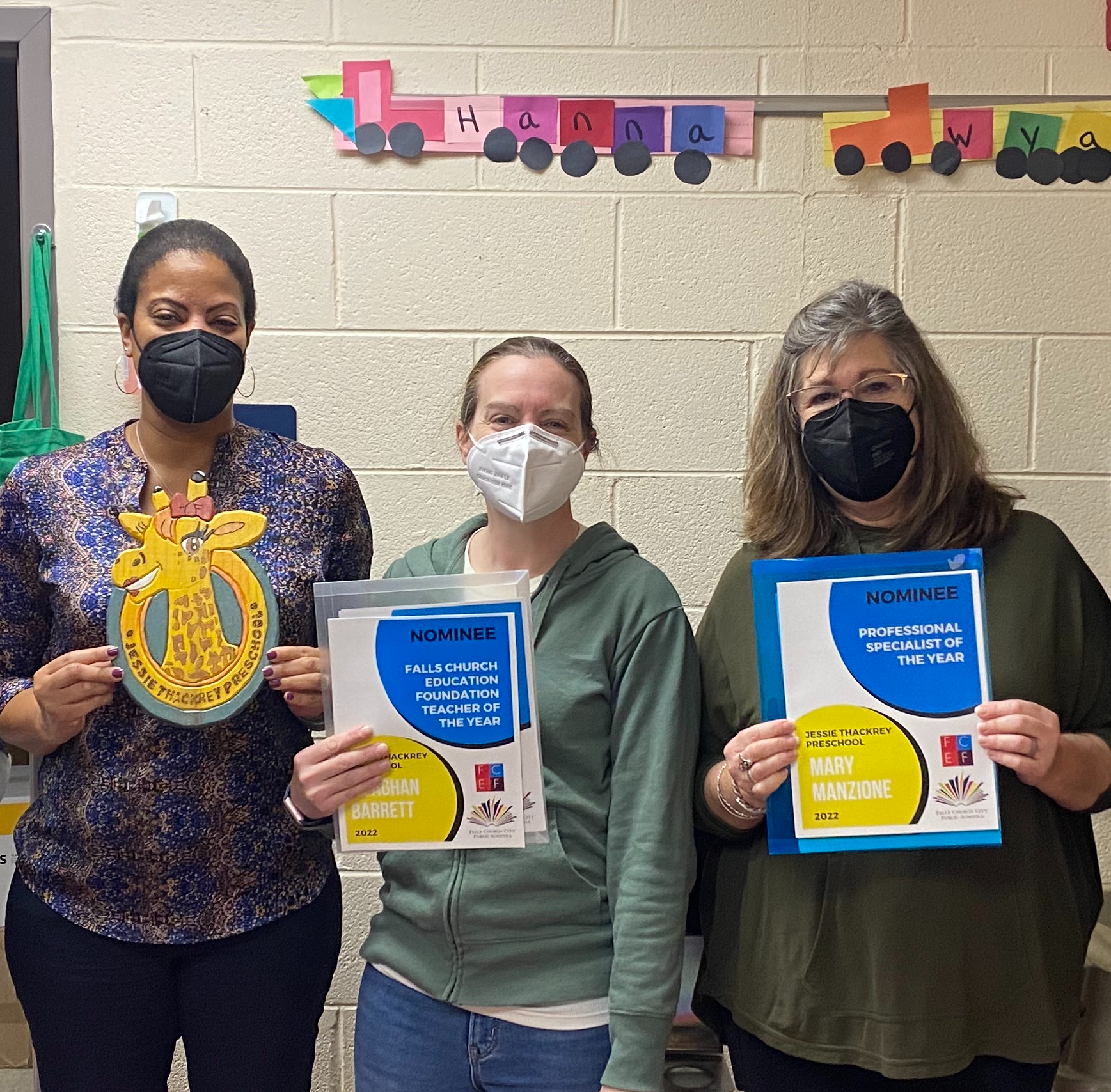 Mary Manzione
Speech Language Pathologist
Jessie Thackrey Preschool
"She came up with the most incredible and inventive ways of reaching my son through the screen, using green screens and screen sharing, whatever would motivate him to work and learn. She shared her methods with his other teachers setting them up for better success in their sessions." Emily Alsup, Parent
"Mary is a role model for the other staff members in our preschool program. She builds strong relationships with families and bonds with them as she supports their students. She ensures that each child develops their communication, social, and academic skills." Rebecca Sharp, Executive Director of Special Services
"Mary Manzione has been our beacon of light guiding staff, families and her students through these uncertain times….Mary leads by example with both grace and integrity." Meaghan Barrett, Early Childhood Teacher, Jessie Thackrey Preschool
"She creatively combines play and therapy, making sure that the environment is conducive to the growth of each student. She is sensitive to each child's personality and temperament, and she can either gently encourage or playfully admonish each child to achieve the outcomes needed." Grace Murphy, parent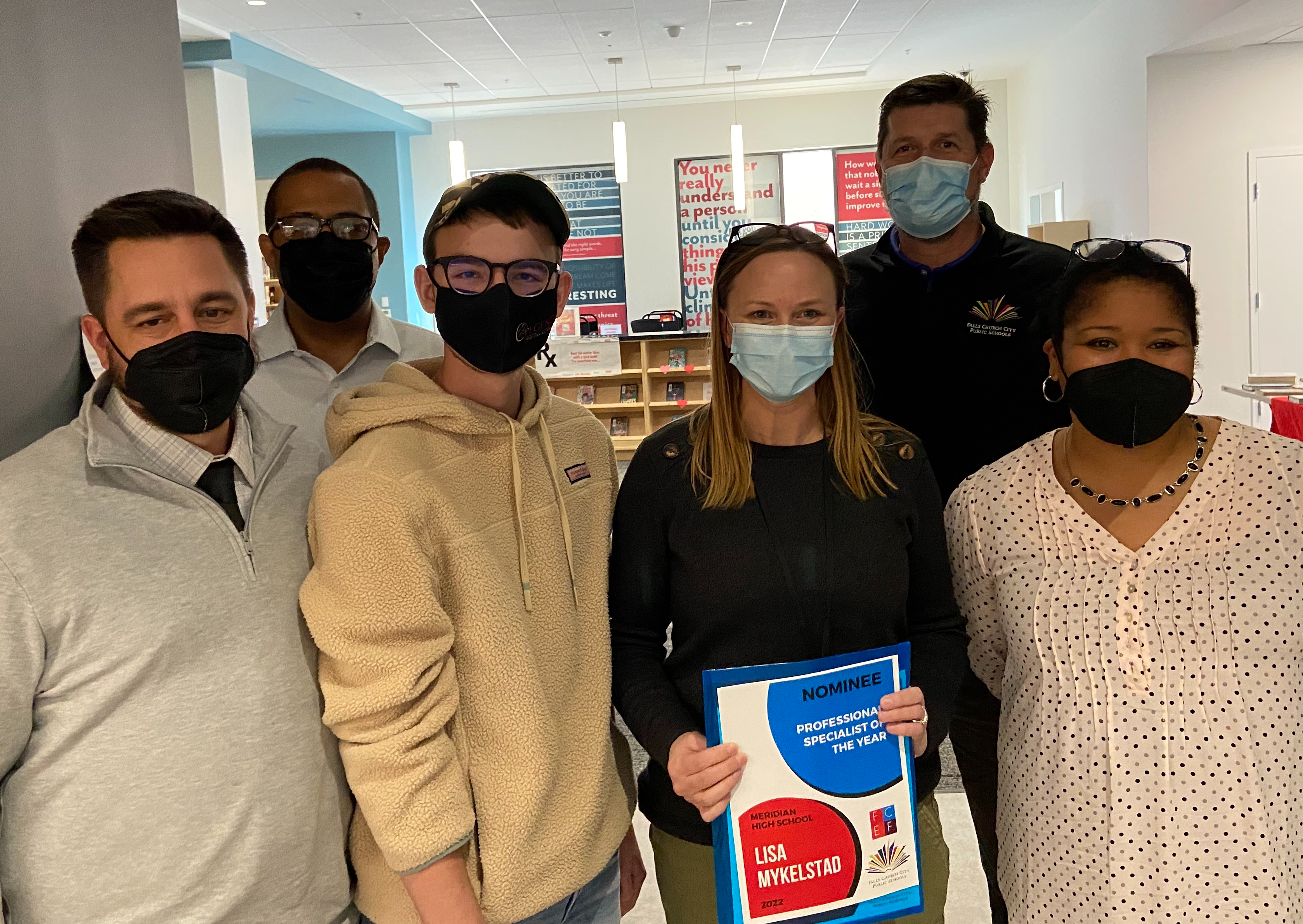 Lisa Myklestad
Librarian
Meridian High School
"Ms. Myklestad has taken on a role other than librarian and has become the glue that bonds Meridian
together. She has gone above and beyond to create a space where anyone can feel heard. Ms. Myklestad is a community builder, and without her presence, our high school would not be nearly as bright a place." Hunter Hicks, Meridian High School student
"Lisa has done an amazing job of cultivating a welcoming and comfortable environment for everyone in the Library. Her demeanor makes the library a place where all students and staff members feel like they belong as they look for resources or just a quiet place to study, read, or decompress." Josh Singer, Individuals & Societies Teacher, Meridian High School
"Ms. Myklestad has changed my entire high school experience and has guided me in many life choices." Olaiya Lewis, Meridian High School student
"In a time when everything is "knowable" through Google and Wikipedia, she helps students find authentic and unbiased sources of information that fuel learning and encourage students to extend past what is required. Often, students start with a curiosity, and with Ms. Myklestad's guidance, continue down paths that lead to lifelong learning." Jamie Sample, Teacher, Choral Director and Extended Essay Supervisor, Meridian High School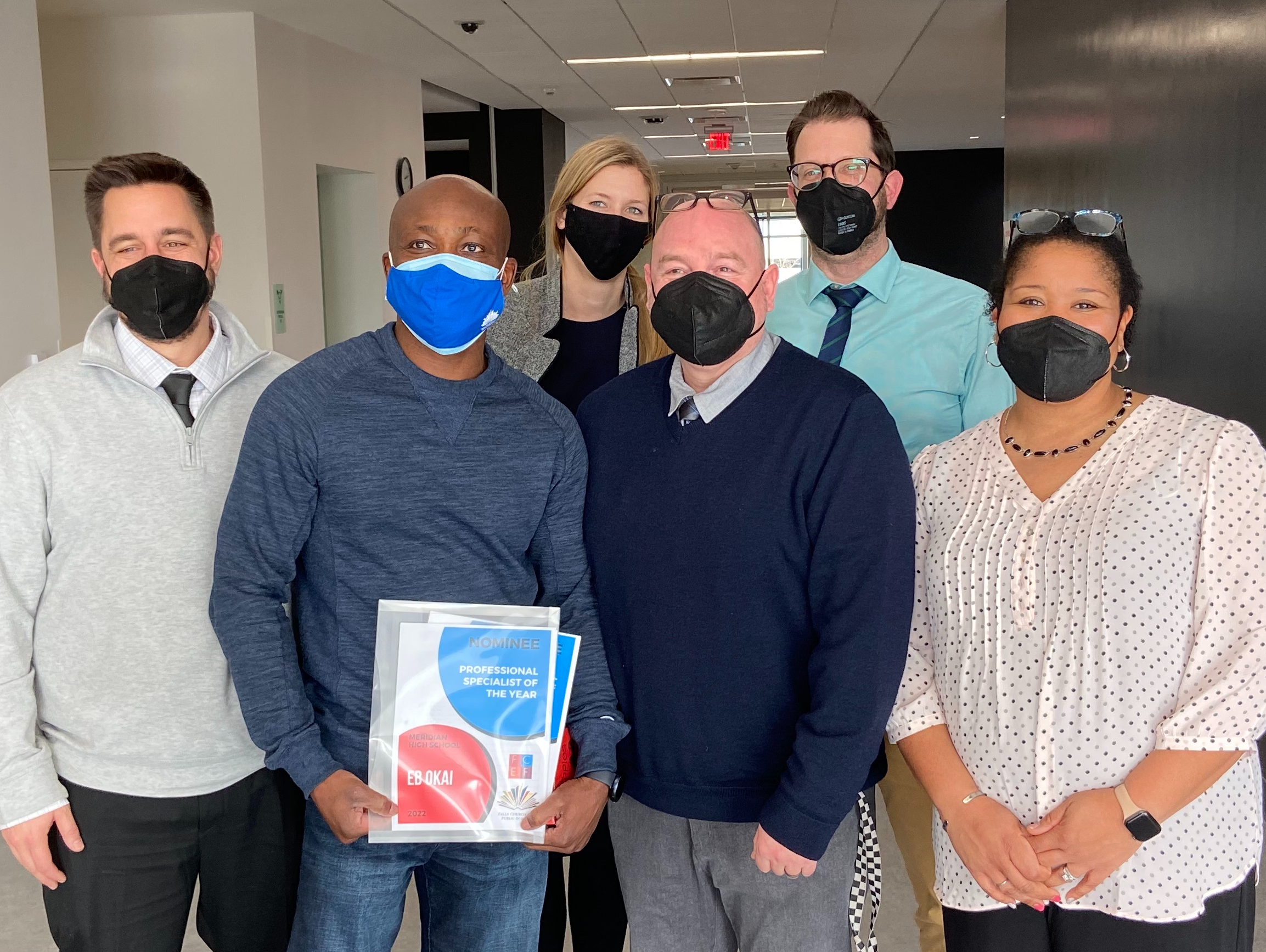 Eb Okai
Technology Specialist
Meridian High School
"Eb Okai provided technical expertise and solutions to support a variety of technology in the classroom at Meridian High School. He did everything possible to meet the deadline specially during Covid 19 Pandemic such as providing technical support for staff and students on site, and preparing new Apple laptops for staff and students." Dang Nguyen, FCCPS Chief Technology Director
"Eb and his team were also under tremendous pressure when we moved into our new building, and WOW, they did a remarkable job. This was no small task, and Eb worked tirelessly to answer every request and every need including setting up all the new AVER cameras and untangling all the new phone lines. Getting us up and running during COVID and hybrid learning, while also moving into a new building, was truly a Herculean feat!" Lisa Myklestad, Librarian, Meridian High School
"He works tirelessly to ensure no student is without technology. He truly believes that the needs of our students take priority and understands how important a working laptop is for our students to learn in today's world. Eb was in the front line during the pandemic." Steve Knight, PK-12 Instructional Technology Coordinator
"Eb is always smiling! He is consistently patient, friendly, and respectful, even when working with people who don't reciprocate the same attitude. He often has the ability to de-escalate tense situations and has incredible patience and knowledge to tackle very difficult situations.." Lisa Myklestad, Librarian, Meridian High School
TEACHER OF THE YEAR HONOREES (1984 - 2021)
FALLS CHURCH EDUCATION FOUNDATION TEACHER OF THE YEAR
2021 Will Snyder, GMHS
2020 Layton McCann, TJES
2019 Marc Robarge, GMHS
2018 Farrell Kelly, MEHMS
2017 Lisa Allan, TJES
2016 Heather Van Gorder, MDES
AGNES MEYER OUTSTANDING TEACHER AWARD
2015 Nan Hof, MDES
2014 Stephen Erick, TJES
2013 Joel Block, GMHS
2012 Karin Tooze, GMHS
2011 Suzanne Planas, GMHS
2010 Maryel Barry, MEHMS
2009 Amy Harding-Wright, MD
2008 Jed Jackson, TJES
2007 Denise O'Neil, TJES
2006 Carol Monsess, MDES
2005 Mary Jo West, GMHS
2004 Emily Florence, TJES
2003 Catherine Wiant, GMMS
2002 June Chalou, TJES
2000 Linda Johnsen, GMHS
1999 Patricia English-Sand, TJES
1998 Nancy Brown, TJES
1997 John Ballou, GMHS
1996 Heidi Lang, TJES
1995 Grace Rissetto, GMHS
1994 Lois Blevins, MDES
1993 Martha Ramey, TJES
1992 Frank Sheedy, GMHS
1991 Gail Lanouette, TJES
1990 Robert Snee, GMHS
1989 Trudy Taylor, TJES
1988 Michael Hoover, GMHS
1987 Ann Felker, TJES
1986 Steven Klass, GMHS
1985 Mary Lee Tatum, GMHS
1984 6th Grade Team: Lindy Hockenberry, Harry Shovlin, Tamara Ballou, Mark Wallace, GMMS
SUPPORT STAFF EMPLOYEE OF THE YEAR (2005-2021)
2021 (Operations) Natalie Espinoza, Attendance Secretary, MEHMS
2021 (Classroom) Patrick DeSheilds, Paraprofessional, TJES
2020 Luis Sorto, Paraprofessional, GMHS
2019 (Operations), Jennifer Lee, Food Services Manager & Bus Aide, Transportation
2019 (Classroom) Norma Sorto, Paraprofessional, TJES
2018 Charmaine Barr, Bus Driver, Transportation
2017 Jan Potrykus, Paraprofessional, TJES
2016 David Morales, Head Custodian, TJES
2015 Marty Gadell, Superintendent's Secretary & Assistant Clerk of the School Board, CO
2014 Shey Wakeley, Paraprofessional, MDES
2013 Sara Blake, Payroll Finance Specialist, Systemwide
2012 Debra Newman, Paraprofessional, TJES
2011 Leila Levesque, Data Information Specialist, Systemwide
2010 LaBryan Thomas, Maintenance, MEHMS
2009 Larry Allen, Band Paraprofessional, TJ, MEHMS & GMHS
2008 Kathy Poff, Aide, TJES
2007 Barbara Mitchell, Superintendent's Secretary, Central Office
2006 Bob Nissen, Maintenance Supervisor, Systemwide
2005 Marco De Las Casas, Bus Driver, Systemwide
PROFESSIONAL SPECIALIST OF THE YEAR (2019-2021)
2021 Vicky Block, Physical Therapist, Systemwide
2020 Vicki Galliher, Athletic Trainer, GMHS & MEHMS
2019 Carol Seaver, School Counselor, TJES
AWARD CATEGORIES
Anyone can recognize outstanding FCCPS employees by submitting a nomination for one of our three employee awards.
Falls Church Education Foundation Teacher of the Year Award

Professional Specialist of the Year Award

Support Staff Employee of the Year Award
AWARD TIMELINE
December 3, 2021 Contact Amy Hall to confirm that nominee is eligible for award.
January 6, 2022 Nomination submission deadline.
February 16, 2022 Surprise Prize Patrol announcements of all nominees.
April 2022 Announcement of award winners.
May 12, 2022 FCCPS Celebration of Excellence for all nominees and winners.