COVID-19 TESTING RESOURCES
TESTING SITES IN/NEAR FALLS CHURCH
This list is intended to provide information about COVID-19 testing sites in and near Falls Church. It may not include all testing locations available in the area. Testing locations listed are subject to change (may no longer perform COVID-19 testing services). Listing of a testing location does not constitute endorsement by FCCPS.
Check with your physician. Many offices have tests available, or can direct you to their preferred testing location.
Summer 2022 - FREE Weekly drop-in testing for FCCPS students and employees through the ViSSTA Screening Program. Tuesday afternoons at Oak Street Elementary from 12:30 p.m. - 3:30 p.m. Registration for ViSSTA required at this link.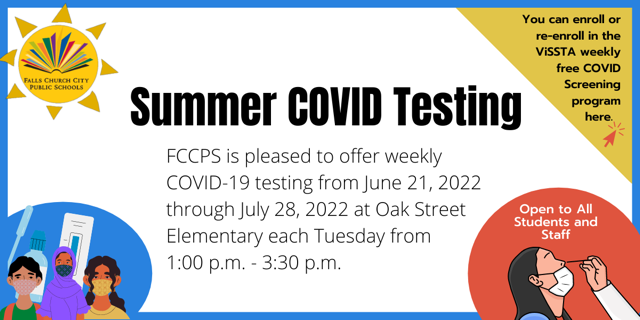 FREE At-Home Tests from Federal Government
Starting Jan. 19, visit https://www.covidtests.gov/ to order free at-home tests from the Federal government. Tests and shipping are free, and will be delivered to your home.
Fairfax County Health Department Partnership with Curative Mobile Lab
PCR testing through mobile partner, Curative, at locations throughout the county. No appointment is necessary, but you can make an appointment, if desired, at curative.com.
The mobile lab is in a different locations each day. See the weekly schedule
The closest location to Falls Church is at James Less Community Center, Thursdays and Sundays 8:00 a.m. - 6:00 p.m. at 2855 Annandale Road, Falls Church.
Arlington County Curative Testing Kiosks
There are several sites in Arlington County that are run by Curative. Falls Church residents can use this service. They are by appointment only. Same-day appointments are often available.
Several hundred on-demand PCR test slots are available every day.
Schedule appointments at curative.com
CVS
134 W. Broad St. and 1150 W. Broad St., Falls Church, VA 22046
At-home tests: Falls Church CVS locations usually have over the counter tests in stock.
PCR tests: CVS does PCR testing through the Minute Clinic. Doctor's order is not required. Wait time to get an appointment is several days.
Schedule appointment at CVS.com
PMA Health
510 W. Annandale Rd., Suite 100, Falls Church, VA 22046
Drive-up testing is available by appointment, after telehealth or in-person visit with a doctor..
Schedule in-person or telehealth appointment at https://www.mypmahealth.com/services/immediate-care/