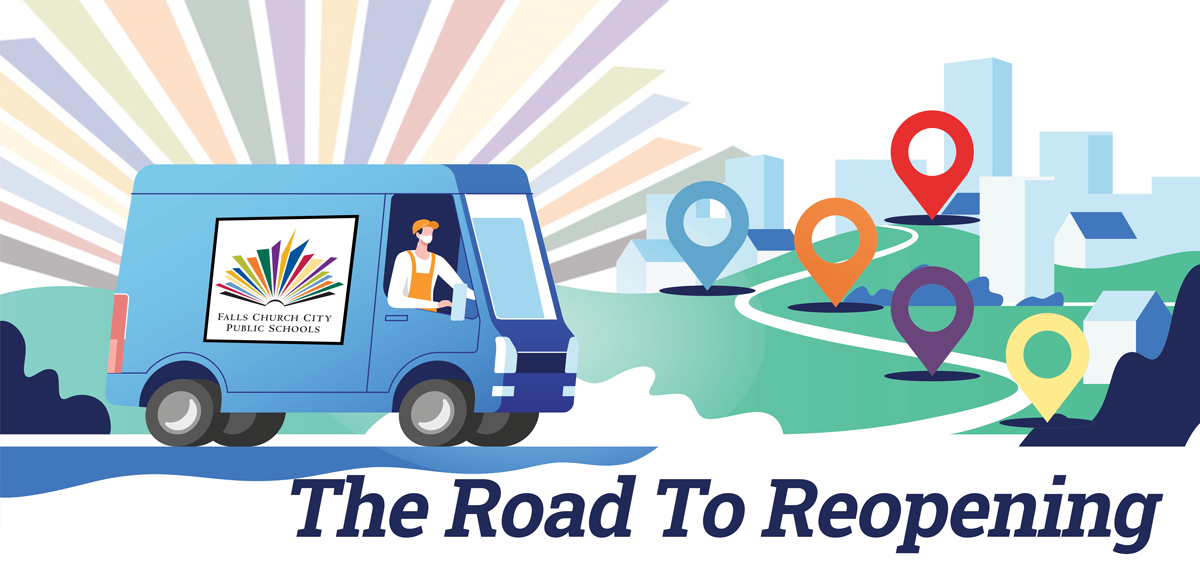 On Monday, June 15th, Virginia Governor Ralph Northam released his " Phased Guidance for Virginia Schools." The document is "intended to mitigate the risk of COVID-19 transmission in public and private Pre k-12 school settings while supporting the resumption of peer-to-peer learning and providing crucial support for parents and guardians returning to work."
This page will act as the FCCPS clearinghouse of information and resources regarding our work toward reopening our schools.
AUGUST 14, 2020
Inside this week's Road to Reopening: Answers to questions related to day-to-day structure for students, "Pandemic Flight," return-to-school metrics and measures, meal distribution while virtual, and more parent supports around instruction.
AUGUST 13, 2020
FCCPS On Demand: The Impact of COVID-19 on the College Admission Process. In this webinar, helpful navigation tips for seniors in this unprecedented time.
AUGUST 7, 2020
In Dr. Noonan's 'Road to Reopening this week, get a look at a Day in the Life at each of our schools beginning Aug 24th and the difference in instruction compared to last Spring. Plus a list of resources for parents you'll want to check out!
In Dr. Noonan's Road to Reopening this week, the division's thoughts on 'Podding,' transitioning plans for Student Technology in preparation for the new year, and plus important legal residency and immunization reminders.
In this week's Road to Reopening, Dr. Noonan shares context and data points pushing FCCPS to pivot to an all-virtual start to the 2020-21 school year. Plus, LOTS of information on what you can expect when school opens on August 24th.
More: https://bit.ly/fccpsreopen724
Falls Church School Board Chair, Greg Anderson, issued a statement on behalf of the Board on the FCCPS 2020-21 Reopening of Schools. Statement: https://bit.ly/2020ReopenStmt
The Falls Church School Board unanimously approved an all-virtual start to the 2020-21 School Year on the recommendation of Superintendent Peter Noonan. Last night, Dr, Noonan outlined what has changed, and discussed the Risks vs Benefits.
MORE: bit.ly/fccpsreopen722
Dr. Noonan's Road to Reopening describes the work going on this summer in preparation for reopening on Aug. 24th. Coming soon, important information on All-Virtual program options, Hybrid Day selection, and a Registration Form to formally choose. https://bit.ly/fccpsreopen717
Dr. Noonan's Weekly Road to Reopening Update is up! It includes NEW and important information, especially for Mt Daniel and TJ families. Plus, info on Virtual Virginia and a preliminary look at the Parents Survey that closes today! Happy Friday!
The second installment of The Road to Reopening was released. This issue is focused heavily on Secondary (Henderson and GMHS), and next week's edition will be more Elementary focused.
More: bit.ly/rtr_Ed2
With the restrictions of VA's Phase 3 reopening guidelines preventing a full return to school, and with the recommendations of state/local health officials, Superintendent Noonan today announced FCCPS' Reopening Plan for an August 24th start. More: https://bit.ly/fccpsreopen
Superintendent Peter Noonan has announced that beginning on Friday, June 19th, the George Mason High School track will reopen to the public, however, the athletic field will remain closed. In addition, the playgrounds at Mount Daniel and Thomas Jefferson Elementary Schools also will reopen on Friday along with the City of Falls Church Parks.
We strongly encourage users to continue to practice social distancing, hand sanitizing, and other methods of protecting yourself so we can continue to 'Fatten the Curve.' Information signage will be posted soon indicating conditions of use. Please note neither FCCPS nor Falls Church Recreation and Parks will be sanitizing the equipment.
FALLS CHURCH SCHOOL BOARD WORK SESSION
Superintendent Peter Noonan Presented Part Two of the school division's Reopening Plan.
Superintendent Peter Noonan presented the first, high-level overview of the Reopening Plan his staff has been working on for several weeks.