BUSINESS & COMMUNITY PARTNERSHIPS
WHAT ARE COMMUNITY PARTNERSHIPS?
Community Partnerships connect Falls Church City Public Schools with the business and non-profit community.
Community Partners seeks to inspire civic involvement by building partnerships and engaging in activities that benefit the entire community: school, business, non-profit.
Community Partners share their knowledge and talents with students and schools in the following ways:
Providing real-world learning experiences.

Supporting teachers.

Donating professional services to augment school-based experiences.

Serving as school volunteers.

Offering opportunities for students and teachers to volunteer in support of non-profit institutions.

Preparing students for the workforce through internships, mentorships, and career education.

Donating funds or tangible goods to support school programs.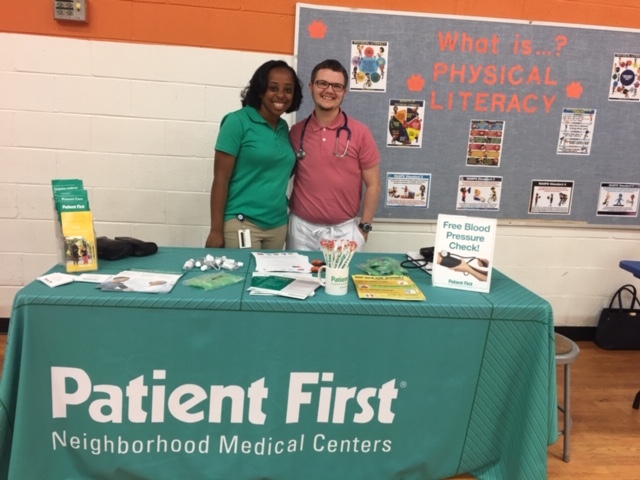 Did you know that FCCPS participates in partnerships with 500+ businesses, non-profits, government agencies and individuals?
The Big Partnership Directory includes recognition of partnerships. Support the businesses that are committed to our schools. Shop there. Eat there. Recommend them. Thank them.
What do community partners do for our schools? They judge science fairs and cooking competitions. They donate money, food and supplies to PTAs, Band and Athletic Booster programs. They sponsor Falls Church Education Foundation and All Night Grad Celebration programs. They collect holiday gifts and meals for families. They share their career stories to help students imagine what comes after high school. They offer opportunities for students to get involved by serving the community or learning about business. But wait, there's more!
Partners host activities and fundraisers for school families of all ages - dinners, story hours, arts programming. They donate swag to the Hippo-Tiger-Giraffe Games, FIRST Lego League, and support Family STEAM Nights. Outdoor classrooms and gardens benefit from plant donations and sweat equity. Partners mentor students participating in FIRST Robotics, National History Day and science competitions.
TJ fifth graders learn first-hand about problem solving from those who share expertise for their PYP Project. No matter what the need, our partners are consistently available to lend a hand and inspire students. At MEHMS, volunteers have many opportunities to participate. Every spring the Henderson Career Fair includes hundreds of enthusiastic participants who share their career story.
Have you seen the banners and signs during athletic events at GMHS? Local businesses support athletics and musicians with contributions to the Band and Athletic Boosters. Student performing arts groups regularly share their talent in community events. Partners are introducing GMHS students to real-life practitioners of careers that interest them. Professionals visit classrooms to share their expertise and career stories. STEAM (Science, Technology, Engineering, Arts & Math) volunteers work directly with teachers to bring expertise into classrooms and extracurricular clubs.
Partners provide opportunities for students to serve the community. FCCPS has a culture of caring and student volunteers help many local organizations during school or as part of extracurricular activities. Students frequently organize collections of food, clothing, blankets, sports equipment and books throughout the community to support local organizations.
These examples just scratch the surface of the ways our business and school communities serve each other. Do you want to know more? Send an email to connellym@fccps.org to learn how you can get involved by sharing your personal expertise with schools.
Thank you to all the partners that help make our schools full of so many wonderful experiences and opportunities, and thank you to all those who shop at, work for, and otherwise support these businesses and help make these valuable partnerships possible.