FALLS CHURCH CITY PUBLIC SCHOOLS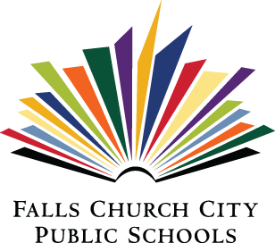 Falls Church City Public Schools officially became an independent school system on June 27, 1949, when the Virginia Board of Education authorized its separation from the Fairfax County school system. Falls Church had obtained the enabling legislation to form an independent city the year before, 1948.
Falls Church City Public Schools enjoys an international reputation for excellence, and the division is committed to maintaining its standing as the premier K-12 International Baccalaureate school system in the nation. Our five schools serve some 2700 students including some tuition students who live in communities outside the City of Falls Church.
As a premier International Baccalaureate public school division, Falls Church City Public Schools personalizes learning to support each child's unique needs and to prepare every student to be a responsible, caring, and internationally-minded citizen.
FCCPS strives to create a student-centered, innovative learning environment where all students belong, are included, and are empowered to excel. We foster the IB learner mindset to help every child develop skills necessary to succeed in the classroom and beyond.
FCCPS STRATEGIC PLAN 2022-2027
The New FCCPS Strategic Plan is the result of the work of many dedicated stakeholders.
The strategic planning process plays a critical role in the efforts of any organization to focus on continuous improvement and future success.
This plan is designed to ensure that the division continues to provide a premier education for all students in a caring PreK-12 academic community. We are confident that the components of the FCCPS Strategic Plan will further strengthen our outstanding school system and prepare our students to be responsible, caring, and internationally-minded community members.
Operating budget, local funds - $57,593,557
Operating budget, state funds - $8,961,328
Operating budget, federal funds - $585,572
Total operating budget - $57,593,557
Per pupil expenditure - $20,515
Beginning teacher salary - $57,990
Average teacher salary - $89,296
Total number of full-time positions - 399
Total number of full-time classroom teaching positions - 192
Total number of support staff - 182
Total number of administrators - 31
Professional staff with advanced degrees - 226
National Board Certified Staff - 12
OUR STUDENTS (AS OF SEPTEMBER 30, 2022)
Total number of students enrolled (PK-12) - 2,534
Jessie Thackrey Preschool (PK) - 65
Mount Daniel Elementary (K-2) - 464
Oak Street Elementary (3-5) - 530
Mary Ellen Henderson Middle School (6-8) - 586
Meridian High School (9-12) - 889
Total number of 2022 graduates - 220
International Baccalaureate Diploma pass rate - 81%
Pursued IB Diploma Courses: 97%
Pursued the Full IB Diploma: 26%
Graduates seeking post-secondary education - 92% (self-reported)
FCCPS average - 1233
Virginia average - 1124
National average - 1050
Percentage of FCCPS seniors who took the SAT - 74%
Percentage of FCCPS seniors who took the ACT - 32%
ETHNIC DISTRIBUTION OF STUDENTS
Caucasian - 65%
Hispanic - 7%
African-American - 3%
Asian - 10%
Native American - <1%
Pacific Islander - <1%
Two or more - 14%
INTERNATIONAL COMPOSITION OF STUDENTS
Native languages spoken by students - 41 + English
English for Speakers of Other Languages enrollment (ESOL) - 199
— Receiving Services - 130
— Monitoring - 69

Lunches served daily - 553
Lunch prices: Elementary School - $3.50
Middle & High School - $4.25
Adult - $3.25 - Breakfast, $4.75 - Lunch
Breakfast prices: All schools - $2.50
Students qualifying for free/reduced-price lunch - 8.4%
Total number of school buses - 17
Total number of daily bus runs - 37
Miles traveled yearly - 88,923*
Field Trips totaling - 18,907*
* Mileage greatly reduced than normal years due to COVID home schooling in 2021.