FALLS CHURCH CITY PUBLIC SCHOOLS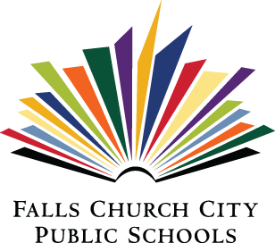 Falls Church City Public Schools officially became an independent school system on June 27, 1949, when the Virginia Board of Education authorized its separation from the Fairfax County school system. Falls Church had obtained the enabling legislation to form an independent city the year before, 1948.
Falls Church City Public Schools enjoys an international reputation for excellence, and the division is committed to maintaining its standing as the premier K-12 International Baccalaureate school system in the nation. Our five schools serve some 2700 students including some tuition students who live in communities outside the City of Falls Church.
Falls Church City Public Schools is a student‐centered, innovative, and inclusive community of lifelong learners. We aspire to be the premier International Baccalaureate school division. We strive to create a personalized environment that supports each child's unique needs and prepares every student to be a responsible, caring, and internationally-minded citizen.
To that end, we will continuously improve as a learning organization.
The Falls Church City Public Schools Triennial Plan for 2018-2020 focuses on the following five priorities:
Student-Centered Teaching and Learning

Excellent Staff

Optimal Facilities and Learning Environments

Fiscal Management

Community Engagement
Operating budget, local funds - $43,255,777
Operating budget, state funds - $7,036,195
Operating budget, federal funds - $586,162
Total operating budget - $52,300,120
Per pupil expenditure - $19,228
Beginning teacher salary - $55,469
Average teacher salary - $81,435
Total number of full-time positions - 390
Total number of full-time classroom teaching positions - 189
Total number of support staff - 189
Total number of administrators - 29
Professional staff with advanced degrees - 220
National Board Certified Teachers - 11
OUR STUDENTS (AS OF SEPTEMBER 30, 2021)
Total number of students enrolled (PK-12) - 2,515
Jessie Thackrey Preschool (PK) - 54
Mount Daniel Elementary (K-2) - 488
Oak Street Elementary (3-5) - 521
Mary Ellen Henderson Middle School (6-8) - 589
Meridian High School (9-12) - 862
Total number of 2021 graduates - 207
International Baccalaureate Diploma pass rate - 96%
Pursued the Full IB Diploma: 24%
International Baccalaureate diplomas awarded - 48
Graduates seeking post-secondary education - 89%
FCCPS average - 1290
Virginia average - 1151
National average - 1060
Percentage of FCCPS seniors who took the SAT - 67%
Percentage of FCCPS seniors who took the ACT - 13%
ETHNIC DISTRIBUTION OF STUDENTS
Caucasian - 72%
Hispanic - 8%
African-American - 4%
Asian - 12%
Native American - <1%
Two or more - 2%
INTERNATIONAL COMPOSITION OF STUDENTS
Native languages spoken by students - 41
English for Speakers of Other Languages enrollment (ESOL) - 182
Lunches served daily - 790
Lunch prices: Elementary School - $3.00
Middle & High School - $4.00
Adult - $3.25 - Breakfast, $4.25 - Lunch
Breakfast prices: All schools - $2.50
Students qualifying for free/reduced-price lunch - 8.4%
Total number of school buses - 18
Total number of daily bus runs - 36
Miles traveled yearly - 166,094
Field Trips totaling 46,193 miles