EDIT MAIN
2019 FCEF Teacher of the Year Award Nominees
---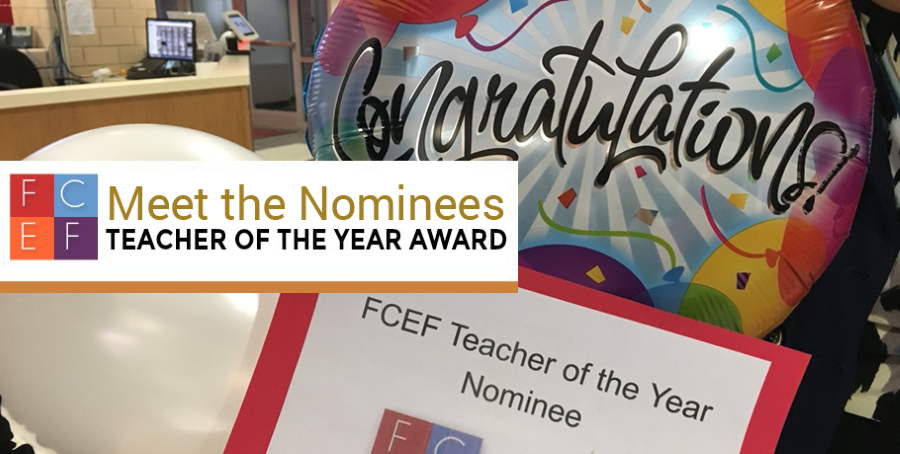 Nominees Announced for 2019 FCEF Teacher of the Year Award
Falls Church City Public Schools (FCCPS) announced seven nominees for the Falls Church Education Foundation (FCEF) Teacher of the Year award. These seven teachers were nominated by colleagues, students, and parents for their outstanding dedication as educators.
Nominees were surprised in their classrooms with balloons by a prize patrol that included Superintendent Peter Noonan, Assistant Superintendents Lisa High & Kristen Michael, HR Director Amy Hall, FCEF President Cecily Shea, and FCEF Executive Director Debbie Hiscott. All nominees will receive tickets to attend the FCEF Annual Gala (May 17, 2019), and will be recognized at the annual FCCPS "Celebration of Excellence" (May 6, 2019).
The winner, who will be announced in April, will be selected by a panel of judges and will be awarded $1500 from the FCEF. The winner will also be entered as a finalist in the Washington Post Teacher of the Year Award.
The nominees are:
Celeste Carson, Sixth Grade Math Teacher, Mary Ellen Henderson
Erin Craddock, Fourth Grade Teacher, Thomas Jefferson Elementary School
Julie Huber, Physical Education Teacher, Thomas Jefferson Elementary School
Laura McNamara, Kindergarten Teacher, Mount Daniel Elementary School
Lisa Mueller, Fifth Grade Teacher, Thomas Jefferson Elementary School
Marc Robarge, Art Teacher, George Mason High School
Haley Wingfield, Kindergarten Teacher, Mount Daniel Elementary School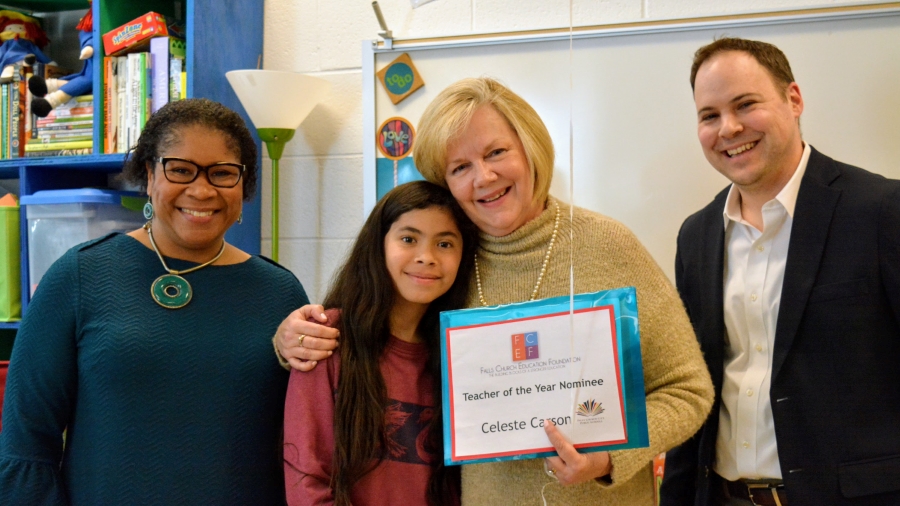 Celeste Carson, Sixth Grade Math Teacher, Mary Ellen Henderson Middle School
"Mrs. Carson infuses her classroom with humor, energy, optimism, and respect. She knows her subject matter inside and out, and she brings it alive with exceptional creativity. She uses games and activities to grab students' attention and illustrate principles in uncommon ways " Julie Schechter Torres, parent
"...Not every child loves math. However, every child who has set foot in Mrs. Carson's classroom feels welcome, loves being there, and is able to fall in love with math, if only for a moment, all because of Celeste." Vina Nguyen, Teacher, Mary Ellen Henderson Middle School
"When you first meet Mrs. Carson, it is apparent that her instructional approach is focused on giving each student exactly what they need. Students who need a challenge are challenged and those in need of extra intervention receive the appropriate level of support. Mrs. Carson manages to do this in a way that allows each student to feel special, builds up their confidence and the outcome is a student who not only can do the math, but believes they can do it, which is the ultimate measure of success." Valerie Hardy, Principal, Mary Ellen Henderson Middle School
"Mrs. Carson understands the challenges that students face and meets them every day with a smile, positivity, and support." Rory Dippold, Assistant Principal, Mary Ellen Henderson Middle School
Erin Craddock, Fourth Grade Teacher, Thomas Jefferson Elementary School
"Mrs. Craddock strives to make each child feel like a treasured member of the classroom community, beginning with a personal handshake as they walk into her room in the morning." Emilia Hosier, Teacher, Thomas Jefferson Elementary School
"Mrs. Craddock makes learning fun...She helps me succeed and says that we all learn by making mistakes, and so making mistakes is not a bad thing." Luke, student
"Mrs. Craddock works magic with everything she encounters: classroom, homework, students, colleagues," Leigh Johnson, parent
"Mrs. Craddock is instilling in them a love of learning and empowering them to become lifelong learners. She emphasizes hard work and celebrates successes." Cheryl Bois, parent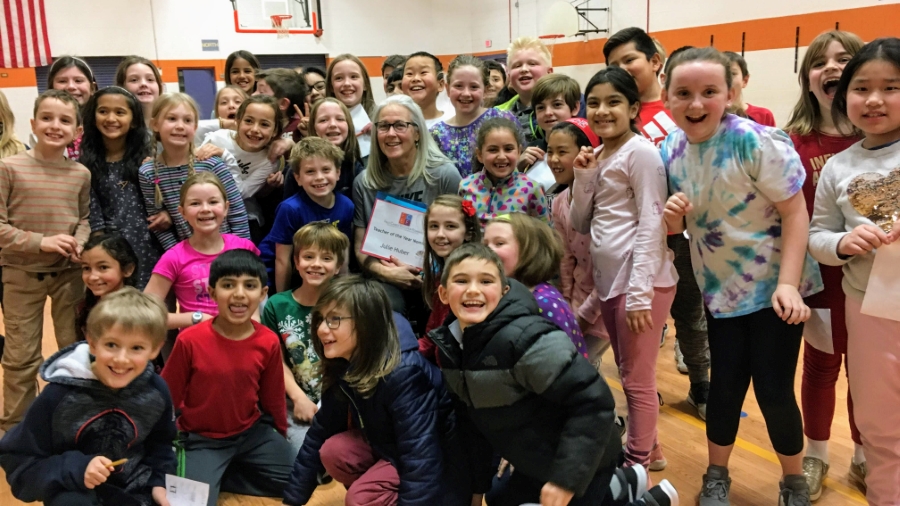 Julie Huber, Physical Education Teacher, Thomas Jefferson Elementary School
"She creates a wonderful learning environment in which all students feel welcome and confident that they can succeed." Nathan Greiner, Teacher, Thomas Jefferson Elementary School
"She has a knowledge and connection to each and every one of her students. (this is even more impressive when you know that, as one of our PE teachers, she has over 800 students)." Heidi Lang, Teacher, Thomas Jefferson Elementary School
"Students in Ms. Huber's class can count on developing healthy habits and lifestyles and having fun at the same time. The phrase, 'seven days without exercise makes one weak."...is a mantra that Ms. Huber encourages our TJ Tigers to live." TJ Fourth Grade Team
"As a substitute PE teacher for the last six years, I've observed firsthand Ms. Huber's gift for engaging students. She seamlessly mixes humor, directness, and patience to reach every personality...Her professionalism and positivity are contagious to everyone in the gym, staff and students alike." Lisa LaCroix, parent & substitute PE teacher, Thomas Jefferson Elementary School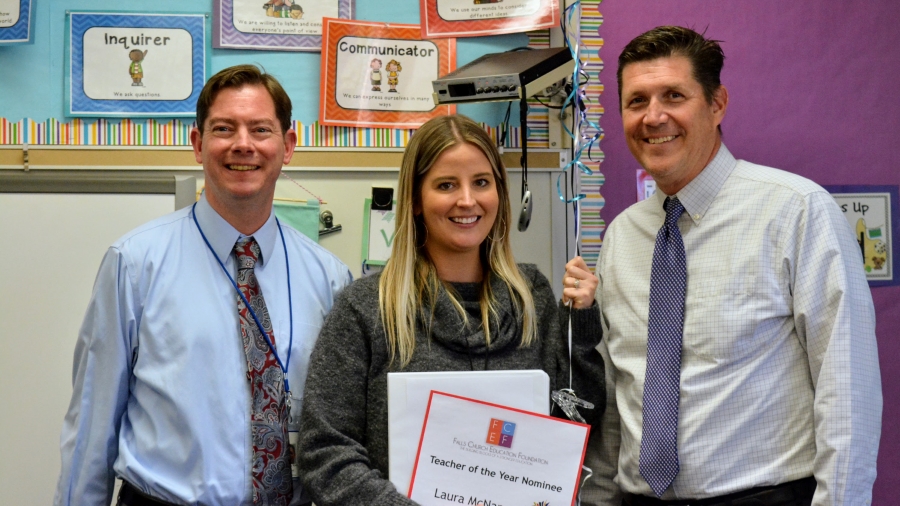 Laura McNamara, Kindergarten Teacher, Mount Daniel Elementary School
"She leads with kind words and powerful actions. Mrs. McNamara is fully dedicated to her students, her colleagues, her school, and her community." Mt. Daniel Kindergarten Team
"She takes 'teachable moments' and creates transformative and memorable experiences that her students will never forget." Amy Brooks, former Mt. Daniel Teacher
"She has a strong commitment to social justice and equity that she is actively instilling in her kindergartners…" Her former kindergarten students light up when they have a 'Ms. McNamara sighting' in the hallway." Phyllis Kravinsky, Reading Specialist, Mt. Daniel Elementary School
"Mrs. McNamara inspires and fosters in each child an inner spark of confidence - giving them the resiliency to take on challenges or overcome failures." Alyssa leSage, parent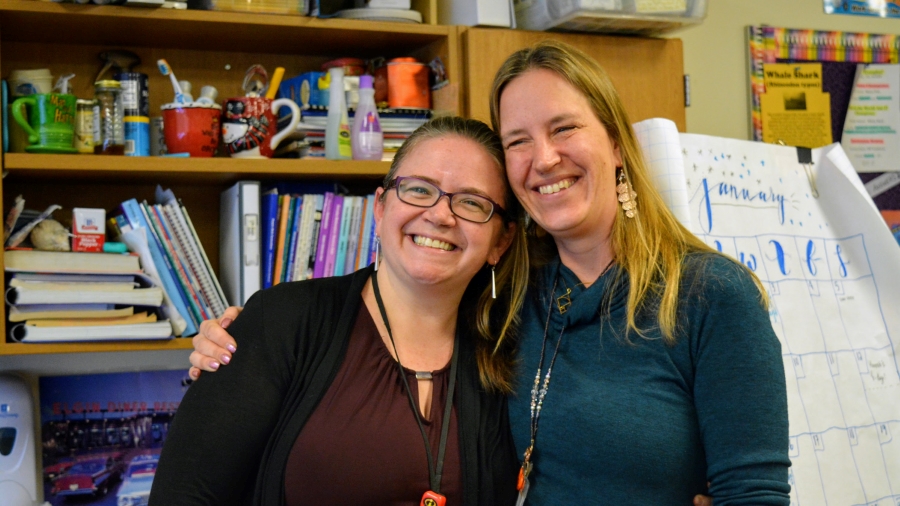 Lisa Mueller, Fifth Grade Teacher, Thomas Jefferson Elementary School
"Ms. Mueller is passionate about language arts, math, and science. Her love for Latin roots is infectious, and she challenges her students not only to read and write well but to spell and define challenging words." Christine Buchholz, parent
"You know the feeling of someone always having your back? Well, that's Ms. Mueller. She is always there for you." Dinos, student
"With Ms. Mueller's guidance students build on their knowledge of science, social studies, and math through inquiry and discovery." Laura Coates, Teacher, Thomas Jefferson Elementary School
"She exemplifies everything an educator should embody, and more - intelligence, enthusiasm, creativity, passion, an incredible work ethic, warmth, humor, and curiosity." Komal Bazaz-Smith, parent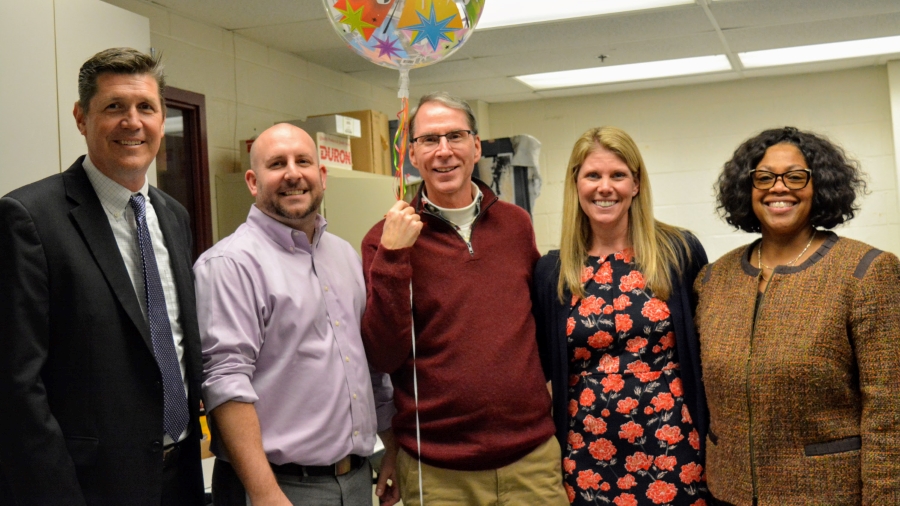 Marc Robarge, Art Teacher, George Mason High School
"Marc Robarge is a sculptor. He is literally a professional artist who is a sculptor, but he is also a sculptor of the environment around him, serving and shaping the conditions of those with whom he comes into contact so that they can be the best that they can be." Chris Pikrallidas, GMHS Teacher
"I still remember the very first day of class, when he asked each of us what we wanted to do with our lives. No matter what our interests, he told us it's possible to achieve our goals with hard work and passion. His passion was art. Over the three years I took his art classes, he inspired my mind to burst with creativity and color." Rachel Horovitz, GMHS Class of 2015
"Marc fosters relationships among people, art, and our community. He has also helped me personally as a first-year art teacher and along the way since then." Angela Wicklund, TJ Art Teacher
"Mr. Robarge seems to have inner emotional radar that somehow detects each individual student's needs. Want proof? Just walk into his end-of-the-year IB Art Show. Each year, the show is like a living, breathing collection that screams: 'Here's how Mr. Robarge helped me to bring out the best in myself.'" Bruce Horovitz, parent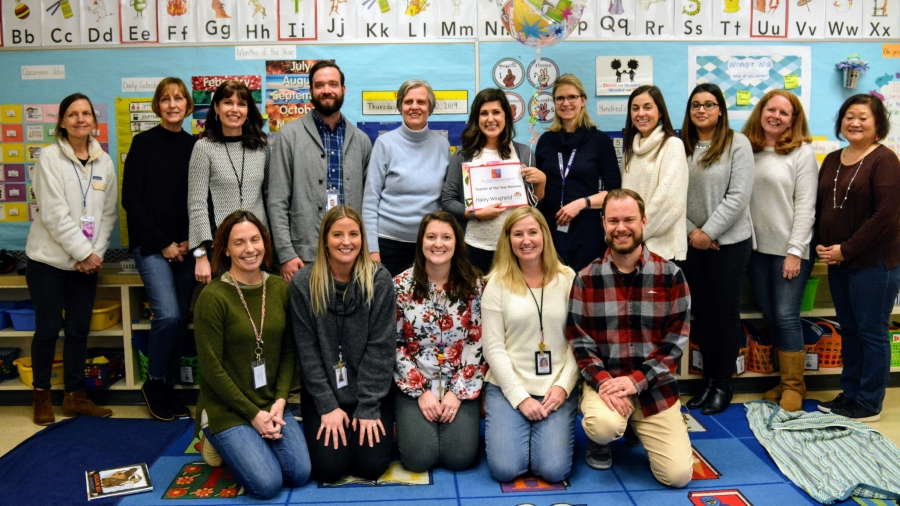 Haley Wingfield, Kindergarten Teacher, Mount Daniel Elementary School
"Mrs. Wingfield supports and encourages individual learners at their level, and draws out their individual talents and interests in the most nurturing manner." Anne Sherwood, parent
"Mrs. Wingfield has a grace about her that makes everyone feel valued and welcome." Mt. Daniel Kindergarten Team
"Haley facilitates a classroom environment that fosters, respect, caring, understanding and most importantly for this age set...friendship." Kenna Brown, parent
"One of the things we admire most about Mrs. Wingfield is her ability to determine a child's strengths and use them in a positive manner to improve their weaknesses." Anne Pintauro, parent