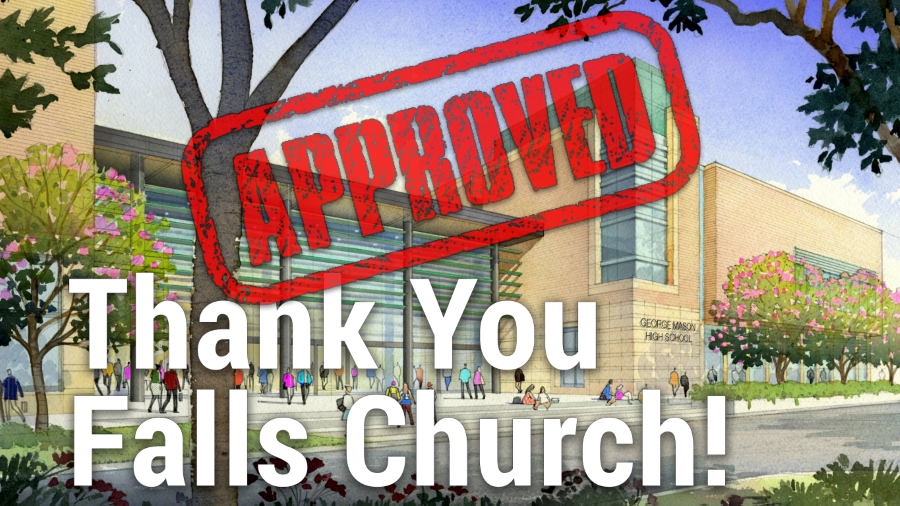 The Falls Church City Public Schools extends its sincerest appreciation to our community for overwhelmingly supporting the referendum approved last evening to fund the upcoming George Mason High School Campus Project.
The passage of this referendum will make a significant difference in our ability to maintain high quality and high performing educational programs, services, and opportunities for our students during their critical last four years in FCCPS.
The school district extends its thanks to the many individuals from our community whose tireless efforts and passion helped pass this referendum in which every vote counted. Additional thanks goes out to the Falls Church City School Board, the City Council, the FCCPS PTAs, the Falls Church Band Boosters, the George Mason Athletic Boosters, FCCEA, the Falls Church Chamber of Commerce, Yes! for Falls Church, and so many others that showed their immense support to our schools individually and as groups.
Now the work begins on improving our high school facilities. My administrative team, the School Board, and I will work to get this needed building done on time and within the budget we have been given. As community leaders, it is our duty to be good fiscal stewards and we commit that to you as we move ahead.
On a personal note, I am in awe of all of the discussion, planning, and serious work by the thousands of you over the last ten years that have allowed us to reach this critical moment in the life of our independent school system. As your new Superintendent, I am humbled to take the torch as we now move forward from discussion and planning to reality.
I ask that you remain engaged as we now begin the process of building a new George Mason High School. There will be many opportunities in the next year and a half of planning to fully leverage your ideas and values in this process. It is wonderful to be part of a community that has such pride in its schools, confidence in its educators, and values all of our students and their quality of education.
On behalf of the School Board, administration, and faculty thank you again for your support. We look forward to executing this project well and demonstrating to the community that your trust in this initiative is well placed.
With sincere gratitude,
Superintendent, Falls Church City Public Schools