As we come to a close to the third week of school, we are starting to find our rhythm. Kids understand the procedures and routines in school and our teachers are deep into the content. I hope your children are having a great experience so far.
As you know, this year, we are redoubling our efforts in the area of mental health to ensure that as we move through Covid, our students feel supported, cared for, and get the help needed in case of a mental health crisis. Please be sure to reach out should you have a crisis and need support. There are many community resources available to support families who may be experiencing a mental health crisis.
CSB Mental Health Emergency Services and Mobile Crisis Unit – 703-573-5679,
Domestic & Sexual Violence Hotline – 703-360-7273, crisis support, options counseling, safety planning, and referrals
Suicide Prevention – 1-800-273-TALK, or text "connect" to 855-11
"REACH" (Regional, Education, Assessment, Crisis Services, Habilitation) crisis stabilization and crisis prevention service for children, youth and adults with developmental disabilities: 855-897-8278
Also, we know that not every child gets off to the best start every day. I am a parent of three and know this first hand. If your child is having a rough morning and you want to let the school know, we have developed a #HandleWithCare process that you can follow that will get us the information needed to support your child and you through a rough moment. Please find the link here for more details: #HandleWithCare Poster
How To Report COVID Positive Cases
We know that learning that one of your students has been diagnosed with Covid can be scary and even traumatic. Like all FCCPS schools, Oak Street is here to support you. For information on how to report Covid positive cases, check out this FCCPS guidance.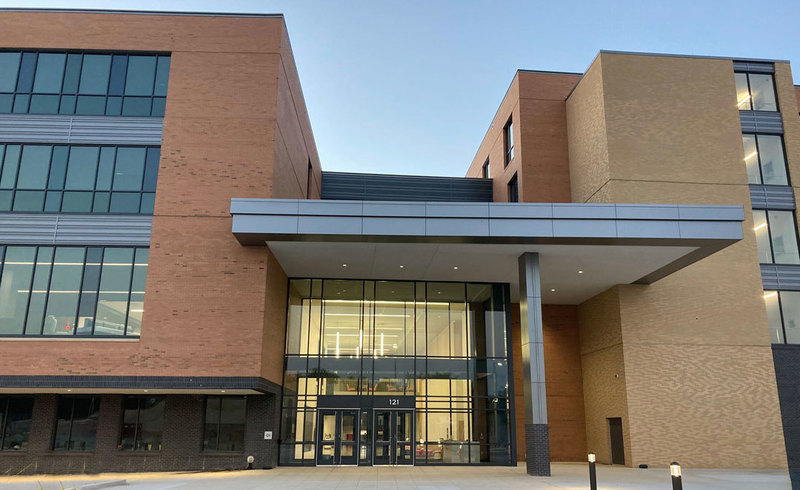 Save the Date - October 2nd, 9:00 a.m.
Meridian High School Ribbon Cutting and Grand Opening Homecoming weekend this year will be one full of celebration. On Friday night, October 1st, Meridian will have the traditional Homecoming football game and recognition of the Homecoming Court. The following day, Saturday the 2nd, we invite you and everyone you know to join us at the new Meridian High School, where we will FINALLY have a proper Ribbon Cutting and a public open house of our fantastic new building at 9:00 a.m! You can do a self-guided tour (at a social distance and a mask) until noon. Mustang Ambassadors (students) will be stationed around the building and provide information about spaces, use, sustainability, and the like. This promises to be a fun weekend, and I hope you can build in some time to see our new school!
Lastly, I wanted to let you know that on Tuesday night, I signed a new four-year contract to remain Superintendent in FCCPS. As you all know, I moved my family here this summer, and we are committed to the school system and you! My investment in the community goes beyond the scope of work, and I wanted to let you know again how excited we are to stay in the Little City for the foreseeable future.
Peter Noonan
FCCPS Superintendent of Schools