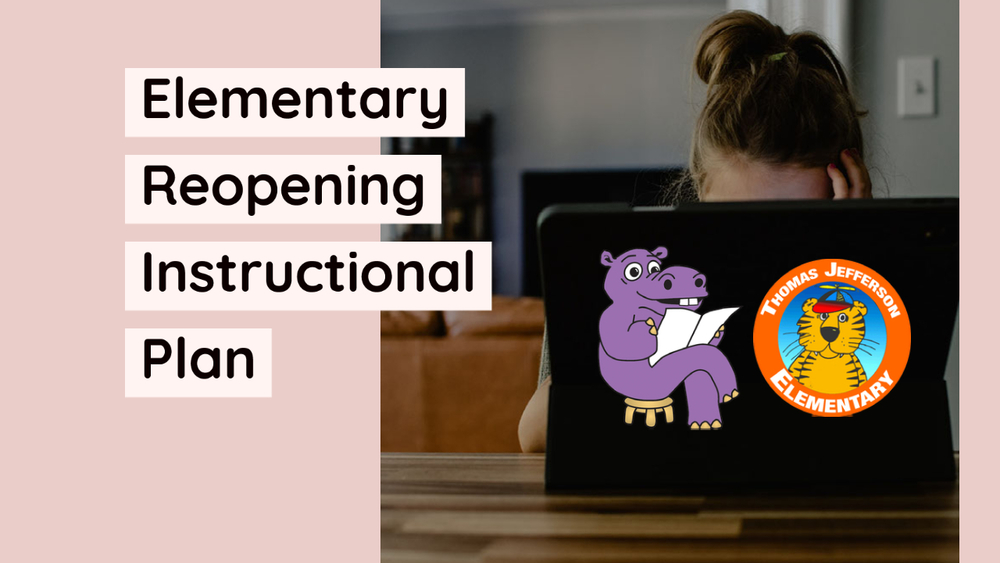 Dr. Noonan's Friday Reopening Update - October 9, 2020
Dr. Peter J. Noonan
Friday, October 09, 2020
FCCPS Family,
It has been another great week of learning for our students! We were also excited to welcome back the first wave of students this week and it was a success! There are extensive health and safety protocols in place and we are grateful to our staff and families for their support as we continue to navigate during this time. We look forward to our next group returning on Tuesday, October 13th!
This week's message is focused on our Elementary Reopening Plan
As you are aware, we have been busy planning with the school teams at Mount Daniel and Thomas Jefferson to bring our K-5 students back to our school buildings. We have listened to our employees and many in our parent community regarding the urgency to bring students back. Our staff and teachers have driven the development of our return plan and I am so proud of the work they have done to make this all come together. Everyone cares deeply about our students and wants to support their needs. We are committed to the health, safety, and well being of everyone involved--employees, students, and their families. The plan we have developed offers a balanced approach in an imperfect time.
We continue to work closely with the Fairfax County Health Department and followed their guidance as we developed this plan. In fact, they provided wonderful training for our staff this week. Here is the link to the presentation https://youtu.be/eK5G9ZrksuI if you would like more information on the epidemiology of the virus and reopening schools. FCCPS continues to monitor the health data metrics very closely and the health data for our region has been, and continues to remain, in a positive trend. Our disease rates are low and we are prepared operationally and instructionally to reopen. If you care to review our reopening metrics again please visit our FCCPS Reopening Metrics Dashboard for more information.
In an effort to streamline our communications and shorten the length of the weekly messages, we will be providing an overview of the Elementary Reopening Plan and a link to our web-page https://www.fccps.org/o/fccps/... where additional information and details can be found. We have also created a special email address for questions you may have. Please use reopening@fccps.org for any general reopening questions not answered on our webpage.
Elementary Reopening Plan Overview
We are excited to begin welcoming back our K-5 students into the school buildings. K-5 parents/guardians have two options available from which they may choose; face-to-face hybrid or remain 100% virtual. Regardless of the option you choose your student will remain with the teacher they currently have.
Tuesday, November 10th, Kindergarten and third grade students will have the option to return face-to-face or remain virtual.
Tuesday, November 17th, students in first, second, fourth, and fifth grades will have the option to return face-to-face or remain virtual.
OPTION 1: Face-to-Face Hybrid Instructional Model
Combination of in person and virtual learning

Half days, Tuesday-Friday with students assigned to AM/PM Group

Students with last names beginning with the letters A-K will attend school during the morning session from 8:50 a.m.-11:50 a.m.

Students with last names beginning with the letters L-Z will attend school during the afternoon session from 12:50 p.m.-3:50 p.m. (Please Note: Special consideration will be given to families with multiple students in their household and those with transportation needs regarding assignments to an AM/PM schedule.)

Core Instruction (Language Arts, Math, Science/Social Studies) provided in person for half day.

Encore and independent learning provided online for half day.

Mondays are reserved for independent learning and teacher planning.

Lunch, recess and other instructional opportunities will be provided

Students keep their same classroom teacher

Strong health and safety protocols in place

Special Education, 504 Plan, ESOL and Gifted Services will be provided.

Transportation will be provided based on a new expanded walking zone

The Extended Day Care Program's Before and After School Care will be available on a limited basis.
OPTION 2: Virtual Instructional Model (100% Online Learning)
100% online option

Core Instruction (Language Arts, Math, Science/Social Studies) provided for half day.

Encore and independent learning provided online for half day.

Mondays are reserved for independent learning and teacher planning.

Students keep their same classroom teacher and classmates

Special Education Services, 504 Supports, ESOL Services & Gifted instruction will be provided.
IMPORTANT: All K-5 parents are asked to complete the FCCPS Learning Intention Form by October 19, 2020. The form can be accessed here: FCCPS Learning Intention Form Please Note: Parents will be given the opportunity to revisit their decision for attending in the Hybrid or the Virtual model in January. Parents will be notified by their student's school whether they will be in AM or PM Group by 10/26/2020. Please consider your AM/PM placement as final (with few exceptions as stated above) as we are cohorting students by family for multiple reasons.
Any K-5 student who was identified as a part of our "first wave" of students returning on October 13th will have both options available to them - hybrid or online. In person instruction will continue to be provided and expanded for our special populations as appropriate.
Special education student's case managers and/or Special Education administrators will reach out to support schedule development for any student with an IEP who selects the hybrid process to ensure continuity of services.

ESOL teachers and administrators will work with families based on the option selected to ensure support is continued.
NEW SPECIAL COVID-19 RELATED HEALTH INFORMATION & PROCESS UPDATES:
Every family can be assured that we have worked diligently to ensure the safety and well being of our students and our staff during this process. While there is no 100% safe environment during a pandemic we have put in place extensive mitigation measures to reduce risk. All in person learning opportunities will have extensive COVID-19 protection procedures in place. These include: Daily Health Screenings, Temperature Checks, Face Coverings, Social Distancing, Handwashing/Hand Sanitizing Practices, Extensive Cleaning Procedures, and Health Clinics & Public Health Nurse Support in Place. Please visit our ELEMENTARY REOPENING WEBPAGE for specific details.
Protocols for COVID-Like Illness/Sickness:
All parents must notify their student's school immediately when:
Any student is absent due to illness. (All students will be required to provide a statement from a health care provider clearing them to return OR provide a negative COVID test result in order to return to in person learning.)

There is a COVID positive result for the student or a member of the student's household.
Process for Addressing COVID Positive Cases & Contact Tracing:
When the division is notified of a COVID positive case in our schools, all those who could be impacted will be placed on a brief 2-day "pause" for in person learning.
Students and staff who may have come in contact with a COVID positive case will transition to virtual learning for the 2-day pause.

The pause allows for deep cleanings to occur and for the Fairfax County Health Department & FCCPS to conduct contact tracing.

Individuals who have been identified as a direct contact or exposure (closer than 6 feet for 15 minutes or more) will remain in a virtual learning environment for approximately 10 additional school days for quarantine based on guidance from the Fairfax County Health Department.

Individuals who are not considered direct contacts or exposures will return after the 2-day pause to in person learning.

Families will be notified by FCCPS regarding the need to "pause" via the contact information you have shared with the school system. Please update your contact information if necessary.

The Fairfax County Health Department will contact families during contact tracing only if their student is considered an exposure.

A general notification will be provided to the impacted school community regarding the outcome of the event however, no specific information will be provided to ensure privacy and confidentiality for all involved.
In closing please spend some time over the weekend reviewing the information provided and thinking about what option is best for your individual family. This is a deeply personal choice and all decisions will be respected.
In summary, we are asking each family to:
Review the information provided in this communication and on our ELEMENTARY REOPENING WEBPAGE

Determine if your selection of Face-to Face Hybrid or the 100% Virtual learning option for your student(s)

Complete the FCCPS Learning Intention Form by 10/19/2020

Email general questions to reopening@fccps.org that may not be answered by the information on our webpage - please note that the webpage is comprehensive and we have tried to provide as much information as possible there.
As always thank you for your support, patience, and understanding as we take this journey together as a learning community. Do I wish there was a playbook for this!
#bettertogether
All my best,
Peter