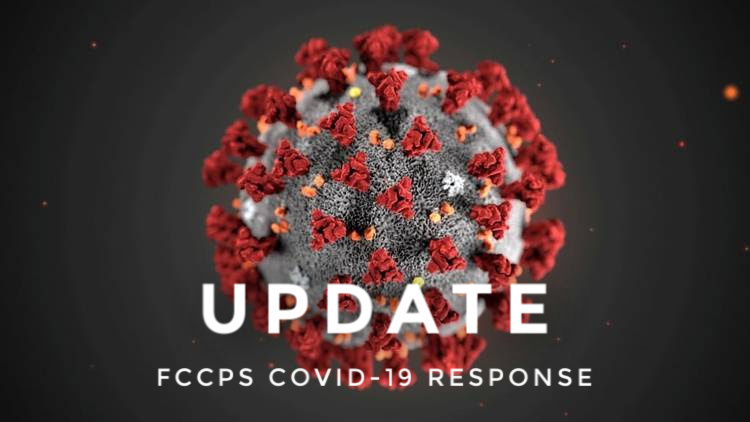 Dr Noonan's Tuesday Update on COVID-19 Closure
FCCPS Communications
Tuesday, March 24, 2020
Yesterday (Monday, March 23rd) was an emotional and sad day for our school system. I understand your sadness, frustration, and concern about the decision. Regardless, I am confident that we will move forward in a way that continues to be supportive of our students. We are strong, we are together, and we are @FCCPS (#bettertogether).
Last night, I joined School Board Chair Greg Anderson, Mayor Dave Tarter, City Manager Wyatt Shields, Delegate Marcus Simon, and Fairfax County Health Department officials for a Virtual Town Hall on COVID-19. You can see a video of the informative session on our COVID-19 web page and in the FCCPS App. If you have some time to look at the video, I think the information from the Health Department is particularly useful.
New Information
The Plan Forward
Since the Governor's school closure announcement on Monday, we have been thoughtfully reflecting and discussing how best to serve our community of learners for the remainder of the year. We have decided to stay the course with our current plan through Spring Break. We will have our Professional Development Day for staff on April 13th and then continue our online instruction on April 14th with a slightly refined model.
We will be working to move from the current self-paced instruction with teacher office hours (continuity of instruction), to more teachers teaching new material. However, we will be teaching essential skills rather than "everything." For clarity, and to help manage expectations, our teachers will not be online delivering content to our students for 6.5 hours per day. This is not sound instructional or learning practice, and it does not come close to approximating what happens in school daily. Our teachers in FCCPS are very focused on student engagement, and consequently, much of the instructional time during the day consists of self-directed and collaborative work and reflection. We will try hard to accommodate your students in this type of engagement, but following Spring Break via new content and continued office hours with teachers.
SOL Assessments
SOL tests are canceled this year, and The Virginia Department of Education is preparing an application for a federal waiver from the U.S. Dept. of Education. This takes much of the pressure off of our students and teachers and truly allows us to focus our instruction on the essential skills and knowledge students need to know and can do for the coming school year.
Graduation
FCCPS is so proud of the work our seniors have done, and will finish over the next several weeks (you aren't done yet :)), during their time in FCCPS. We expect to hold a graduation to recognize and celebrate this big accomplishment. However, given the current crisis, we just don't know what it looks like...yet (Growth Mindset). Mr. Hills, Mr. Bates, and a group of seniors will work together to decide what the most meaningful course of action is going forward for our soon-to-be graduates. We want to ensure you have a chance to sport the cap and gown and turn your tassel with pride. So please know there is more to come on this topic shortly.
Grading
We know there are many questions about the calculation of grades for the third quarter. We are working through a solution to that right now. What I can assure you is that your grades are not "frozen" in time ending on March 13, 2020 (a Friday the 13th I won't forget for a long time). We will be working with the principals and teachers to find a way to provide an opportunity to complete and turn in work up to that date for credit. This topic is rather tangled, and we want to work to get it right for all of our students, so thank you for your patience as we work it through. Another assurance I can give is that there is no possibility that your grades will go down for the 3rd quarter - we want to work with you to support your learning. I should have more complete information on this in the Friday update.
IB/AP
The May 2020 International Baccalaureate (IB) exams are canceled. The traditional face-to-face Advanced Placement (AP) exams will not take place. On April 3, the College Board will be posting the full exam schedule, including the specific free-response question types that will comprise each AP exam. The test will be a 45-minute online assessment in May.
Special Education Students
We continue to follow the guidance from VDOE and the federal Office of Special Education and Rehabilitation Services (OSERS) as they release updates. This is fluid, and we are getting continual updates. This is especially true as we work to develop our new learning plan, given the closure for the remainder of the academic year. While navigating this new learning reality, support and services for Special Education students can't mirror what would be provided in school. Please know we are working to help our students be supported and continue to make progress. The most important thing to know is that our Special Education Teachers and Related Staff (Speech, OT, PT, Behavior Specialists, School Psychologists…) are supporting students with disabilities now. They have been since day one of the closure and we began our continuity of learning plan. They are helping with accessibility to Schoology, emailing parents, emailing students, sharing resources, problem solving, hosting chats, and setting up conferences. This is new territory for all of us as educators, parents, and students, so together we will work through any issues you are having. Please reach out to your student's IEP Case Manager or your school's Special Education Administrator if you have any questions or need support. Please visit our FCCPS Special Education, 504, & ESOL Information page for a list of the Special Education Administrators for each school. You can also email our Executive Director of Special Education & Student Services, Rebecca Sharp, at rsharp@fccps.org with questions as well.
504 Plan Students
Our students with 504 plans have access to support via their 504 Case Manager, which in most cases, is their Counselor. Please visit our FCCPS Special Education, 504, & ESOL Information page for a list of the Counselors at each school. Their teachers are also there to provide support as well as students navigate the continuity of learning resources available in Schoology. Please reach out to your student's teachers and their Counselor if your student with a 504 Plan is struggling. We want to make sure they are successful and that their accommodations are in place during this unique situation.
ESOL Students
As a division, we are engaging in activities to meet the needs of our English Learners. All ESOL teachers have been added to the Schoology classes in which they co-teach. This provides ESOL teachers with access to supporting students and differentiating materials. ESOL teachers are connecting with their caseload of English Learners twice a week to connect and provide language activities, either one on one or in small groups. They are also working with their content peers to support the differentiation and access to core content learning in the classes they co-teach. Language Line continues to be a resource for all teachers to utilize in supporting families who speak a language other than English. We'll be working with our tech team to be able to provide support with video tutorials and phone calls utilizing an interpreter for families who need assistance with the technology. Staff members have access to utilizing Language Line services to support students in conferencing in their home language. Your student has access to all of the continuity of learning resources provided to their grade level. Please reach out to your child's ESOL Teacher for support, or contact Dr. Jennifer Santiago at santiagoj@fccps.org with questions or for support.
Community & Nutritional Support for Families
There is support for families grappling with the economic hardships during this time. We are overwhelmed by the generosity of our Falls Church Education Foundation and our PTAs. At the onset of our closure, we provided boxes of non-perishable food and gift cards to 130 families. Leadership and our Social Workers will continue to support our families throughout our extended closure. During his press conference yesterday, the Governor also shared preliminary information that the state will be providing EBT cards for families who participate in the Free and Reduced Meals program. Also, the Governor shared that if your family or someone you know is worried about not being able to get food, or are unsure where your next meal will come from, text "food" or "comida" to 877-877 to connect with nearby resources and help. Our FCCPS Social Workers are also available to help connect families with resources who are struggling with food insecurity, housing concerns, or other economic hardships. Please visit our FCCPS Nutritional Support Page for the Social Worker's Contact information. Additionally, families can reach out to Falls Church City Housing and Human Services , Fairfax County Neighborhood and Community Services , Assistance from a Distance and Fairfax County Human Services Resources Guide for additional support during this time.
Instructional Expectations
While virtual learning can never replace classroom instruction, teachers are providing instructional activities meant to help students maintain their skills and knowledge and prepare for what's coming next. We understand this comes with both challenges and perks as adults and students work to establish new routines. To help facilitate more opportunities for students to engage we are turning on all of the video functions within Schoology. This means that students, in addition to teachers, will have an opportunity to see each other. Some of our teachers are already doing this and for many it is the thrill of the day for our students. A cautionary note, if your student's camera is activated, others will see what's happening in the room where they are. There are some funny, and not so funny, stories about what some have seen when the cameras are on. Consequently, we want to be sure you all understand that we will cut off cameras if needed to ensure the safety of our students. So, with that in mind, please be mindful of where you set up the computer, siblings and bunny ears, and other potentially distracting actions. Lastly, if a student does engage inappropriately while online, we will also shut the camera off, and the student will be restricted to voice only. It is a brave new world of school!
Retrieving Personal Items
Just to put it on your radar, we are working to put together a plan for students and staff to return to our buildings to retrieve personal items inside our schools. Now is not the appropriate time to do so as it could potentially result in a larger congregation of people, so please stay tuned.
Caring for our Community
The state superintendent has asked that we be ready in case there is a critical need to care for children of essential workers. Our schools will be prepared to open doors to children of doctors, nurses, first responders, grocery store employees, and other businesses that are allowed to remain open. There will be limitations on the numbers of children, and no room can have more than ten people including children and adults. I share this information as a courtesy. This child care is for essential personnel only and will not be opened to the general public. It is to serve those, serving us, from the front line.
On a bright note, earlier today, The Kensington put out a community request for medical supplies, and FCCPS is helping. We had stocked up on Clorox cleaning wipes before the closing of schools. Today we delivered the excess wipes to The Kensington, Patient First, and The Winter Hill Senior Community to be put to use by those who need them.
Reminders
FCCPS Grounds
We've received information that some kids are jumping the fence and playing on our playgrounds and fields. Please help us by keeping your kiddos off FCCPS grounds and playgrounds.
Mental Health Support
Our new "normal" facing us as a learning community and as families is so very stressful. Anxiety is high and social/physical distancing can make us feel isolated. We are also spending much more time together as families in close quarters which is new as well. We have to monitor our mental health just as we watch our physical health. Our emotional well-being is essential. We have provided some important information and great resources on our FCCPS Mental Health Support website. Please visit the site for information related to Community Resources should you need emotional support or are experiencing a mental health crisis. It also includes excellent resources for stress reduction and relaxation for adults, as well as children. There are also great lists of "family fun" activities for PreK, Elementary, Middle, and High. The page also includes the contact information for our School Psychologists, Counselors, and Social Worker who are great resources in this area.
City of Falls Church Newsletter
The City of Falls Church is now sending an email message that will come out every afternoon. If you would like to subscribe to get that email, please go to http://www.fallschurchva.gov/250/Communications-Public-Information
Boundaries for our Teachers
I want to ask that we be respectful of each other's boundaries of our work together. Because we are moving to an online platform, for the time being, it will be easy to send messages or ask for help at all times of day and night. Our teachers and staff will be available during their defined office hours and workday, but they also need to take care of their families and themselves. Thank you for your help, ensuring that we all stay healthy and safe.
Ongoing Communication
Ongoing communication and education regarding schools will be vital to our collective success. There are multiple avenues to get the latest information from FCCPS. Our website, www.fccps.org, and the FCCPS App are our clearinghouses for information on both systemwide and school-specific importance. We will also provide updates through email, SMS text messaging, and through our various social media channels, including Twitter and Facebook.
Thank you all for your continued support during this unprecedented time. We are here to support your children and you as best we can in these trying times. Please let us know how we can further support you.
Sincerely,
Peter Noonan
SuperintendentFalls Church City Public Schools
---
Actualización del Martes
24 de Marzo de 2020
Estimada Familias de FCCPS:
Ayer fue un día emotivo y triste para nuestro sistema escolar. Entiendo tu tristeza, frustración y preocupación por la decisión. De todos modos, estoy seguro de que avanzaremos de una manera que continúa apoyando a nuestros estudiantes. Somos fuertes, estamos juntos y somos @FCCPS (#bettertogether).
Anoche, me uní al presidente de la Junta Escolar, Greg Anderson, el alcalde Dave Tarter, el administrador de la ciudad Wyatt Shields, el delegado Marcus Simon y los funcionarios del Departamento de Salud del Condado de Fairfax para un ayuntamiento virtual en COVID-19. Puede ver un video de la sesión informativa en nuestra página web COVID-19 y en la aplicación FCCPS. Si tiene tiempo para mirar el video, creo que la información del Departamento de Salud es particularmente útil.
Nueva información
El Plan Hacia Adelante
Desde el anuncio del cierre de la Escuela del gobernador el Lunes, hemos estado reflexionando y discutiendo cuidadosamente la mejor manera de servir a nuestra comunidad de estudiantes durante el resto del año. Hemos decidido mantener el rumbo con nuestro plan actual durante las vacaciones de primavera. Tendremos nuestro Día de Desarrollo Profesional para el personal el 13 de abril y luego continuaremos nuestra instrucción en línea el 14 de abril con un modelo ligeramente refinado.
Trabajaremos para pasar de la instrucción actual a su propio ritmo con horario de oficina del maestro (continuidad de la instrucción), a más maestros que enseñen material nuevo. Sin embargo, estaremos enseñando habilidades esenciales en lugar de "todo". Para mayor claridad y para ayudar a gestionar las expectativas, nuestros maestros no estarán en línea entregando contenido a nuestros estudiantes durante 6.5 horas por día. Esto no es una buena práctica de instrucción o aprendizaje, y no se aproxima a lo que sucede en la escuela todos los días. Nuestros maestros en FCCPS están muy enfocados en la participación de los estudiantes y, en consecuencia, gran parte del tiempo de instrucción durante el día consiste en trabajo y reflexión autodirigidos y colaborativos. Haremos todo lo posible para acomodar a sus estudiantes en este tipo de compromiso, pero después de las vacaciones de primavera a través de nuevos contenidos y horas de oficina continuas con los maestros.
Evaluaciones de SOL
Las pruebas de SOL se cancelan este año, y el Departamento de Educación de Virginia está preparando una solicitud para una exención federal del Departamento de Educación de los EE. UU. Esto quita gran parte de la presión de nuestros estudiantes y maestros y realmente nos permite enfocar nuestra instrucción en las habilidades y conocimientos esenciales que los estudiantes necesitan saber y pueden hacer para el próximo año escolar.
Graduación
FCCPS está muy orgulloso del trabajo que han realizado nuestros adultos mayores y finalizará en las próximas semanas (aún no lo ha hecho :)), durante su tiempo en FCCPS. Esperamos celebrar una graduación para reconocer y celebrar este gran logro. Sin embargo, dada la crisis actual, simplemente no sabemos cómo se ve ... todavía (mentalidad de crecimiento). El Sr. Hills, el Sr. Bates y un grupo de personas mayores trabajarán juntos para decidir cuál es el curso de acción más significativo para nuestros futuros graduados. Queremos asegurarnos de que tengas la oportunidad de lucir la gorra y el vestido y convertir tu borla con orgullo. Entonces, sepan que hay más por venir sobre este tema en breve.
Calificación
Sabemos que hay muchas preguntas sobre el cálculo de calificaciones para el tercer trimestre. Estamos trabajando en una solución para eso en este momento. Lo que puedo asegurar es que sus calificaciones no están "congeladas" en el tiempo que termina el 13 de Marzo de 2020 (un Viernes 13 no lo olvidaré por mucho tiempo). Trabajaremos con los Directores y Maestros para encontrar una manera de proporcionar una oportunidad para completar y entregar el trabajo hasta esa fecha para obtener crédito. Este tema está bastante enredado, y queremos trabajar para hacerlo bien para todos nuestros estudiantes, así que gracias por su paciencia mientras lo desarrollamos. Otra garantía que puedo dar es que no hay posibilidad de que sus calificaciones bajen para el tercer trimestre; queremos trabajar con usted para apoyar su aprendizaje. Debería tener información más completa sobre esto en la actualización del viernes.
IB / AP
Los exámenes de Bachillerato Internacional (IB) de Mayo de 2020 se cancelan. Los exámenes tradicionales de Colocación Avanzada (AP) no se realizarán. El 3 de Abril, el College Board publicará el calendario completo de exámenes, incluidos los tipos específicos de preguntas de respuesta libre que comprenderán cada examen AP. La prueba será una evaluación en línea de 45 minutos en mayo.
Estudiantes de Educación Especial
Continuamos siguiendo la guía de VDOE y la Oficina Federal de Servicios de Educación Especial y Rehabilitación (OSERS) a medida que publican actualizaciones. Esto es fluido, y estamos recibiendo actualizaciones continuas. Esto es especialmente cierto a medida que trabajamos para desarrollar nuestro nuevo plan de aprendizaje, dado el cierre por el resto del año académico. Mientras navega por esta nueva realidad de aprendizaje, el apoyo y los servicios para estudiantes de Educación Especial no pueden reflejar lo que se proporciona en la escuela. Por favor sepa que estamos trabajando para ayudar a nuestros estudiantes a ser apoyados y continuar progresando. Lo más importante que debe saber es que nuestros maestros de Educación Especial y el personal relacionado (Habla, OT, PT, Especialistas en Comportamiento, Psicólogos Escolares ...) ahora están apoyando a los estudiantes con discapacidades. Han sido desde el primer día del cierre y comenzamos nuestro plan de continuidad de aprendizaje. Están ayudando con la accesibilidad a Schoology, enviando correos electrónicos a los padres, enviando correos electrónicos a los estudiantes, compartiendo recursos, resolviendo problemas, organizando chats y organizando conferencias. Este es un territorio nuevo para todos nosotros como educadores, padres y estudiantes, por lo que juntos resolveremos cualquier problema que tenga. Si tiene alguna pregunta o necesita ayuda, comuníquese con el administrador de casos de IEP de su estudiante o con el administrador de educación especial de su escuela. Visite nuestra página de información sobre educación especial, 504 y ESOL de FCCPS para obtener una lista de los administradores de educación especial de cada escuela. También puede enviar un correo electrónico a nuestra Directora Ejecutiva de Educación Especial y Servicios Estudiantiles, Rebecca Sharp, a rsharp@fccps.org con preguntas también.
Estudiantes con Plan 504
Nuestros estudiantes con planes 504 tienen acceso a asistencia a través de su Administrador de Casos 504, que en la mayoría de los casos es su Consejero. Visite nuestra página de información sobre educación especial, 504 y ESOL de FCCPS para obtener una lista de los consejeros de cada escuela. Sus maestros también están allí para brindar apoyo y los estudiantes navegan por la continuidad de los recursos de aprendizaje disponibles en Schoology. Comuníquese con los maestros de su estudiante y su Consejero si su estudiante con un Plan 504 tiene dificultades. Queremos asegurarnos de que tengan éxito y que sus alojamientos estén en su lugar durante esta situación única.
Estudiantes de ESOL
Como división, estamos participando en actividades para satisfacer las necesidades de nuestros Estudiantes de inglés. Todos los maestros de ESOL se han agregado a las clases de Schoology en las que imparten clases conjuntamente. Esto proporciona a los maestros de ESOL acceso a estudiantes de apoyo y materiales de diferenciación. Los maestros de ESOL se están conectando con su número de estudiantes de inglés dos veces por semana para conectarse y proporcionar actividades lingüísticas, ya sea individualmente o en grupos pequeños. También están trabajando con sus compañeros de contenido para apoyar la diferenciación y el acceso al aprendizaje de contenido central en las clases que imparten conjuntamente. Language Line continúa siendo un recurso para que todos los maestros utilicen para apoyar a las familias que hablan un idioma que no es inglés. Trabajaremos con nuestro equipo de tecnología para poder brindar soporte con video tutoriales y llamadas telefónicas utilizando un intérprete para las familias que necesitan asistencia con la tecnología. STaff miembros tienen acceso a la utilización de los servicios de Language Line a apoyar a los estudiantes las conferencias de en su lengua materna. Su estudiante tiene acceso a toda la continuidad de los recursos de aprendizaje proporcionados a su nivel de grado. Comuníquese con el maestro de ESOL de su hijo para obtener apoyo o comuníquese con la Dra. Jennifer Santiago en santiagoj@fccps.org con preguntas o para apoyo.
Apoyo Comunitario y Nutricional para las Familias
Hay apoyo para las familias que luchan con las dificultades económicas durante este tiempo. Estamos abrumados por la generosidad de nuestra Fundación para la Educación de Falls Church y nuestros PTAs. Al comienzo de nuestro cierre, proporcionamos cajas de alimentos no perecederos y tarjetas de regalo a 130 familias. El liderazgo y nuestros Trabajadores Sociales continuarán apoyando a nuestras familias durante nuestro cierre prolongado. Durante su conferencia de prensa de ayer, el Gobernador también compartió información preliminar de que el estado proporcionará tarjetas EBT para las familias que participan en el programa de Comidas Gratis y Reducidas. Además, el Gobernador compartió que si su familia o alguien que conoce está preocupado por no poder obtener comida, o no está seguro de dónde vendrá su próxima comida, envíe un mensaje de texto con la palabra "food" o "comida" al 877-877 para conectarse con recursos y ayuda. Nuestros trabajadores sociales de FCCPS también están disponibles para ayudar a conectar a las familias con recursos que luchan con la inseguridad alimentaria, las preocupaciones de vivienda u otras dificultades económicas. Visite nuestra página de apoyo nutricional de FCCPS para obtener la información de contacto del trabajador social. Además, las familias pueden comunicarse con Falls Church City Housing and Human Services , Servicios Vecinales y Comunitarios del Condado de Fairfax , Asistencia a Distancia y la Guía de Recursos de Servicios Humanos del Condado de Fairfax para obtener apoyo adicional durante este tiempo.
Expectativas Instruccionales
Mientras que el aprendizaje virtual nunca puede reemplazar la instrucción en el aula, los maestros brindan actividades educativas destinadas a ayudar a los estudiantes a mantener sus habilidades y conocimientos y prepararse para lo que viene a continuación. Entendemos que esto conlleva desafíos y ventajas a medida que adultos y estudiantes trabajan para establecer nuevas rutinas. Para ayudar a facilitar más oportunidades para que los estudiantes participen, estamos activando todas las funciones de video dentro de Schoology. Esto significa que los Estudiantes, además de los Maestros, tendrán la oportunidad de verse. Algunos de nuestros Maestros ya están haciendo esto y para muchos es la emoción del día para nuestros estudiantes. Una nota de advertencia, si la cámara de su estudiante está activada, otros verán lo que está sucediendo en la habitación donde están. Hay algunas historias divertidas, y no tan divertidas, sobre lo que algunos han visto cuando las cámaras están encendidas. En consecuencia, queremos asegurarnos de que todos entiendan que cortaremos las cámaras si es necesario para garantizar la seguridad de nuestros estudiantes. Entonces, con eso en mente, tenga en cuenta dónde configuró la computadora, los hermanos y las orejas de conejo, y otras acciones potencialmente distractoras. Por último, si un estudiante se involucra inapropiadamente mientras está en línea, también apagaremos la cámara, y el estudiante estará restringido a voz solamente. ¡Es un nuevo y valiente mundo Escolar!
Recuperando Artículos Personales
Solo para ponerlo en su radar, estamos trabajando para elaborar un plan para que los estudiantes y el personal regresen a nuestros edificios para recuperar artículos personales dentro de nuestras Escuelas. Ahora no es el momento adecuado para hacerlo, ya que podría dar lugar a una congregación de personas más grande, por lo que debe estar atento.
Cuidando a Nuestra Comunidad
El Superintendente Estatal ha pedido que estemos preparados en caso de que haya una necesidad crítica de cuidar a los hijos de los trabajadores esenciales. Nuestras escuelas estarán preparadas para abrir puertas a los hijos de médicos, enfermeras, personal de primeros auxilios, empleados de supermercados y otros negocios que pueden permanecer abiertos. Habrá limitaciones en el número de niños, y ninguna habitación puede tener más de diez personas, incluidos niños y adultos. Comparto esta información como cortesía. Este cuidado infantil es solo para Personal Esencial y no se abrirá al público en general. Es servir a aquellos que nos sirven desde la línea del frente.
En una nota brillante, Hoy temprano, The Kensington presentó una solicitud comunitaria de suministros médicos, y FCCPS está ayudando. Nos habíamos abastecido de toallitas de limpieza Clorox antes del cierre de las escuelas. Hoy entregamos el exceso de toallitas a The Kensington, Patient First y The Winter Hill Senior Community para que las usen quienes las necesiten.
Recordatorios
Terrenos de FCCPS
Hemos recibido información de que algunos niños están saltando la valla y jugando en nuestros patios y campos. Ayúdenos manteniendo a sus hijos fuera de los terrenos y parques infantiles de FCCPS.
Apoyo a la Salud Mental
Nuestra nueva "normalidad" que enfrentamos como comunidad de aprendizaje y como familias es muy estresante. La ansiedad es alta y el distanciamiento social / físico puede hacernos sentir aislados. También estamos pasando mucho más tiempo juntos como familias en lugares cerrados, lo cual también es nuevo. Tenemos que controlar nuestra salud mental de la misma manera que observamos nuestra salud física. Nuestro bienestar emocional es esencial. Hemos proporcionado información importante y excelentes recursos en nuestro Soporte de Salud Mental de FCCPS sitio web de. Visite el sitio para obtener información relacionada con los Recursos de la comunidad si necesita apoyo emocional o si está experimentando una crisis de salud mental. También incluye excelentes recursos para la reducción del estrés y la relajación para adultos y niños. También hay excelentes listas de actividades de "diversión familiar" para PreK, Primaria, Media y Secundaria. La página también incluye la información de contacto de nuestros psicólogos escolares, consejeros y trabajadores sociales que son excelentes recursos en esta área.
Boletín de la Iglesia de la Ciudad de Falls Church
La Iglesia de la Ciudad de Falls ahora está enviando un mensaje de correo electrónico que saldrá todas las tardes. Si desea suscribirse para recibir ese correo electrónico, vaya a http://www.fallschurchva.gov/250/Communications-Public-Information
Limites para nuestros Maestros
Quiero pedirles que respetemos los límites de nuestro trabajo juntos. Debido a que nos estamos mudando a una plataforma en línea, por el momento, será fácil enviar mensajes o pedir ayuda en todo momento del día y de la noche. Nuestros maestros y el personal estarán disponibles durante el horario de oficina definido y la jornada laboral, pero también deben cuidar a sus familias y a ellos mismos. Gracias por su ayuda, asegurando que todos nos mantengamos sanos y seguros.
Continua Comunicación
La comunicación continua y la educación sobre las escuelas serán vitales para nuestro éxito colectivo. Existen múltiples vías para obtener la información más reciente de FCCPS. Nuestro sitio web, www.fccps.org, y la aplicación FCCPS son nuestros claros intercambios de información sobre la importancia específica del sistema y de la escuela. También proporcionaremos actualizaciones por correo electrónico, mensajes de texto SMS y a través de nuestros diversos canales de redes sociales, incluidos Twitter y Facebook.
Gracias a todos por su continuo apoyo durante este tiempo sin precedentes. Estamos aquí para apoyar a sus hijos y a usted lo mejor que podamos en estos tiempos difíciles. Por favor, háganos saber cómo podemos ayudarlo más.
Sinceramente,
Peter Noonan
Superintendente
Falls Church City Public Schools
---